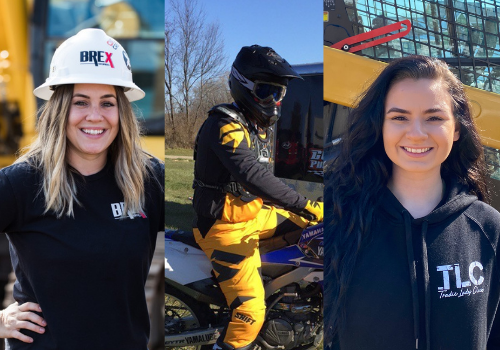 CONEXPO-CON/AGG seeks to provide construction industry professionals with practical advice about equipment, technology and trends to solve their business challenges and transform them into more effective leaders.
Whether the article zeros in on technology with the potential to significantly impact the jobsite, or shares insights from hard-working people across the industry, it seeks to both inform and entertain CONEXPO-CON/AGG's valued readership.
As the year comes to a close, let's take a look back at some of your favorite articles of 2020:
1. Best Cities for Construction Jobs: Construction workers are in high demand all over the U.S. Here's a look at the top cities for construction workers based on employment level, wages, and key factors driving construction activity. 
2. Equipment Operator Alexandra Smith Builds on Opportunity: From a part-time worker to a full-time operator, Alexandra Smith, 25, has been building on the opportunities presented to her in the construction industry. She is now ready to take the next step by starting her own septic design service. 
3. How Autonomous Construction Equipment Will Revolutionize the Industry: Moving earth and building roads with autonomous construction equipment isn't a reality yet, but it's where the industry is headed. Trimble's Cameron Clark explains the benefits.
4. Six Evolving Technologies in the Construction Industry: Construction companies are welcoming and embracing innovation. As old methodologies and science converge, new technologies improve efficiency, productivity and profits. Explore some of the new technologies evolving for use in the construction industry.
5. Electric-Powered Construction Equipment: More Options Come to Market: Electric-powered vehicles (EVs) have made their way into just about every construction application. Here are the latest advances in electric-powered construction equipment from XCMG, Case, Bobcat, JLG, Zoomlion, Liebherr and Volvo.
6. What Leading Construction Companies Are Doing in the Wake of COVID-19: Unlike many industries where "working from home" and "drive-thru service" are feasible countermeasures, construction firms have jobsites to run. Here are some of the measures taken by leading firms like Skanska and Turner to keep employees safe and on the job. 
7. Ten Construction Podcasts You Should Subscribe To: New construction podcasts are popping up every month and it's no surprise why. Audio is the perfect format for busy contractors in search of advice on how to take their career and business to the next level. Whether you're commuting to work or in the operating seat, here are 10 construction industry podcasts you should consider tuning into.
8. Woman-Owned Construction Company Brex Enterprises Setting New Standards for Safety, Customer Satisfaction, Innovation: Going from no employees to 40 in a matter of a couple years comes with its own set of growing pains. Alicia Brentzel shares how Brex Enterprises has accelerated their growth and built a strong team. 
9. Elon Musk's The Boring Company Completes Tunnel Excavation at Las Vegas Convention Center: The next time CONEXPO-CON/AGG takes place in 2023, attendees will be able to take an autonomous electric vehicle from one end of the convention center to the other in under one minute. 
10. Former Professional Motocross Racer Randy Poulter Makes a Career Out of Track Building, Excavation Work: Growing up on a farm in Illinois, Randy Poulter began riding dirt bikes when he was nine years old. He also operated all types of equipment, especially skid steers, helping on the farm. Find out about his transition from backyard hobby to a career in dirt.
Join more than 40,000 industry peers who receive construction industry news and trends each week. Subscribe to CONEXPO-CON/AGG 365.