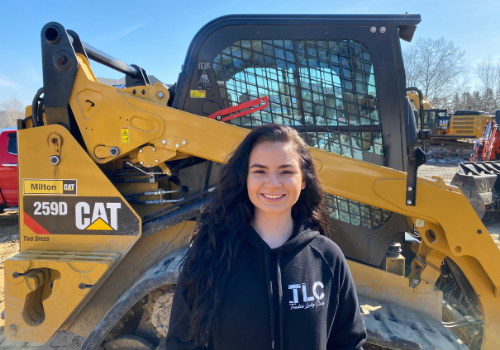 Alexandra Smith has a way with opportunity. She recognizes existing opportunities and creates others. She steadily builds on those opportunities and is now ready to take the next step by starting her own septic design service. We'll discuss that in a moment. First, a bit of background.
Donald Hebert Septic and Site of Pelham, New Hampshire was started by and named for her paternal grandfather. Her father, Dan Hebert, started in the business in 1988. He now runs the firm and incorporated as an LLC in March, 2015. Alexandra started as a part-time worker and moved up to a full-time position as an equipment operator. Most of her time is spent on a skid steer or excavator. She figures the work done by the company is split roughly 50/50 between site prep and septic installs.
Her independent business of septic design will use Donald Hebert Septic and Site to do the installs. She will divide her time between her business and working for her father's business. She already has extensive experience doing septic installations and the expert they now use in designing those systems is serving as Smith's mentor.
Is there really enough work to support a business specializing in septic design? In New Hampshire, yes. "There are sewer utilities in New Hampshire along the border with Massachusetts," Smith explains, "but most of the state relies on septic systems."
Full-Service Solutions for Customers
Clearly there's a business opportunity in designing and installing septic systems in Smith's market area, but she has an altruistic motive, as well. "Part of my goal is to simplify the process for customers. Getting a new septic system approved and installed can be tedious and confusing and it's mind-boggling how many entities are involved in replacing an existing system. I want to give customers one point of contact, one expert who handles everything for them."
Part of the challenge is meeting state criteria. Lot size must be at least 20,000 square feet (a little less than half an acre). But well radius often increases that requirement as more than one-third of the homes in the area are served by private wells. Septic systems within 250 feet of shoreland require special consideration. With its many water features and the demand for building in those scenic areas, these shoreland restrictions come into play often.
Part of the challenge is keeping up with advances in septic design and technology. One example is the Advanced Enviro-Septic (AES) system from Presby Environmental of Whitefield, NH. AES systems offer a number of advantages, among which are their compact design. This yields effective treatment of effluent on a small lot. Donald Hebert Septic installed one of these systems for a customer in Rumney, NH.
A Long Future in the Construction Industry
All this is not to say Smith has only one interest. She loves everything to do with construction, although "retaining walls may be my favorite. The largest we've done was 1,200 square feet. I like the precision required in building retaining walls and I also like the constant variety of the job. I'm switching between my skid steer and excavator all day plus doing hand labor."
Here are Smith's top three tips. The first is specifically for women in construction; the other two apply to anyone in any field of work.
Never give up. "It's tough to be a female in a male-dominated business. I have my days where I think, 'Okay, I've had enough of this.' But be patient. Know what you're capable of and stay with it."
Take pride in your work. "I have a hard time walking away at the end of the day if what we've done isn't absolutely perfect."
Don't be afraid to speak up. Share your ideas for ways to do things better. Smith started out reluctant to voice her ideas and concerns. Over the years she's developed a better vision for jobs and with that better vision, more confidence. "Don't question yourself. Proceed from a position of confidence, not doubt, and tell others what you're thinking."
And a bonus tip summarizing the other three: "Don't limit yourself. I started in a part-time position. That became a career. Now at age 25 I'm looking to build on that career and add a whole new dimension to it."
Yes, Alexandra Smith has a way with opportunity.


Subscribe to the CONEXPO-CON/AGG 365 weekly newsletter to get more stories like this.