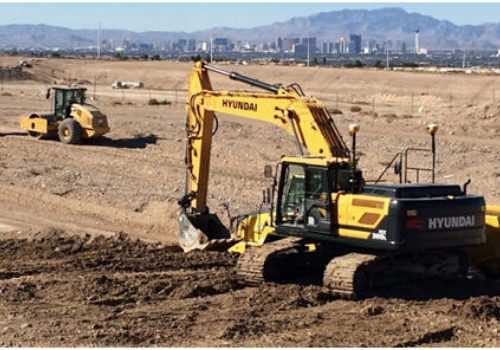 Moving earth and building roads with autonomous construction equipment isn't a reality yet, but it's where the industry is headed. For many contractors, driverless construction equipment might instill worries about lost jobs or jobsite accidents. But Cameron Clark, who is leading Trimble's efforts to bring autonomy to civil construction, wants to alleviate those fears. He believes autonomous machines represent a big opportunity that will take time to develop. 
Automation is Nothing New 
For years, earthmoving manufacturers have been adding automation to machines. According to Clark, Earthworks Business Area Manager for Trimble, there are more than 100,000 machines equipped with machine control today.
A dozer with machine control would qualify as Grade 1 automation using the SAE levels of driving automation, where 0= no automation and 5 equals full autonomy. "We are already on the path of automation," says Clark. "We have gone from people on site putting stakes in the ground to 3D machine control where you can remove the stakes and control the blade automatically to keep grade."
While semi-autonomous machines improve productivity they still rely on the intelligence of a skilled operator. Clark says that with the technology we have today, experienced operators run 41 percent faster and 75 percent more accurate, while new operators run 28 percent faster and 100 percent more accurate. As steering and other machine tasks become more automated, contractors can expect to see greater efficiencies. He expects compactors, dozers and excavators to be key categories of autonomous equipment.   
Labor Shortages Are Driving the Market
Around the world, construction companies are facing a shortage of heavy equipment operators. Clark sees this, along with increased global infrastructure spending, as the key driver for autonomous construction equipment.  
"It's hard to do the work we have now," says Clark. "With growing infrastructure and energy needs there is going to be increased demand for work in developing nations. If we can't find people in developed nations, what are we going to do in developing nations?" He believes autonomous construction equipment will be part of the solution, especially in remote areas, for repetitive tasks and in locations where labor shortages are significant.
The Benefits of Autonomous Construction Equipment
According to Clark, an autonomous solution is more than just a solution for a single machine. The autonomous machine has to work with all the machines, other assets and people on the jobsite.
"Contractors want to make sure they have an ecosystem solution," says Clark. One of the areas where Trimble will focus is on the interaction between one machine with one another. For example, imagine two compactors working with a dozer, where automation tells the compactor exactly where to go next on the jobsite. "It's about fleet management," says Clark. "Determining what machines are needed,  providing improvements in planning and bidding and helping operators make real-time decisions." 
Clark believes it would benefit human operators if automated machines took on more mundane tasks while operators handled value-added jobs. More automation might also help reduce fatigue and stress on human operators, resulting in improved safety. Instead of traveling away from home for weeks at a time, an operator might transition to a different role managing equipment remotely.
No one is predicting a jobsite without people in the near future. Clark says there's more complexity with a construction site than with cars and trucks that just need to get from point A to point B. The process will take time, but autonomous machines clearly have a role to play. Alleviate your fears and learn what this trend really means for your business.
Cameron Clark presented the session How Autonomous Construction Machines Will Revolutionize the Construction Industry at CONEXPO-CON/AGG 2020. 
Subscribe to the CONEXPO-CON/AGG weekly newsletter to receive more insightful stories like this.