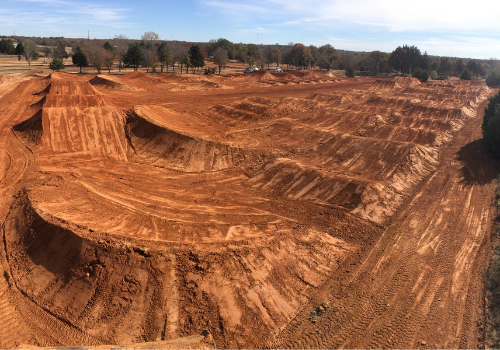 Some people have a remarkably interesting story as to how they got into the business they are in. Take Randy Poulter, by way of example. He is a well-known motocross track creator and owner of 903 Excavation, based in Eustace, TX. Eustace is located about an hour southeast of Dallas, TX.
In addition to building motocross racetracks, the company offers a variety of services, including land clearing with full clean-up, dirt pads, ponds, roads and grading.
He named his company 903 Excavation because it is the area code of the company's area and "it reminds me of a racing number I had." 
Growing up on a farm in Prophetstown, IL, Poulter began riding dirt bikes when he was nine years old. He also operated all types of equipment, especially skid steers, helping out on the farm doing work and chores.
"I decided I would build my own track and it was a really good track," he recalls. "My tracks were always better than everyone else's backyard tracks. I figured I could make a living building tracks."
Poulter began building motocross tracks when he was 16 years old. He then started traveling across the United States to build motocross tracks for different companies and organizations at age 18. He is one of the nation's top motocross track builders.
"I am limiting my dirt track building to about four, five or six months a year because I want to spend more time with my family," he explains. "I have been traveling almost non-stop since my kids were young.
"For years, I was traveling 300 to 320 days a year. I would occasionally bring the family to me for a quick visit. It was incredibly challenging."
Despite all his traveling, Poulter found time to own Underground MX Park in Kemp, TX. It was a premier motocross racing facility that featured an AMA (American Motorcyclist Association) certified motocross track, a professional level Supercross track and a pee wee track for young people. He has since sold the park.
Dirt Bike Racing: The Same, Yet Different
Motocross, Supercross and Arenacross involve riding a dirt bike as fast as possible around a dirt course, says Poulter. Each requires a great deal of harmony and setup between the rider and their dirt bike. 
"Arenacross, basically a scaled down version of Supercross, is held indoors in arenas," he explains. "Motocross (also called MX) is typically an outdoor sport with faster tracks, fewer jumps and more bumps, berms and ruts. Supercross is mainly held in stadiums. There are very few straightaways, just jump after jump after jump."
Riders typically use the same bike for Motocross, Supercross and Arenacross, he adds. However, they are set up differently, depending on the Class they compete in. This includes suspension tuning and adjusting the torque curve for the engine.
One-Man Show
Typically, when Poulter travels to build tracks, he does the work by himself, particularly the course shaping. If he finds he needs help, he will hire a local contractor. Depending on the size and complexity of the job, he will take a two- or three-man crew with him.
"I'm pretty much a lone soldier that makes it happen," he says.
Building tracks for dirt bike competitions can be quite the challenge. Among other things, a suitable location must be found, the amount of soil needed has to be calculated, the necessary machinery to create the course itself needs to be determined and then the track has to be formed.
For Arenacross or Supercross events, "it is an in-and-out gig," says Poulter. He will typically start building the course on Wednesday and then haul all the dirt out on Sunday. After each practice run and at the end of each day's event, he grooms the track so that it is ready for the next practice and race.
"We want the racetrack to be very technical and tough to ride with jumps and bumps. But we want the riders to start off fresh so that they can get comfortable and ride the track as it develops."
Motocross courses, on the other hand, are built to last for years, he points out. He builds the course, preps it and maintains it for each event.
He also builds private backyard tracks that are usually used for training for five or six years before they are leveled out. Some owners will maintain the track themselves. Others will bring Poulter in once a month or once every other month to freshen the track and make any changes they want.
Poulter does not use GPS equipment for jump construction but will use it to build dirt pads and grades on which the jumps are created. "We have tried GPS equipment before but the machine blades cannot transition from flat to slope fast enough."
Combining Motocross Track Building and Racing
"I grew up racing and raced professionally for about 12 years," says Poulter. "I would always get a lot of grief at the competitions because I would build the track, race on it and win half the time. The other riders would be so mad.
"They would accuse me of cheating. I would tell them a track is a track. I am not putting anything special in the track to help me win. We all have to race the same course."
Poulter does not ride much these days because he is focused on his family and growing his 903 Excavation business. "But I still enjoy riding.
"Racing is an extremely intensive sport that is very demanding. Your body has to be in very good shape. Working 80 hours or more a week and then trying to stay in good shape is almost impossible. If you are not in good shape you get hurt more because you are not prepared."
Join more than 40,000 industry peers who receive construction industry news and trends each week. Subscribe to CONEXPO-CON/AGG 365.