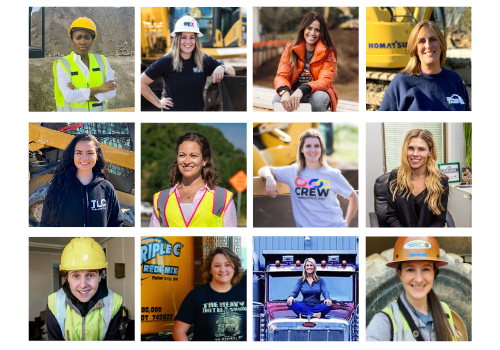 The number of women in construction has risen slowly over the past ten years, but in the last two years the trend line upward has steepened. Women represent nearly 11% of the construction workforce in the U.S., while in Canada the number recently topped 13%.
Change is happening in board rooms, in the field and in society. Numerous research studies support the idea that a diverse workforce can help companies improve performance.  For example, a  Boston Consulting Group study found that companies with more diverse management teams have 19% higher revenues due to innovation. According to PwC, Diversity and Inclusion is a stated value or priority area for 72% of organizations in North America.  Industry giants Bechtel, Turner Construction, AECOM, and Whiting Turner all discuss diversity and inclusion on their websites.  "The social unrest of 2020 has led us to look deeper into how we accelerate fairness," says Bechtel's website. Its Diversity and Inclusion strategy is being approached "with a new sense of urgency-not as an initiative, but for long-term sustainability."
Supporting Women in Construction
According to LaToya Thompson, business Development/fire sprinkler/alarm specialist, and board member for the Northern California chapter of Women in Construction Operations (WIOPS), "The change has to start now."  
"Tradition has been valuable to a lot of people in construction, and that makes change difficult," says Thompson. "With people now retiring and a shortage of workers, the industry is really looking to make sure we get different perspectives."
Women in construction still make less than their male counterparts, but the gender pay gap in construction is smaller than in other fields.
Trudy Case, project manager for Ground Force Environmental, and industry relations director for the Canadian Association of Women in Construction (CAWIC), says it's a lot different for young women entering construction today than it was for her 15 years ago. "Women today have more confidence and surrounded by more supportive people," says Case. "The mentality that women need to stay at home is not the same anymore."
Despite improvements, there are still women who feel their voices aren't heard in the male-dominated construction workplace, and lack the confidence needed to advance. That's where associations such as WIOPS, CAWIC, Women of Asphalt (WofA) and the National Association of Women in Construction are really making a difference. They are providing leadership, mentoring and networking opportunities to women in construction.
Natasha Ozybko, regional sales manager for Arkema-Road Science, and founding member and president of WofA, encourages women in construction to stop "checking off all the boxes" when it comes to the skills needed for a promotion. "Ninety-nine percent of the men interviewing for the job don't check off all the boxes."
Case agrees. "A lot of women won't apply for promotions because they don't have the confidence."
It will take more than boardroom support to increase the role of women in construction. "It's also up to the men in the industry to be sure they aren't just looking to hire people who look like themselves," adds Ozybko.
Changing the Perception of the Industry
A WofA campaign kicked off in 2018, "100 Women of Asphalt," highlights women in a diverse array of roles within the asphalt industry. "We're trying to take away stereotypes about this being a "man's job," says Ozybko. This year they will shine the spotlight specifically on the women working in the field.   "We're going to be showcasing the ladies on the paving crews who are building and maintaining America's infrastructure."
Associations are tapping into the need for women to be supported and their voices heard within the construction industry. Sponsorship support also appears to be strong. WiOPS began in 2013 with its Southern California Chapter and now has more than 1,300 members. Its Northern California Chapter launched in 2018 now has more than 1,400 members. It plans to launch two new chapters on the East coast.  Since its inception in 2017, Women of Asphalt has grown to more than 1,300 members. The National Association of Women in Construction (NAWIC) boasts 115 chapters in 47 states and Guam. The Canadian Association of Women in Construction has more than 800 members.
Workforce development is another key initiative for many of the construction associations targeting women. It's an important objective if women are going to increase their numbers. WofA is developing an outreach strategy to engage more women and invite them into the industry. CAWIC has teamed up with "We Build a Dream" in Windsor, Ontario to explain to local college students what it's like to be a woman working in different trades. 
Thompson believes that in addition to advancing women, recruiters need to identify women with relatable skills from other industries, to bring the industry forward. "We need to show people other side of the stereotypical construction worker - a guy in a hardhat," says Thompson. "It's so diverse."
"We may be a small portion of the industry, but we're a powerhouse," says Ozybko. With continued support from boardrooms, associations, and men in the workforce, we can only expect the voices of women in construction to grow stronger.
As you celebrate Women in Construction Week 2021, check out some of our favorite stories of women leading the way in the trades:
Chelsy Snyder Anderson, Business Development, Dean Snyder Construction 
Alicia Brentzel, President, Brex Enterprises
Michelle Hands, Founder, NJ Engineering
Mary Katherine Harbin, Area Manager, Maymead Inc. 
Amanda Kurt, Vice President, Kurk Inc. 
Kate Rieling, Project Manager, Vertical Earth 
Missy Scherber, Owner, T. Scherber Demolition & Excavation
Alexandra Smith, Heavy Equipment Operator, Donald Hebert Septic & Site
Ellie Hinds Smithson, Owner, ERS Trucking
Jennifer Todd, Founder & President, LMS General Contractors
Stacy Tompkins, Owner & President, Tompkins Excavating
Dawson Vanderwiele, Heavy Equipment Operator Instructor, Baker Technical Institute
Subscribe to the CONEXPO-CON/AGG 365 weekly newsletter to receive more great stories like this.