Chelsy Snyder Anderson works in the marketing department at Dean Snyder Construction (DSC). But that doesn't begin to describe the scope of all she does. "I'm always looking for solutions to the company's problems," she says. "If we need more work, I'm on the phone making a hundred calls. We need more manpower? Okay, let's be proactive and go out and find those people and plan a way to get more applications." If there's a word to describe her style, it would be "energetic." She says, "I don't sit on ideas for long. I put them into action quickly."
Anderson is the granddaughter of the company's founder, which is now run by her father and two uncles. She's delighted to be working in the family business. Before getting her name on the payroll, Anderson got a college degree and worked some other jobs. In one position she did cold calls for an auditing firm. "It was my most uncomfortable job, but also had the most payback." She credits that job with giving her many of the skills and the persistence necessary to succeed in her job at DSC. "And it was because of those experiences and the skills I gained that Dad saw that he needed me to help grow the company. I love working with my dad. It's a great feeling to provide value to the family company. To hear Dad's stories of the struggles they faced in the early '80s is humbling. And when I see where my dad and his brothers have brought the company today, where we're designing and building massive food and pharmaceutical plants, I'm in awe."
Recruiting the Next Generation
DSC strives to meet the demands of a tight labor market. "My first job is to find more work, to keep the pipeline full," says Anderson. "But I can't bring in more work if we don't have enough people, enough of the right people, to perform the job. So in addition to recruiting the next generation, we elevate our current workforce. We make them look like rock stars in the field." This approach attracts both job applicants and potential customers.
She started the Lunch & Learn program at DSC in 2015 as a tool for cultivating a future workforce. She works with high school trades instructors to give presentations on construction careers over pizza. The L&L sessions may split time between the school and a jobsite or may take place entirely at the jobsite. "We tell them, 'We want you to be making six figures in six years with us.'"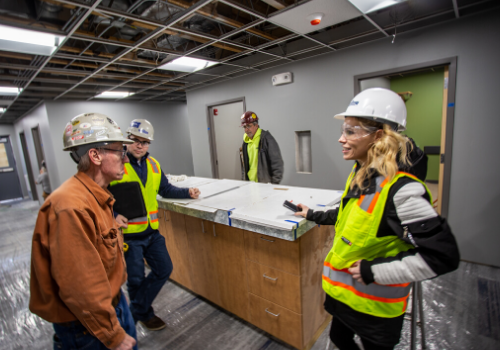 Here are Anderson's top tips for construction team leaders, especially women in the industry.
Get to know your workers right away. As intimidating as construction workers may seem, "chances are they're more intimidated by you than you are by them. When a female walks onto the jobsite, it can catch them off guard." Know and use their names. Not just "Hi," but "Hi, John." Know their kids' names and ask about them. Be genuine and curious.
Be confident. Confidence is a key ally in a male-dominated industry. "If that means putting on your steel-toed boots and lipstick, so be it."
Don't be afraid to show your weaknesses—and work on them. Find a mentor "and ask questions right off the bat." Anderson's mother instilled in Chelsy and her three sisters a fear of power tools, so Chelsy took a construction class at a local vocation-technical school. "We did framing and siding and trim, and we used power tools every day. It got me over my fears."
Empower your workforce. Use social media to bring the spotlight to both individual workers and crews and to make it easy for them to share their success stories.
Take care of yourself. With her experience as a personal trainer, Anderson emphasizes the importance of good health. Focus on quality: quality food, quality exercise, quality rest.
Since its founding in 1958, Dean Snyder Construction has grown to a firm of 250 employees with locations in Clear Lake and Ankeny, Iowa.
Join over 40,000 industry peers who receive construction industry news and trends each week. Subscribe to CONEXPO-CON/AGG 365.