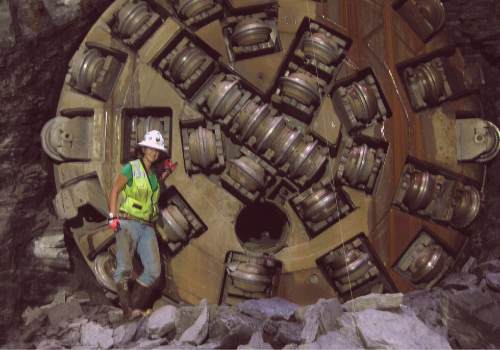 "I love construction. It's not weird to me that I'm here." That's how Kate Rieling, project manager with Vertical Earth in Cumming, Georgia, explains her comfort in her job. She says there aren't a lot of women in her field of civil site work. "It's rougher and gruffer than general contracting," she says. "GC is about putting up vertical structures. Civil site work is dirt work." So is the paucity of females in her corner of the construction industry the result of women's preferences or industry bias? "Probably some of both." As for women's preferences, "They don't know how fun it is, although 'fun' is a relative term. It happens that what I do matches my personality and interests."
When Rieling was a junior in high school, a neighbor who was a few years older was attending the construction program at Virginia Tech. He mentioned that the school offered a summer architecture camp. Rieling attended and "I hated it. I found out architecture was too dreamy for me. I wanted to build stuff." She got her an interview with the department head at Virginia Tech and she enrolled in the construction program. The program appealed to her, but the internship opportunities were key. "The first summer I had an internship and that cinched it for me that I wanted to be in construction." She's now been at this 11 years full time.
Her advice to women entering construction? "You have to hold your own and gain respect. Acceptance has changed for the better in the last 10 years, but I still have to prove myself. When I show up on the jobsite there are still those who think I'm an intern or the boss's daughter."
Vertical Earth is more accepting; it's a smaller company with a family feel. "Other firms can be baffled by my existence." She doesn't want to not be accepted; neither does she want preferential treatment, which she finds just as insulting.
Her tips for being a project manager of any type:
Organization is essential. "I've managed as many as nine projects simultaneously and that requires rigorous organizational skills."
Gain respect by being supportive. Ask individuals and groups if they need anything and ask in a way that encourages a positive response. Asking "Do you need anything?" will often just get a "Not that I can think of." Try, "What's the one thing I can do for you right now that will make your job easier?"
Gain respect by being consistent. Be consistent in the way you present yourself. Be consistent in your values. Be consistent in how you treat others regardless of their rank or standing.
Cultivate relationships. This means with clients, subs, field workers, everyone. Be part of the team and not self-serving. "It's a great feeling when your firm gets repeat business and those clients specifically ask to work with you."
And her tips especially for women:
You belong. Don't ever let anyone tell you otherwise, not with their words or their attitudes or their behavior.
Learn everything you can. An early boss asked about her aspirations and she answered: "I want to be your boss one day." His response: "Then you'd better start learning everything you can." Knowledge equals acceptance. As with building relationships, you're learning from everyone. "Not just the CEOs. Operators. Subs. Inspectors. Everyone."
You have to be tough. That doesn't mean overlooking inappropriate behavior but it does mean accepting it as part of the experience and just getting on with the task at hand.
Understand that others may interpret you in terms of their own biases. "I think I'm a caring person; I care a lot about the things in my life. I think I'm more emotionally invested in my job than are most of my peers. Some interpret that as a woman thing. The fact is that's just how I am as a person." Biases aren't inherently harmful and everybody has them. If others' biases toward you have no ill effect on your ability to perform your job, once again, just get on with the task at hand.
And her overarching insight that applies to all: "There's a place for everyone in construction. The greater the number of perspectives, the greater the success. Everybody has value; everyone has something to bring to the table."
Join over 40,000 industry peers who receive construction industry news and trends each week. Subscribe to CONEXPO-CON/AGG 365.