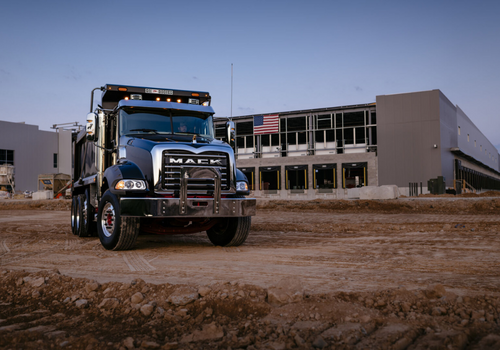 The type of hauling you do is critical to selecting a dump truck that will perform well on the job -a truck perfectly matched to the task at hand. There's a lot to consider, from the terrain and distance to the type of material hauled, so we asked experts from Daimler Truck North America (DTNA) and Mack Trucks to help you narrow down your options by answering a few key questions.
Where are you going to drive the truck?
Bridge law can affect key truck components such as wheelbase, axle spacing, overall length, and ultimately the amount of payload. "This is why knowing your state and local trucking regulations is important when spec'ing out your dump truck," says Aaron Scates, Vice President of Vocational and Medium Duty Market Development for DTNA, which manufactures both Freightliner and Western Star trucks.
With federal interstates following federal bridge formula laws, and state laws dictating weight and axle spacing laws on local roads, dump truck specs vary wildly from state to state.
"Some state's don't recognize a benefit for auxiliary axles, so dumps remain 6x4s (both rear tandem axles receive power)," says Tim Wrinkle,  Construction Product Manager at Mack Trucks. "Other states laws lead to one pusher adding weight capacity while still others lead to 14x4 axle configurations,"
What will you be hauling?
The amount and type of material you plan to haul are important to know. "If your truck will primarily be used for small hauls around town with a focus on landscaping, or for hauling lightweight bulk materials, you can look into spec'ing a medium duty truck, which will have smaller engine sizes available," says Scates. "On the other hand, if you need the truck to haul a wide variety of heavy materials, you will most likely want a Class 8 dump truck, which will enable you to spec larger engines with the necessary power and torque, and heavier axles and suspension components."
According to Scates, having an engine that can provide high levels of torque is key for trucks that will be working in severe-service applications such as heavy haul and construction. "Higher torque engines will give a heavily loaded vehicle better startability and good low-speed performance. It will also allow you to hold a gear longer, especially on a grade."
DTNA offers the Detroit DD13 in ratings up to 525 horsepower and 1,850 lb.-ft of torque. "It's great for heavier payloads and offered in both Freightliner and Western Star models," says Scates. "It's proven to be a durable and efficient vocational engine."
All Freightliner and Western Star vocational medium-duty and heavy-duty models are suitable for a dump body. "We offer a variety of axles, suspensions, and chassis packaging options that will optimize your dump truck spec," says Scates.
Wrinkle believes topography is equally as important as the payload. "The Mack MP7 is rated up to 425 horsepower, 1,550 lb.-ft. of torque and does a great job tackling hills and tough terrain while offering a weight advantage of 430 pounds compared with the Mack MP8," says Winkle. "The Mack MP8 is rated up to 505 horsepower, 1,850 lb.-ft of torque, and can handle extreme jobsites and terrains with ease."
How important is fuel efficiency?
"One way to improve fuel efficiency is to reduce overall weight by making sure that the engine rating has the horsepower and torque specified at the minimum for the job," advises Scates. "Daimler offers the Cummins X12 in ratings up to 500 horsepower and 1,700 lb.-ft. of torque; the lightest mid-range diesel in the industry. This will give you the performance needed with the lightest engine possible." It's also important not to over-specify frame rails, rear axles, and suspensions that can add weight, and to utilize lightweight aluminum components wherever possible.
Winkle says an automated manual transmission (AMT) like the Mack mDRIVE HD will deliver better fuel efficiency than a fully automatic transmission. On the powertrain side, he says the Mack mDRIVE HD with low-ratio creeper gears (mDRIVE HD 13-, 14-speeds) provides two drivelines in one, enabling fantastic startability and gradability on the job site, as well as excellent on-highway performance and fuel efficiency.
Are you considering natural gas or electric?
With high fuel prices, an increasing number of buyers are looking at electric or compressed natural gas (CNG) vehicles. According to Scates, a CNG or electric dump truck can make sense if the driving range and daily site visits are short and if a charging station or natural gas fueling is readily available. DTNA offers electric versions of both Class 8 on-highway tractors and Class 6/7 models.
What kind of transmissions are best for dump truck applications?
Mack powertrains are fully integrated and designed to work together. All Mack Granite models come standard with Mack MP series engines and Mack mDRIVE HD transmissions and Mack Axles.
Are you concerned with attracting and retaining drivers?
In today's tight labor market, it can be smart to think about features that attract and retain drivers, such as automated transmission. Or if you can use a Class 6 truck instead of a larger truck you can expand your pool of candidates because a commercial driver's license (CDL) isn't required.
Driver comfort is key. Mack trucks feature a race car-inspired flat-bottom steering wheel that the company says improves driver comfort and makes entering and exiting the vehicle easier. "The new steering wheel gives drivers a better view of the dash and it can be equipped with illuminated cruise-control Bluetooth and audio system buttons," says Winkle. Features like Mack Command Steer are designed to cut the steering force drivers need to exert, making the job of driving a truck more comfortable.
Active Braking Assist (ABA) is another feature that is beneficial for drivers at all levels of experience, but especially new drivers. "Detroit has brought DTNA's leading active safety system, Detroit Assurance with ABA5, to the vocational market with the Western Star X-Series, and we're planning to do more in the future," says Scates. "This brings not only collision mitigation, but also adaptive cruise control, lane departure warning, and side guard assist to construction trucks operating on-road and off; features which on-highway tractors have enjoyed for several years."
Will the truck work with your preferred dump body?
Winkle prefers the general size and type of dump body to be selected before the truck purchase so the dealer can be sure that the specifications for the dump body are supported by the correct truck specs. Scates also recommends that you identify the size and type, as well as your preferred Truck Equipment Manufacturer (TEM) prior to spec'ing the truck. "Knowing the length and size dump box will also help determine the correct truck wheelbase, axle spacing, powertrain, lift axles, and many other attributes," he says. Decisions will need to be made on the type of dump body construction and materials, the dump-truck style, and additional or special options.
What should you know about the ordering process?
Winkle and Scates both agree that buyers should start the process with the local dealer who has expertise in the options and configurations that make the most sense for their region and the application.
"One of the most important tips for customers is to fully understand the application the truck will be working in," says Winkle. "For example, the truck needs to be set up with the right specs for hauling aggregate, asphalt paving, or demolition material like large sharp rocks and broken concrete. In some cases, the dump might need to be able to perform multiple applications."
It's also important to allow time for ordering, delivering, and fitting the dump body. "Know when you need the truck in service so that you can begin the ordering process as soon as possible," adds Scates. "If you are unable to order ahead of time, you may have to purchase a truck off the lot that may not be optimized for your business."
What kind of support is available?
Dealer support is important, not only in the spec'ing process but also for service. "Downtime for a dump truck means the job isn't getting done which can affect an entire jobsite operation and hurt the bottom line,' says Scates.
Ask about the service capabilities of the dealership and how they manage both routine maintenance and repairs. Find out if your truck is equipped with telematics. Once you have the right truck for the job, maintaining your dump truck is key to getting the most out of your investment.
Read Next
Choosing the Right Concrete Pump for the Job 
7 Questions To Ask Yourself When Selecting A MEWP
How To Spec Out A Next Gen Wheel Loader - What To Look For And Questions To Ask