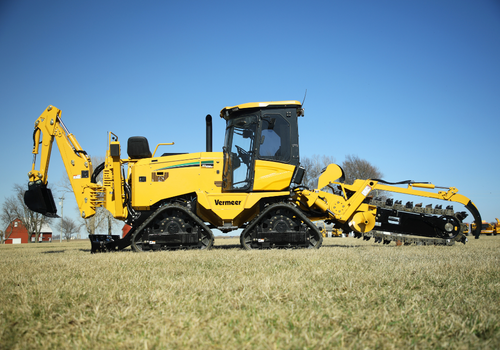 Contractors in the market for a ride-on trencher will find several brands and models to choose from, as well as a considerable number of options. We asked the experts how to ensure your new trencher is a profitable addition to your fleet and what features you will find on new models. Local dealer support is key to making that selection. "You can compare specs on a website, but there is nothing like talking to someone who has been there and done that, who can help you determine what you should be buying and why," says Steve Seabolt, Product Category Manager for Ditch Witch ride-on trenchers and Trencor large-track trenchers. Here are the questions you can expect the dealer to ask.
How wide and how deep is the trench?
Profitable trenching requires matching the size of the trencher to the job. According to Ed Savage, Infrastructure Solutions Product Manager for Vermeer, the depth of the trench is dictated by local codes, while trench width is determined based on the size of the pipe or product being installed.
Ditch Witch offers five ride-on trencher models to dig trenches from 4-8 feet deep and widths up to 24 inches. Vermeer offers nine ride-on trencher models to dig 5-8-foot-deep trenches up to 18 inches wide as well as seven large track drive trenchers with a trench cutting capability up to 48 inches wide and as deep as 18 feet. Trencor ride-on trenchers are designed to dig trenches for large-diameter pipelines for oil and gas as well as sewer and water. Trencor offer five models capable of digging trenches 16 inches-6 feet wide and 20-30 feet deep. Micro trenchers offer a faster and more efficient way to dig ditches for fiber optic cable. They dig a one-inch-wide trench 12 to 26 inches deep through asphalt or concrete while a vacuum extractor removes the spoils.
What is the soil type?
The type of soil you will be digging in plays a big factor in selecting a trencher and digger-chain setup. Different cutters can be attached to the digger chain to get the most productivity and lowest cost of operation out of the machine. Vermeer ride-on trencher models range from 46.8hp to 126hp, while Ditch Witch models range from 49hp to 121 hp. Vermeer's large track-drive trenchers range from 185hp to 600hp. Trencor models start at 350hp and go up to 950hp. A chain trencher is suitable for digging through mixed soils and softer rock or frost, while a rock saw or micro trencher can manage to dig through concrete and asphalt. Hard rocks require a rock saw or a larger trencher like those manufactured by Trencor. Digging systems also vary. According to Seabolt, in soft soils, chains are equipped with cup teeth while mixed soils may utilize cut teeth, carbide, or PDC (Polycrystalline diamond compact) bits mixed. Harder conditions require HD chains with carbide cutters while sticky conditions may call for 4-pitch chains with offset and space cut cutters.
Tracks or wheels?
Both Seabolt and Savage say tracks are increasingly in favor among buyers. "Tracks give you more flotation," says Savage. "In muddy conditions, tracks are beneficial."
"Tracks spread the load out and can be friendlier on turf than tires," adds Seabolt. "The biggest thing is they let you take on more jobs in more conditions." On the Ditch Witch RT70 and RT80 buyers have the option of setting up with either tires or tracks. "Tracks can be added later, or they can remove the tracks and install tires," says Seabolt.
Do you want some versatility out of the machine?
Attachments make ride-on trenchers a more versatile machine and that means greater utilization. "A backhoe attachment, vibratory plow, trencher, rock saw or backfill blade can give owners more flexibility," says Savage.
"You want a trencher that is productive and versatile enough to maximize ROI, that will allow you to take on more jobs and be productive with more uptime," says Seabolt.
Are you looking for ease of operation and improved operator comfort?
With labor in demand, ride-on trencher manufacturers have focused on improvements that make ride-on trenchers easier to operate. For example, on the Vermeer RTX1250, the engine automatically slows down the ground speed to keep RPMs in a range for maximum productivity. "In the past, the operator would have to set and adjust different settings to do this," says Savage. When difficult conditions are encountered while trenching, causing the digger chain to stall, Vermeer'sTrenchSense electronic control system automatically pauses the forward motion of the tractor to prevent engine shutdown. The machine then automatically reverses the ground drive, resumes digger chain motion, and automatically starts moving the machine forward again, all without operator input. Similarly, Vermeer's auto plunge cut helps operators start the ditch. "Auto plunge takes the operator error out of a task that can be tricky for a new operator, eliminating the chance of stalling the digger chain," says Savage.
"Ditch Witch continues to make the controls on ride-along trenchers more intuitive, shortening the learning curve for operators," says Seabolt. Increased commonality across all the Ditch Witch ride-on trenchers makes it easy for operators to go from model to model and be productive. Anti-stall technology prevents the engine from stalling and dying when you encounter rock or debris while working. According to Seabolt, the chain can be cleared with the push of a button. Other operator-friendly features include an enhanced rear-steer indicator that allows for easy viewing of the rear wheel positioning and a Trench Depth Meter that provides remote measures of depth and distance via sensors mounted to the tractor and digging attachment, thus eliminating the need for manual measurements.
Both Savage and Seabolt agree that more attention is being paid to operator comfort. They are seeing more units specified with climate-controlled cabs and interest in ergonomic features. The Ditch Witch RT70 features a 120-degree rotating seat, more leg room, and enhanced visibility. On the Vermeer consoles, all controls are placed on the right. "Since most operators turn to the right, it makes for better ergonomics," says Savage.
Maneuverability can be an important buying consideration as well. For tight jobsites contractors should look for ride-on trenchers with a compact profile such as the Ditch Witch RT45 and the Vermeer RTX450.
What are your maintenance needs? 
According to Seabolt, maintenance has been an area of focus for Ditch Witch. "All of the daily maintenance points are in one area, making it easy and convenient for the operator," says Seabolt. Both Vermeer and Ditch Witch provide telematic software to help equipment owners monitor and manage their machines. A strong dealer with readily available parts and service will not only help you maximize your trencher uptime but will help you select the right ride-on trencher for the job.
Read Next
5 Must-Ask Questions When Renting a Trencher 
Choosing the Right Concrete Pump for the Job
Choosing the Right Dump Truck for the Job