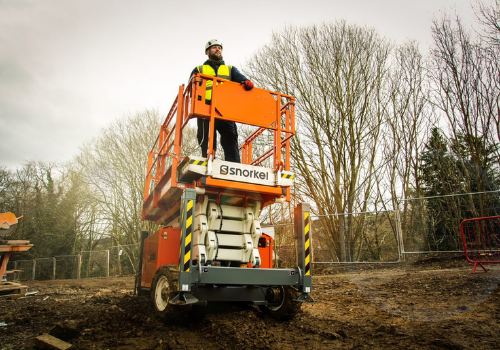 Choosing the right MEWP is of the utmost importance and is essential for the safety of the operator and others in the work area, stresses Tony Deatherage, Service Manager at Snorkel Lifts, a popular manufacturer of scissor and boom lifts. "You need the right machine for the job."
He points out that selecting the wrong machine for the job increases the likelihood that the operator may try and make it work, causing an unsafe situation. Furthermore, using the wrong machine could result in damage to the machine and workplace, as injuries or death to the operator.
Anyone purchasing a MEWP needs to identify what type of MEWP is required, Scott Owyen, Director of Training at Genie Lifts advises, and some questions need to be asked to make the right equipment is chosen for the job.
"One of the first questions you should ask is: What is the application? This will help you decide which type of machine you need."
Once this determination, there are several other factors to consider.
1. How high do you need to reach? "The required work height is an obvious and important selection criterion for MEWPs," says Owyen. "In the U.S., actual working height should incorporate 6 feet – representing the reach of an average worker standing on the platform with arms stretched overhead. The working height of a 60-foot boom lift, for example, is actually 66 feet."
2. Do you only need to go up or do you need to go up and out? The ability to reach out horizontally is a deciding factor and could indicate the need for a telescopic or articulating boom vs a scissor lift, self-propelled vertical lift, or push-around personnel lift, which have little to no horizontal reach capability outside any extension deck offering.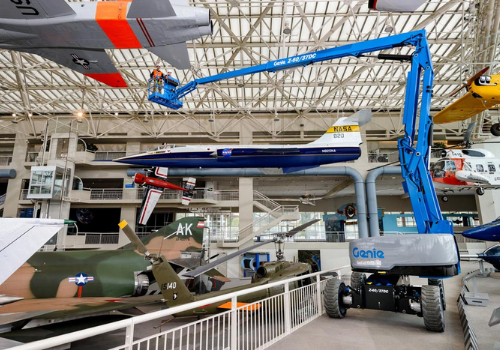 3. If you do need to reach out, how far out do you need to go? "Knowing what you will be lifting and how much it weighs should guide MEWP selection as well. MEWP platform capacities can range from 300 to 1,000 pounds and above." Calculating the total machine load is essential so you can avoid exceeding the rated capacity of the machine.
4. What are potential jobsite obstacles? Fixed obstacles, such as water, ditches, or permanent structures indicate the vertical and horizontal reach needed to access the work at height, explains Owyen. Articulating booms provide special up-and-over capability to position the operator's basket around overhead obstacles in constricted work environments. In this situation, the machine's chassis size and maneuverability – such as its turning radius, proportional controls, and other steering options may also become crucial for jobsite access.
5. What will you be lifting? "This capacity calculation should include people, tools, material, and anything else that will be in the platform, so it is important to identify how many people need to be on the platform at the same time. Different MEWPs have different platform sizes and entry points in addition to operator and weight capacity ratings, which need to be taken into consideration."
Snorkel's Deatherage also underscores the importance of considering the capacity of the platform or deck and what kind of materials will be handled. "Obviously, masonry projects will require a higher platform capacity for materials than a project using wood or glass, for example."
Understanding the experience and training level of the operators themselves is key, Owyen points out. This helps determine whether operator or familiarization training will be needed before work begins.
6. What is the range of motion required? "The importance of understanding the worksite is just as important as knowing what you will be lifting," Owyen emphasizes.
The work area that each boom lift can access is determined by the combination of its vertical height and horizontal outreach capabilities – commonly referred to as its range of motion or working envelope, he explains. Range of Motion charts feature a picture of the arc-like area in which each boom is able to perform, laid over a graph that makes it easy to determine the unit's access capabilities.
7. What unusual jobsite conditions need to be factored in? That could include things like accessibility, whether there are any weight restrictions for support surfaces, minimum stowed dimensions for doorway access or terrainability, such as the need to drive on turf or sand, he says. Special considerations could also include noise or emissions requirements.
"Consider the MEWP's intended use and the terrain involved," adds Deatherage. If it is a flat or paved surface, a slab scissor lift will probably be the right choice. But if it is an uneven surface, you will want to go with a rough-terrain model."
Beyond all these considerations, lift manufacturers offer special options and accessories to customize different machines for specific applications, such as material handling or secondary guarding.
To assist with selecting the right MEWP for the job, Genie provides guidance in explaining the general performance characteristics of the different types of MEWPs in their MEWP Safe Use Plan.
Operating training is indispensable
"Training is key to operator and jobsite safety," notes Deatherage. Because of how dangerous working at a height can be, those who will be operating MEWPs need to be properly trained. If not, the use of MEWPs can lead to various accidents, such as falling, collisions, or machine damage.
MEWP operator training is not only a requirement under the ANSI (American National Standards Institute) A 92 standards, Owyen of Genie states, "it is critical from a safety standpoint.
"Allowing workers to operate MEWPs on the job without any training can result in someone getting hurt, or worse. This is why it is so important to elevate awareness of both the regulations that are in place and the training available that not only satisfies those regulations but also ensures that equipment operators have the knowledge available to operate the MEWP safely."
Some manufacturers even offer high-quality operator training, supervisor training, and train-the-trainer courses for MEWPs.
Equipment classifications 
A MEWP (Mobile Elevating Work Platform) is a machine designed to lift personnel to elevated areas to carry out work at height safely and efficiently. Previously referred to as an Aerial Work Platform (AWP), there are different models and types available to contractors, each with their own set of benefits.
The simplest way to differentiate between the machines is to look at the machine to see if it has a boom or not. Machines without a boom are usually vertical lifts or scissor lifts. Machines with a boom can be mast lifts, articulating boom lifts, telescopic booms, and truck-mounted lifts.
MEWPs are classified by group and type, Genie's Owyen shares. The group is determined by platform location in reference to the tipping line, and type is in reference to travel capabilities.
There are two MEWP Groups: Group A and Group B, he explains. "Group A machines have a design that does not allow the main platform to extend beyond the tipping line or, said another way, the platform does not go outside of the drive chassis envelope." A scissor lift is a perfect example of a Group A MEWP.
"Conversely, a Group B machine has a design that allows the platform to extend beyond the tipping line. A great example of a Group B machine would be an articulating or telescopic boom."
In terms of MEWP types, there are three different types MEWP Types, says Owyen.
Type 1 MEWPs allow traveling only when the MEWP is in a stowed position.
Type 2 MEWPs allow traveling with the work platform in the elevated position. Traveling is controlled from a point on the chassis.
Type 3 MEWPs also allow traveling with the work platform in the elevated position. Travel is controlled from a point on the work platform.
"An example of a Type 1, Group A (1A) MEWP would be a manually propelled vertical lift. Trailer-mounted booms are perfect examples of a Type 1, Group B (1B) MEWP. An under-bridge inspection machine is an example of a Type 2 MEWP.
"A great example of a Type 3, Group A (3A) MEWP would be an electric or rough terrain scissor lift. Articulated and telescopic booms are Type 3, Group B (3B) MEWPs."
MEWP aerial lifts are an important piece of equipment in any contractors' fleet. To avoid added stress and costs for deciding on the lift that does not match the needs of the project or jobsite, know the difference in aerial lift groups and types.   
Read Next
Mobile Elevating Work Platforms: New Models Offer Increased Reach, Enhanced Safety Feature Articles