The latest wheel loaders to hit the market have a lot to offer contractors. So much so, that buyers may need to rethink which machine they need.
"A lot of innovation allows you to get more out of the machine," says, Scott Schmidtgall, product application specialist for Caterpillar's medium wheel loader line, "so you may be able to accomplish similar tasks with a smaller model."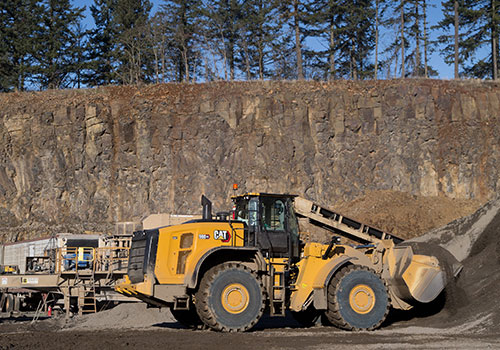 "We have the ability to design the full machine from the front bucket all the way to the linkage, the tires and transmission to the counterweight," adds Schmidtgall. 
When specifying a wheel loader, buyers need to take into account the density of the material to be moved and the trucks that will be loaded.
"Matching the size of machine and bucket to the trucks in your fleet is also important," says Andrew Dargatz, North American wheel loader product manager at CNH Industrial, which manufactures CASE wheel loaders.
Applications are key. "Is your machine going to have a simple bucket on the front end at all times, or will you be swapping out for numerous attachments?" asks Dargatz "With attachments, coupler choice and ease of use becomes a factor."
Whether you choose standard, extended reach or tool carrier linkage also depends on the type of work you do. "Each can perform all the tasks," says Dargatz, "but extended reach is better for loading trucks, tool carrier is better for material retention and handling, and standard Z-bar provides all-around performance."
Customers are looking for newer technologies that can increase fuel efficiency, increase uptime and reduce total cost of ownership," says Eric Yeomans, product manager for wheel loaders at Volvo Construction Equipment, an observation shared by Dargatz and Schmidtgall. 
"It's now about how can we do that same work faster or more efficiently or smarter using technology, for the purpose of lowering the bottom line and getting more work done or loaded out in a single day or shift," says Dargatz.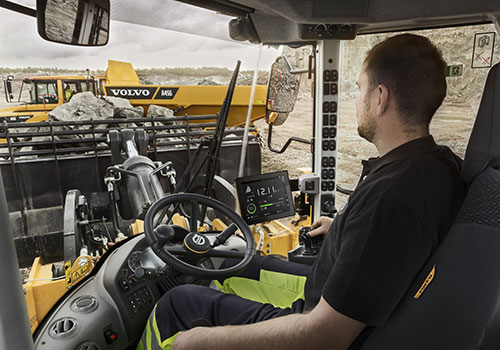 The Latest Wheel Loader Technology
Payload Management Technology
Payload management technology solves the problem of overloading or underloading trucks, where time and money easily can be lost. Operators can access real time information on the size of load needed to fill the truck.
On the latest Volvo, CASE and Cat wheel loaders payload systems are now integrated into the machine and standard on many models including all Cat Next Gen Medium Wheel Loaders. When data is integrated with jobsite management programs fleet managers can gain perspective on operator performance and cycle information that could help guide future decisions on bucket and machine sizing.
Operator Assistance
Skilled operators are in high demand and contractors are looking for ways that improve the productivity of less experienced operators. Assist features can help bridge the gap.
Cat offers five different assist features, such as auto set tires, Autodig, tip off assist (optional), machine speed limits, and implement kickouts. "If more than one operator is using machine, each operator can log in to bring back 40 machine settings," says Schmidtgall. "The operator works faster when machine settings are where they prefer them." In addition, the Application Profile feature allows the operator to, at the single touch of a button, change multiple machine settings.
With CAT's optional tip off assist, the wheel loader controls tipping off to an accurate target. The operator enters the target weight and the machine knows how much material needs to be loaded out. 
"The new Cat Autodig with Auto Set Tires promotes proper loading technique to significantly improve productivity," says Schmidtgall. With Autodig selected, the operator sets the dig mode appropriate for the material being loaded and the linkage height. Once the controls are set and as soon as the bucket engages the pile Autodig takes over, controlling the lift and rack.  With Auto Set Tires, if the machine does not see the operator give a lift command as they begin to dig, the machine will give a slight lift command, setting the tires for tractive effort, to keep a very efficient load. This reduces tire slippage and decreases fuel burn which are large drivers of operating cost.
From the Volvo Co-Pilot tablet-like display in the cab, operators can utilize the Volvo Load Assist platform and a variety of apps designed to improve operator performance. In addition to on-board weighing, operator coaching enables operators to set targets for metrics such as operating time, average speed, fuel consumption and distanced traveled to improve efficiency and get more out of their machines and improve their operating skills.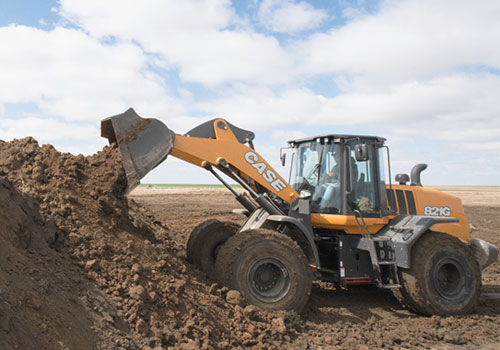 The touchscreen capabilities of the CASE G Series loaders make operation and access to critical settings and operating information easier. One of the settings on the G-series is for adjustable electro-hydraulic controls. These allows operators to independently set lift and tilt functionality to smooth, moderate or aggressive, according to the application. Fine bucket metering allows operators to top off any load more accurately.
Improved Fuel Efficiency
Fuel efficiency has the ability to drive real savings and lower the total cost of operating the machine. The Cat 980 XE and 982 XE models now offer a CVT (continuously variable transmission) powertrain option. Together the Cat CVT, engine, hydraulic and cooling system significantly improve fuel efficiency up to 35%, through lowering the rated engine speed with high rimpull.
"CVT is the best of both worlds --a transmission with a fully split hydrostatic and mechanical power," says Schmidtgall. "This design separates engine speed from ground speed.  It runs at lower engine RPMs than a powershift model since it is also equipped with a larger implement pump to increase fuel efficiency." Beyond fuel efficiency, Schmidtgall cites other benefits such as faster implement speed at lower RPMs, creep control, and rimpull adjustment.
On CASE G series wheel loaders, power options have been simplified to Smart and Max. Max is chosen when the operator wants to work at full throttle, while the new Smart Mode delivers high performance and an enhanced operating experience through improved communication between the engine and transmission. "This helps achieve smoother shifting, reduced tire wear and up to 10 percent fuel savings when compared to Max mode," says Dargatz.
Volvo's newest wheel loaders have up to 20% greater fuel efficiency compared to previous models thanks to features like rimpull control, the patented Reverse-by-Braking function, a dry P-brake and the eco pedal, which applies a mechanical push-back force in response to excess use of the accelerator. Also contributing to improved fuel efficiency is the next-generation Optishift, which integrates Reverse-by-braking and a new torque converter with lock-up, creating a direct drive between the engine and transmission.
Lower maintenance costs
Manufacturers are reducing maintenance costs by extending fluid and filter change intervals. Cat 980 and 982-wheel loaders reduce maintenance costs up to 20% and by up to 25% on the 980 XE and 982 XE models. Cat's maintenance intervals are scheduled in 1000-hour increments, eliminating service downtime and reducing filter and fluid expenses. Volvo has also extended oil change intervals to 1000-hours on its wheel loaders.
Tire pressure monitoring systems also offer potential cost-savings. Available on CASE, Cat and Volvo wheel loaders, the systems alert operators when tire pressure is out of a set range. "This can improve uptime and reduce the wear, tear and stress put on equipment when operating on underinflated tires," says Dargatz.
Don't Overlook These Items
We asked our experts what buyers sometimes might overlook when evaluating the wheel loaders on the market. Here's what they said:
Eric Yeomans, Volvo Construction Equipment
"What can be very different is the training each manufacturer offers. You want to make sure your operator is operating the machine correctly to get the full benefit."
Andrew Dargatz, CNH Industrial
"Pay attention to the relation between tires, axles and transmission options as it relates to the conditions you operate on every day. Take stock of your operation and discuss that with your local dealer."
Scott Schmidtgall, Caterpillar
"Some buyers make the mistake of nomenclature buying. They're getting ready to replace a 980H or 980K size loader so they think they need to replace it with a Cat 980 / 980 XE. Consider whether a smaller machine could accomplish your tasks."

With so much to consider when specifying a wheel loader, after you establish how and where you will use the machine, a conversation with your local dealer is a great next step.