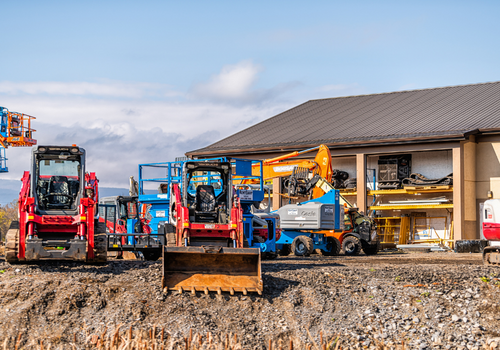 Pay-per-use equipment models are continuing to grow in the construction industry, but what does that mean? Imagine an opportunity where a company only pays for its assets – such as vehicles or other essential equipment  – as they are used.
"At its core, that is what pay-per-use is all about," says Matthew Jennings, Pay-Per-Use Commercial Leader at DLL. "Pay-per-use is a solution where companies can align their costs and revenue and overall, get insight into their operations."
"The key thing companies must understand about pay-per-use is that it is not an off-the-shelf, one-time arrangement where you get what everybody else has," stresses Jennings. "It is a strategic approach to your business and your customers' particular needs. The process must engage the customer directly to develop the appropriate pay-per-use solution."
An adaptive solution
In many cases, changes happen first in the consumer part of the business, Jennings notes. Airbnb, Uber, and Spotify are businesses that shifted their industries by allowing consumers to pay for outcomes rather than assets.
"Also, in a post-pandemic world, companies need to think about how their business model can adapt to rapid – and often unexpected – change.
"By leveraging pay-per-use, companies might be able to better manage those uncertainties, particularly when it comes to optimizing and managing a fleet. "For example, if the fleet business is seasonal, they may need to scale their fleets up or down accordingly. With pay-per-use, they are more likely to pay for the fleet vehicles as they are needed."
In his Optimizing Fleet & Asset Management with Usage-Based Equipment Financing education session featured at the upcoming CONEXPO-CON/AGG 2023, Jennings will discuss how pay-per-use models work, the questions business owners should ask to determine if pay-per-use is a fit for their operations and how the data and insights provided by pay-per-use models support better fleet and asset management.
About the speaker
As DLL's Pay-per-use Commercial Leader, Jennings is responsible for developing tailored pay-per-use solutions for asset-reliant industries such as construction, transportation, industrial, material handling, healthcare, food, and agriculture.
Jennings has been in the business world for more than 25 years. He has been with DLL for 17 years. During that time, he has had numerous different roles at the company. Many of those positions involved working directly with end-user customers, manufacturers, and dealers to help customers access the needed equipment and provide the financial tools to deliver value. For more than eight years, he managed both global and international vendor relationships.
With 150 sessions, CONEXPO-CON/AGG's comprehensive education program is the leading source for contractors, business owners, construction material producers, and end-users to obtain cutting-edge, timely, and actionable information for today's challenging economy and a changing and global industry. Click here for more information.
Read Next
Equipment Fleet Management Best Practices: Top Contractors Share Successes and Struggles