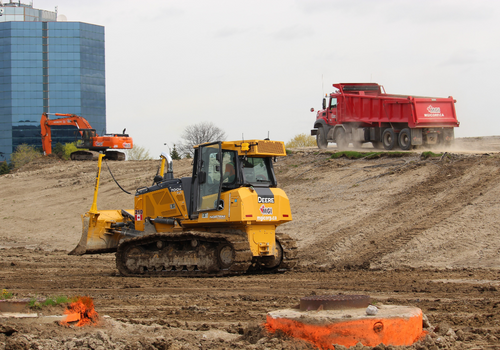 Good fleet management can be time-consuming for companies with numerous machines, especially when the equipment is dispersed across multiple job sites.
To optimize your fleet usage, you need to optimize your fleet management system. Finding ways of managing your fleet more efficiently is key to doing that, as well as reducing equipment costs and downtime.
"As I see it, the three biggest problems surrounding fleet management and maintenance are: performing unnecessary tasks, equipment (and parts) availability, and cost control," says Christopher Lindsay, Head of Sales at Senzit. "Make your fleet more efficient by employing strategies that address these issues."
An efficient fleet management system allows you to engage in higher-value activities, such as forecasting and problem solving, while avoiding lower-value activities, such as data entry and looking up part information.
Follow these tips to make your fleet management system more efficient:
1. Eliminate paper
Paper systems are inefficient. You can only access them if you're in the same area where they're stored. Printing a duplicate copy takes longer than sharing a digital file. Making changes to a printed document and then printing the new copy takes longer than making changes to a digital document. Printed copies allow for multiple copies to exist at the same time, which frequently confuses teams as they try to determine which is the latest and most accurate. Paper documents are static, whereas digital documents are dynamic, which allows for changes, comments, and exportation into other software or other file types.
2. Eliminate unnecessary work
Numerous work hours can be saved each week if you can eliminate some activities.
"If you were to institute a software that would allow you to buy more automating or to more quickly communicate dispatch orders or to more quickly work orders for maintenance to monitor your fleet for operator compliance. Integrate POS systems with all your other systems. Think about how much time, paper, and effort is saved from eliminating those tasks and processes," says Lindsay.
Fleet management software can automate some processes, alert you to upcoming service intervals, integrate with a machine's telematics systems for real-time equipment alerts, and create reports.
For example, fleet management software is capable of automatically pushing out data from one platform to another, which eliminates entering the data twice. They can be set up to automatically alert you to a service interval when a part reaches 90 percent usage or to forward all machine diagnostic alerts to your cell, and this saves time by decreasing the amount of time and energy spent tracking and scheduling. If you are concerned about a part being available, mark the alert for when the part reaches 70 percent usage to allow for more time for the part to arrive.
"Automation—or setting aside processes or workflows—or digitization of previous analog tasks—is a really good way to get make your fleet management more efficient," says Lindsay. "Design workflows for operators, drivers, and technicians that both streamlines activities and address regulatory issues."
And being able to create a report within seconds, saves time gathering and entering data in order to create your report; you can spend more time acting upon what you learned from the report and less time building the report.
"If you can take all this data—equipment on site, equipment en route, equipment being serviced and repaired, and service and maintenance schedules and plug that into a system that spits out an answer for you in a second, then you can spend more time ensuring machines are in good health or more time making ensuring the engine that got dusted on jobsite X and is due to be on jobsite Y in a few short weeks is replaced, serviced and trucked over there."
3. Track and monitor
A lot of equipment downtime is due to poor fleet management practices. Sometimes the operator damages the machine in a way that causes downtime, but oftentimes, it's due to component failure. When a component fails in the field, the fleet manager is usually at fault for not having scheduled maintenance of the machine before the component failed.
By tracking data over time, you will then be able to engage in the forecasting equipment performance with greater accuracy and better predict and plan for future service and maintenance needs, which decreases equipment downtime.
It's not just for big companies
"Although the larger companies are more likely to use technology for fleet management, fleets are often more overlooked compared to smaller companies. The larger companies prioritize the cost of downtime hour in revenue and cost of repair in how they manage and maintain these fleets," says Lindsay. "Contrarily, a mom-and-pop parts shop, for example with just 10 parts trucks lose 10 percent of its revenue if a truck goes down. And, although many of the smaller companies are aware of fleet management technology, they don't yet see use cases for their company or believe it doesn't offer enough ROI.
However, smaller companies are beginning to employ the technology in response to factors such as parts and labor availability, which are cutting into their margins and they're looking for less traditional solutions to try to bring those margins back by being more efficient and stretching those assets a little longer."
Read Next
Equipment Fleet Management Best Practices
8 Fleet Managers Share Tips for Success in a Rapidly Changing Role