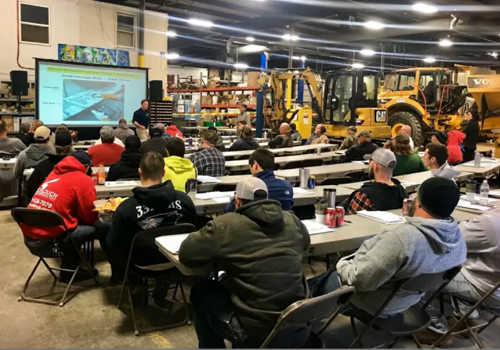 The Association of Equipment Management Professionals (AEMP) recognizes members who are doing a superior job of managing mixed fleets. The AEMP refers to these standout professionals as Fleet Masters. Four of them discuss the most consequential best practices they have developed to help optimize fleet productivity and ROI.
Fleet Optimization Starts with Commitment from the Top
Barry Schlouch, president of Schlouch Incorporated, a heavy civil contractor, immediately points to the importance of company culture. Engaged employees must understand the importance of proper asset management. The process of engaging employees, then, must start at the top with leadership and work its way inward.
The AEMP often talks about the importance of the equipment triangle: end-user, dealer and manufacturer. Each side of that triangle must work together in each other's best interests to help drive the construction industry in a positive direction. Schlouch applies that same three-legged principal within his construction company. He identifies two internal triangles of success:
Operations, finance and CEO.
Equipment operator, technician and jobsite foreperson.
Again, each side of a triangle must work together to help drive fleet management in a positive direction.
When Schlouch recognized that his company needed to improve in the area of fleet management, he took it upon himself as president and co-owner to lead the charge.
"Rather than send someone else from our company, I joined AEMP and set out to master their 17 disciplines of fleet excellence," Schlouch says. "The second person I put through was my operations manager. I felt that if the equipment operators and forepersons didn't get it, we would be working uphill. The third person I sent to AEMP was our fleet manager. For us, this kind of reverse approach helped us build amazing momentum with asset management and fleet excellence."
Data-Based Replacement Decisions
Kevin Schlangen is the fleet manager at Dakota County Fleet Management, a public sector fleet in Minnesota. He and his team have developed a way to essentially grade an asset based on several factors that impact its usefulness and value.
"This is a way to assign points to the replacement value of a fleet," Schlangen explains. "Then, as fleet managers move forward with the decision-makers in their organizations, they have a way to somewhat normalize a mixed fleet and make some smarter replacement decisions."
Here's how Dakota County Fleet Management goes about grading its vehicles and equipment.
Age – An asset is assigned 1 point for each year of service based on in-service date.
Usage – On-road vehicles and equipment get 1 point for every 10,000 miles, or 20,000 miles if the asset has a 7-liter or larger engine. Off-road equipment gets 1 point for every 1,000 hours if the engine is at least 150 hp, or every 200 hours if the engine is under 150 hp.
Type of Service – 1, 3 or 5 points are assigned based on the severity of the work being done. For example, an administrative vehicle would be a 1, whereas a dump truck might get a 3 or 5.
Reliability – 1 to 5 points are assigned based on how often an asset was in for repair in the previous year. An asset gets a 5 if it was in the shop an average of 3 or more times per month, whereas a 1 is assigned if it was in the shop no more than once every three months.
Maintenance & Repair Costs – 5 points are assigned to an asset with lifetime costs equal to or greater than the original purchase price. 1 point is granted when lifetime M&R costs are no more than 20 percent of the original purchase price.
Condition – The fleet management staff thoroughly inspects assets to evaluate overall body condition, the presence of rust, interior condition, accident history and anticipated repairs. A scale of 0-5 is based on the sum of all factors, with 5 being poor condition.
Energy Efficiency – This can be an overlooked factor that has a significant impact on asset productivity and value. A maximum of 6 points can be earned by adding up the sum of each factor. Not all factors apply to a given asset. The factors and their maximum point values are:
2 for utilization
2 for right-sizing a replaced unit
1 for flex-fuel or biodiesel-compatible
2 for hybrid, electric or alternative fuel
2 for alternative power unit or anti-idle technology
Define What You Do - Then Set Benchmarks and Goals
Michael Brennan earned his Fleet Masters recognition when he was a fleet manager for Manatee County Fleet Services in Florida. Now he is an asset management consultant with CDMB Consultants.
"If you're looking to build a world class operation that's highly efficient and team-oriented, you really need to start with the basics," Brennan says. For him, that meant setting up shops for maximum productivity.
"One of the first things we did was look at our main repair facility," Brennan says. That shop was old, outdated and inefficient. "We spent more time moving equipment around than working on it. We got together with our finance team to get a plan in place to either replace or rehab our service facilities."
That primary facility was replaced. The new facility received all the amenities needed to help service equipment and vehicles for the next 20 years. Brennan points to wireless technology and a 14-ton, overhead gantry crane as examples.
"We then moved systematically through our other facilities to make sure they would also be capable of meeting the needs of our fleet well into the future," Brennan says. "A big part of that was examining the composition of our fleet to determine what each facility needed to be designed for."
With the service shops headed in the right direction, Brennan set his sights on defining work processes and key performance indicators. KPI's were established for average fleet age, ratio of vehicles per technician, average vehicle work order cost, fleet availability, 24-hour service turnaround, scheduled rework, rework ratio, technician billable hours, recorded vehicle mileage and recorded equipment hours. KPI's were measured not only annually, but also quarterly.
From these KPI's, Brennan was able to establish clear goals in four key areas:
Customer service – ensure 93 percent fleet availability, 65 percent scheduled PM's and 80 percent 24-hour turnaround.
Internal – complete revisions to fleet policy and procedures, and also right-size the fleet through utilization studies.
Staff development – conduct training assessments for all supervisory personnel, initiate a quarterly in-house training program to keep technicians up to date, and continue delegation of decision-making authority to the proper staff. "We wanted to get decision-making authority down to the lowest possible level because that speeds up a process," Brennan explains. "That is how you can achieve many of your other goals, such as 80 percent 24-hour turnaround."
Projects – complete facility renovations, upgrade fleet management software.
Educate and Empower People
Gil Gilbert, fleet operations manager for Henkels & McCoy, a leading utility construction firm, is also a big believer in KPI's and data in general. However, he cautions equipment managers to not allow data to become overwhelming.
"Keep the data as simple as possible," Gilbert advises. "Spreadsheets with 15 different pivot tables are hard to understand. You don't want people to end up with analysis paralysis. Operations personnel and superintendents need to know certain information — information they can help influence. It can be helpful to develop a customized dashboard with just the important information they need to know."
Many of Henkels & McCoy's equipment operators are relatively new. To assist with their training and education, Gilbert's team put a QR code on every machine. That code connects an operator to a library of information related to that machine — everything from videos on how to do a walkaround inspection, to operator tips and preventive maintenance advice.
Data and technology can be a fleet manager's best friends these days. Embracing both is increasingly important. But don't lose sight of something else that is equally important.
"Sometimes we as equipment managers don't take time to recognize what our people are doing," Gilbert says. "Technology is a great example. Sometimes we might have an employee who is really keeping up with things, but they aren't empowered to do anything with their knowledge or ability. An equipment manager always needs to have open communication with their employees, and then empower them and let them run with things. It's amazing what people can do when you give them the opportunity."
This article is based on a panel discussion that took place at CONEXPO-CON/AGG 2020. The panel was led by Gregg Schoppman, principal at FMI Corporation, a management consulting firm that works exclusively with the construction industry.