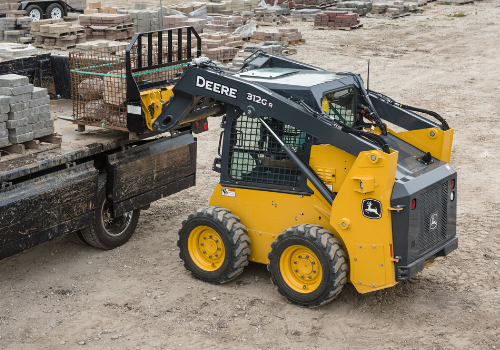 Fleet owners understand the value of versatility and the skid steer loader is one of the most versatile machines on the market. But how do you select the right skid steer for your job? They key is understanding the applications for the machine, whether that is dozing, lifting, material handling, or any number of tasks made possible with attachments.
Ryan Ruhl, instructor team lead for John Deere Construction & Forestry - Compact Construction Equipment, likes to use a ratio to help spec a skid steer for multiple needs. "Figure out how much time the machine will be doing certain tasks, then choose a machine that will best handle the highest percentage of use."
Utilizing a skid steer with specs not suited to the application can be both disappointing and costly. For example, a loss in productivity and efficiency can occur if a skid steer is too large or too small for the job. "If a skid steer does not have enough power or hydraulic capability to run the needed attachment(s) to complete the job, it can result in less production and more downtime," said Patrick Baker, CE product manager, Kubota Tractor Corporation. "Stability can be an issue when lifting heavy loads if you underspecify a machine's lifting performance, added Kevin Coleman, skid steer loader product expert, for Caterpillar.
With that in mind, here are five things to look at when selecting a skid steer for your construction company.
1. Size and Horsepower
"There are some contractors that will just buy the largest horsepower machine available, and that works for some applications — but isn't always practical in terms of cost, transportation and lifetime ownership costs," said George MacIntyre, product manager, CASE Construction Equipment. Instead, MacIntyre advises to take stock of the current business and to only consider buying a machine with higher horsepower than you need now if you are considering adding attachments, getting into heavier work or expanding the business. 
Skid steers can range from less than 6,000 pounds to more than 9,000 pounds.  The pushing power and tractive effort for the job will determine the horsepower needed. "A strong engine and horsepower are needed to be effective during site prep – whether pushing material, grading, or backfilling," said Baker. Small units are generally under 50 horsepower. Medium units range between 50-70 horsepower, and large skid steers are typically over 70 horsepower.
2. Rated Operating Capacity
Rated operating capacity (ROC) measures the stability of the skid steer and is calculated at 50 percent of the machine's tipping load.  ROC provides a comparison between size models across manufacturers.  According to Baker, the greatest operating capacity will be needed for site development (clearing debris, loading trucks, putting down gravel), material handling (using attachments – pallet forks, grapple, etc., to move different kinds of material), and demolition.
3. Lift Type: Radial vs. Vertical
A radial lift arm swings out in an arc before reaching the highest point while a vertical lift arm raises straight up then out to the highest point. "If a lot of your machines are working from ground level to the top of a cab, a radial-lift machine, is probably a good choice," says Coleman. "If you are working above the cab and higher a lot of the time, then you will get value from vertical lift."
Baker strongly recommends a skid steer with vertical lift if any type of loading or unloading of material is needed on the job.
"The vertical-lift boom design has really dominated the marketplace," said Ruhl. "Typically, this boom design costs more money than a machine of radial design, but the versatility can out-weigh the cost concerns."
4. Attachment Performance
Attachments are recognized as an effective way to grow services within your existing business, thus improving the profitability of the skid steer. "Think of the skid steer as the platform that allows you to do work, and each attachment ultimately allows you to do more work," said MacIntyre. 
Attachments drive skid steer selection because each attachment has requirements for hydraulic flow and engine capacity. Another factor is the weight of the attachment vs. the rated operating capacity of the machine. "Some attachments require a heavier machine to adequately navigate the tool and keep the attachment stable while working," said Ruhl.
According to Baker, Kubota skid steers can be equipped with high-flow auxiliary options from the factory, opening the door to applications that were not possible just a few years ago.
Caterpillar recently introduced SMART grader blade and backhoe attachments that are recognized by the CAT D3 skid steer loader when connected. Connection activates a dedicated control and information screen in the cab display monitor. "It also takes the existing controls and convert them into controls for that specific attachment," said Coleman.  For example, when the SMART grader is attached, the right hand joy stick controls the blade."
 5. Operator Comfort and Automation
With equipment operators in high demand it's not surprising that several manufacturers have identified an increased focus on comfort and automation among buyers. When operators have a comfortable seat, quiet cab, good visibility, and automation to make jobs easier, productivity is likely to improve.
"Electro-hydraulic (EH) controls allowing operators to change operating patterns, control sensitivity and speed control to better accomplish different tasks," said Ruhl. "The EH controls have also lowered operator physical effort, reducing fatigue."
A new feature from John Deere is the Onboard Grade Indicate that allows an operator to check and see the grade the machine is traveling on. It reduces the need for added labor to check or survey ground while rough grading.
According to McIntyre, the new CASE B Series loaders feature an all-new operator interface and simplified controls that allow operators to get up to speed quicker. Intuitive pattern selection (ISO and H) allows operators to work in the pattern that's most comfortable to them.  A new 8-inch LDC panel provides critical operating information available with easy navigation, and simplified electro-hydraulic controls allow each user to dial in machine power and speed too match each application.
Kubota offers an overhead sliding front door that can be opened quickly and easily for improved entry and exit of the operator's station.  "Kubota's Shockless Ride (KRS) system helps minimize operator fatigue," said Baker.
According to Coleman, CAT's new D3 series skid steers include a Return-to-Dig for setting the bucket angle, Work Tool Positioner for repetitive tasks, such as grading, digging and loading; and dual-direction self-leveling are designed to make tasks easier. Self-leveling automatically levels the loader linkage when raising and lowering lift arms, providing increased stability and reduced spillage.
Bobcat offers an optional touch display in its R-Series skid steer loaders that allows operators to easily access detailed machine information – including comprehensive error code explanation. This optimizes uptime and enhances overall serviceability.
Selecting the right model takes careful consideration. Review the specs for skid steer models from your favorite brands and then discuss your options and aftermarket support with your local dealer.
Products Featured in this Article:
CAT Smart Attachments
Kubota SSV Series skid steers
Join over 40,000 industry peers who receive construction industry news and trends each week. Subscribe to CONEXPO-CON/AGG 365.