Attachments transform skid-steer loaders into specialized tools that perform a multitude of tasks faster and more profitably.  But what should you look for when selecting from the huge array of attachment options and suppliers? What are the best skid-steer attachments for construction jobsites? We asked four experts for their advice.
What to consider when buying a skid-steer attachment 
1) Be prepared
You'll need some key information at your fingertips when specifying a skid-steer attachment, starting with the type of material you will be working in.  Have model numbers on hand as well as key specifications for the host machine such as lift/weight capacity and tipping load.
2) Think beyond the current job
Before making a purchase, think about whether you expect to have a need for the skid-steer attachment beyond the current job. If not, rental may be a better option. 
"Attachment rentals eliminate the need for storage and let you explore whether purchasing an attachment down the road makes sense for your operation," said Britta Kopp, marketing manager for Bobcat Company attachments. "Renting skid-steer attachments is often more cost-effective than hiring a subcontractor to do the work for you."
"We ask customers, 'What are you doing with it? What machine do you have?'" said Aaron Stubbs, marketing manager for Quick Attach, a skid-steer attachment manufacturer based in Alexandria, Minn. "What are you going to do with it after that? Too often customers are only focused on now."
3) Match the GPM and PSI to your application
Operators can run into issues if their hydraulic attachments are not matched to their skid-steer's hydraulic flow (GPM) and pressure (PSI) output capabilities. A machine with higher PSI is required for maximum torque, and the hydraulic hoses and seals must be able to withstand additional pressure. "For example, if you have tough digging conditions, you will need an auger drive with more torque," said Glenn Danuser, vice president at Danuser, a manufacturer of attachments based in Fulton, Mo. "If you have easier digging, you will need an auger drive with more speed."
Similarly, the biggest grapple may be too heavy for your skid-steer. "If the attachment is too heavy for your machine, you won't be able to lift anything because you are already reached max lifting capacity," said Stubbs.
4) Pay attention to service and support
Think ahead to how you will service an attachment if it breaks down. Are parts readily available? Is there a warranty? Downtime is the biggest problem for contractors. According to Stubbs, there is no governing body for companies who manufacture and/or sell attachments, so it's difficult for buyers to know exactly what they are getting. Quick Attach reassures buyers with ISO 9001 certification and a two-year factory warranty.
"You want to be sure you are going to have the support of a local dealer or skid-steer attachment manufacturer in the US which means parts availability will be better," said Lee Smith, product manager for FAE USA, a manufacturer of land clearing attachments. "You want to make sure you are not just bargain shopping. Mulching is an expensive business if you have downtime."
Skid-Steer Attachments Bring Versatility to the Jobsite
Brush cutters mow down weeds, saplings and shrubbery. According to Stubbs, right-of-way clearing contractors use them because they're more cost-effective than using larger machines and after mowing they can more easily see the debris that can be a problem for larger machines. Developers will also use them to keep undeveloped lots clear. "They do the job quickly and efficiently and anyone on staff can run it," said Stubbs.
Danuser's Intimidator is a tree/post puller that removes the complete root and stump.  "The Intimidator can remove any size tree with any size machine," said Danuser. "If the tree is too large and the skid-steer is too small, you can dig around the tree and remove the roots so the tree will fall to the ground."
Mulching attachments are growing in popularity due to increased usage in forestry management across the US. According to FAE's Smith, many forested areas are being thinned to reduce fire hazard and slow the spread when fires occur. Mulching provides an economical solution for disposal of the trimmed material and underbrush. "The treatment reduces the ability of the forest to carry a ground fire," said Smith. In addition, forest residue mulch spread immediately after a wildfire prevents soil erosion and reduces overland flow." FAE first introduced a mulcher for a skid-steer loader 25 years ago. Today its SONIC mulcher, introduced to the US market at CONEXPO-CON/AGG in March 2020, incorporates a computerized mulching head. "When you hit a button, the machine will automatically calibrate to the carrier for optimum efficiency," said Smith. He estimates as many as 30-40 percent of FAE mulchers are currently sold with this latest option.
Pallet Forks turn a skid-steer into a forklift, making it easy to move large loads of building materials.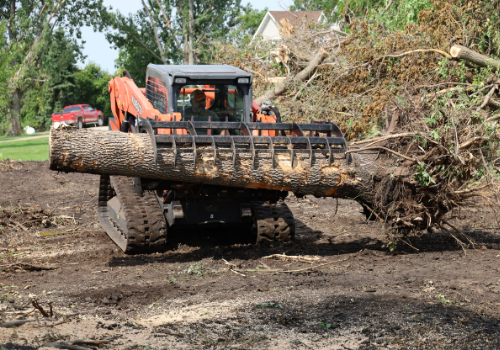 Grapples have an array of uses from lifting logs or rocks in landscape work, to sifting through debris from demolition. Solid bottom grapples work best for picking up smaller debris, while those with tines work better for sifting. A bucket/thumb combination can grasp oddly shaped items, but then fold out of the way for digging and loading. Quick Attach offers 20 different grapple options to meet a variety of needs.
Auger attachments dig holes with speed and accuracy. Choose from heavy-duty hydraulic models with high torque for powerful performance or a direct drive option for quicker hole digging in moderate soil conditions. According to Kopp, augers and hydraulic breakers are among the two most popular attachments.
Stump grinder attachments that efficiently remove stumps are a must for landscape contractors and municipalities.
Post driver attachments are primarily used by fencing contractors or by those in the agricultural sector. Hydraulic post drivers complete the task in seconds, rather than minutes improving productivity. Danuser's post driver with a grapple option allows for one-person operation.
Dozer blade attachments turns skid-steer loaders into mini-crawlers for the construction and landscaping markets. Bobcat's dozer attachment features a 6-way adjustable blade with electric over hydraulic controls.
Rock Bucket attachments separate unwanted objects, rocks, and debris while leaving finer material behind. Tines scoop and retain debris while the soil sifts through, helping to easily separate materials on the jobsite. "The rock bucket is the ideal attachment for contractors, landscapers, and homeowners with acreage," said Kopp.
A concrete mixer attachment allows contractors to mix, transport and pour concrete within tight areas where traditional mixer trucks can't reach, and at a speed that is faster than a traditional concrete mixer and wheelbarrow. With no need to schedule a third-party provider, contractors have more flexibility to pour concrete when they need it, and can do so with increased margins. The mixer attachment is ideal for sidewalks, driveways, finish work, fence posts, and footings.
Attachments improve the utilization of skid-steer loaders by providing new and better ways to perform an array of tasks. However, with a proliferation of options on the market and a lack of standards within the industry, operators need to ensure the attachments they are purchasing are geared for the rigors of construction work. Attachments need to be backed by solid service and support to truly deliver on their promise.
Join more than 40,000 industry peers who receive construction industry news and trends each week. Subscribe to CONEXPO-CON/AGG 365.
Read Next
Check Out These 2 Mulching Head Attachments For Skid Steers
7 High-Flow Attachments For Your Equipment
Stretching Your Productivity: Must-Have Compact Equipment Attachments
Kobelco's New Blade Runner Excavator Is Two Machines In One
6 Medium-Duty Dozers Offer Better Views And More Control