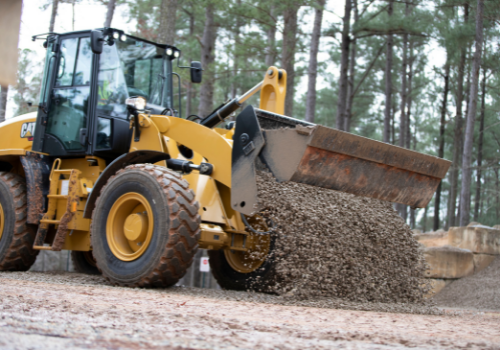 Although compact wheel loaders are still largely bucket-and-fork machines, there is growing interest in using various attachments to make CWLs more versatile. Some owners want more versatility from their machine to increase utilization rates; others want the advantages CWLs offer put to use in their applications.
When to use a compact wheel loader vs skid steer vs CTL?
"A compact wheel loader's strengths over other compact equipment, such as skid steer and compact track loaders, is the ability to move and load larger amounts of material more rapidly," says Frank Gangi, product manager, compact wheel loaders and attachments, Yanmar Compact Equipment North America. "They have bigger buckets, greater lift capacities, and higher travel speeds." Yanmar's V8, V10, and V12 models have travel speeds up to 22 mph, which is double or even triple the travel speed of other compact machines.
Higher travel speeds contribute to compact wheel loaders' advantage in fuel efficiency, says Lee Padgett, product manager, Takeuchi-US. "High-speed road gearing keeps engine speeds lower at higher travel speeds, saving on fuel costs." Padgett says automation features, such as boom height kick-out, return-to-dig, and automatic bucket positioning "can really improve efficiency and performance with compact wheel loaders, and these features are not traditionally found on CTL or SSL machines."
Patrick Baker, product manager, construction equipment, Kubota, cites two other features that add value to Kubota CWLs. "The R450 and R640 compact wheel loaders come with KubotaNOW telematics." Those machines also feature Kubota's Z-link system that combines the advantages of Z-link and parallel-link systems. "You get strong bucket force when excavating and grading and a nearly-parallel lift path for superior reach and lifting."
Compact track and skid steer loaders may give up some advantages to compact wheel loaders, but they retain others. They are smaller and more nimble and therefore better at working in confined areas. They are lighter and easier to transport. They are more capable on rugged terrain. And compact wheel loaders have a steering wheel and right-hand joystick, compared to two joysticks on skid steers and compact track loaders equipped with joysticks (some use hand and foot controls). "The lack of a second joystick reduces interface options, " says Scott Britton, attachments marketing manager, Caterpillar. "This is the main holdup in further development of attachments for compact wheel loaders, but there's little demand in the market for a greater range of controls on compact wheel loaders at this time."
Attachment point
Britton says maybe 98 percent of attachment interfaces are either ISO or skid-steer couplers, the former having 80 percent market share in Europe and the latter 80 percent market share in North America. He says the size and stability of compact wheel loaders make them the preferred platform for large, heavy attachments such as concrete mixing buckets and concrete wheel saws. "Power box rakes are becoming very popular," he says. These can be used anywhere a grader box blade would be used, such as for leveling gravel driveways but are especially well suited for soil prep before seeding because of their rotating rake head.
Hydraulic performance can be a limiting factor. Some OEMs offer high-flow options with compact wheel loaders, but the standard flow of 17 or 18 GPM is half that of other compact machines, and with the flow in skid steers approaching and even exceeding 50 GPM, compact wheel loaders fall far short, even with optional high-flow hydraulics. That said, there is a wide range of current attachments that are well suited to the compact wheel loader's flow, pressure and lift capabilities.
Even if the standard flow is enough for the customer's needs, the plumbing may not be. "Volvo will factory-fit wheel loaders with extra hydraulic lines so customers can run hydraulically-driven attachments," says Todd Cannegieter, product manager, attachments and special applications, Volvo Construction Equipment. Because most wheel loaders are still spec'ed as bucket and forks machines, there's little market demand for increased hydraulic performance or auxiliary lines as standard equipment. Cannegieter says while it's always best to work with your dealer to get the right loader configured the right way for your needs, this is especially true if you'll be running attachments.
Best attachment types for compact wheel loaders
CWLs have a clear advantage in the use of power attachments where visibility is key, such as landscape rakes, power brooms, tree spades, augers, and snow blowers, says Ethan Clowes, product manager, wheel loaders, JCB. He also says that regardless of the task, compact wheel loaders are more comfortable. "These were developed as production machines. It was expected that operators would spend all day in the cab so comfort and reducing fatigue was part of the design from the beginning."
While laser, 2D and 3D, and machine control continue to make inroads into other equipment types, compact wheel loaders are not ideal candidates for this technology says Ryan Anderson, product marketing manager, light construction equipment, New Holland. "In general these aren't great matches for finish work with any wheeled machine because the wheel ruts mandate reworking. They're best left to compact track loaders." It's not that technology doesn't exist for compact wheel loader attachments, but that the adoption rate has been slower.
Ryan Ruhl, instructor team lead, compact construction equipment, John Deere, says CWLs have another clear shortcoming to precision work. "The articulation joint and oscillation fight precision," he says. But he notes that the high speed of compact wheel loaders may offset their comparative lack of precision in some situations, such as when a contractor needs to make a number of driveway cuts in a subdivision. And despite potential ruts common to all wheeled machines, compact wheel loaders produce less overall surface disruption than skid steer and compact track loaders. Also, Deere's Articulation Plus, with steerable rear wheels, narrows the gap in maneuverability between the compact wheel loader and other compact equipment.
Ruhl says a bucket style in the agriculture market is becoming popular in other applications. The rollout bucket sits in a frame and has pivot points at the front of that frame; the frame is attached to the coupler. Additional dump height of up to 2 feet is gained with this design with no change to the hinge pin height of the loader.
Deere partners with Level Best to provide attachments for compact wheel loaders.
Anderson says New Holland uses a European-style bucket as standard equipment. This bucket has a higher back and shorter lip than skid-steer style buckets, where the ratio is reversed. He says there's a growing demand for the lower back, shorter lip style bucket, reflecting a general trend in the industry.
Read Next
Top Compact Wheel Loaders to Consider in 2022
How to Spec Out a Next Gen Wheel Loader - What to Look for and Questions to Ask