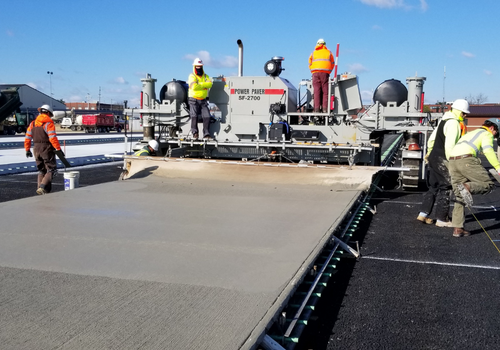 With costs running from $350,000 up to nearly $3 million, the decision to purchase a concrete paver is a major investment for any construction firm. It's important to do your homework to avoid a purchase that won't be profitable. We asked three leading manufacturers how to avoid mistakes and get the right machine for your needs.
1. Project and application details
"Mistakes are made when the supplier doesn't have full project and application details to understand what features need to be on the machine to perform the job," says Tim Nash, Director of Concrete Products for Wirtgen. This includes in-depth discussions about job details, concrete (supply/delivery/workability) as well as production targets. "A conversation about project and application details ensures the supplier has all the features and options needed to meet the project requirements," says Nash.
"The width and depth of concrete, rebar requirements, and how one will finish the concrete are good places to start a discussion," says Stephen Bullock, President of Power Curbers Companies.
In addition, Rod Schneider of GOMACO believes it's important to think about optional equipment needed such as center steel inserters, sidebar inserters, auto float, and in-the-pan dowel bar inserters.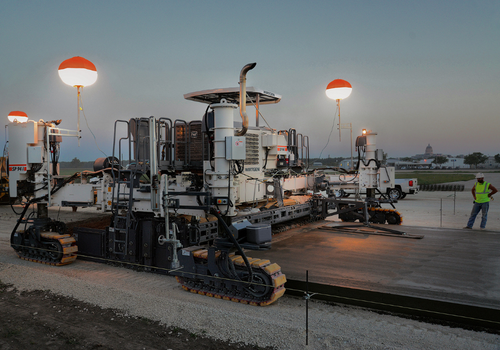 Lastly, think about how to get the machine to the jobsite and how frequently you will be moving the machine. Ease of loading and transport capabilities could have an impact on the final purchase decision. Schneider views transportability as one of the differentiating factors between brands (along with parts availability, pricing, and service after the sale).
"On a mainline paver, the ability to load a machine on a truck without having to remove the mold, plow, Super Smoother saves time, trucking cost and labor to move equipment around," says Nash.
For offset applications such as curbs and gutters, barriers, and sidewalks, Nash says dealers will question prospective customers to get a better understanding of their core business as well as other applications they may be interested in. They will also discuss whether or not they need to be able to mount the mold on both the right-hand or left-hand side of the machine, maximum heights for barrier applications, and maximum widths for sidewalks or bike paths.
2. Simplicity of operation and service
"Sometimes manufacturers overcomplicate equipment," says Bullock. He believes a machine that is easy to operate and service is more important than a concrete paver with every bell and whistle on it. "Next to a consistent supply of quality concrete, an easy-to-operate machine is the biggest key for a startup to be successful with a paver," says Bullock.
Simple operation is also a focus for GOMACO. According to Schneider, several features make their pavers easier to operate. "The machine automatically stops when an active fault occurs, and you can start and stop the machine with the push of a button," he says. Display screens are easy to understand.
According to Nash, human/machine interaction is always going to be important. "Intuitive pictogram control panel labeling and self-diagnostics are often cited by operators as helpful," he says.
While manufacturers are focused on simplifying concrete maintenance, failure to follow the maintenance requirements can result in downtime. "Get a copy of the maintenance requirements for the machine you plan to purchase and read it thoroughly," says Schneider.
According to Bullock, ease of troubleshooting and servicing is critical. "Allowing our customer to service the machine easily and make quick fixes to get back up and running tops the list of our design process," he says.
"Newer generation slipform pavers are not only easier to maintain but also cheaper to maintain," says Nash.
3. 3D Paving vs Stringline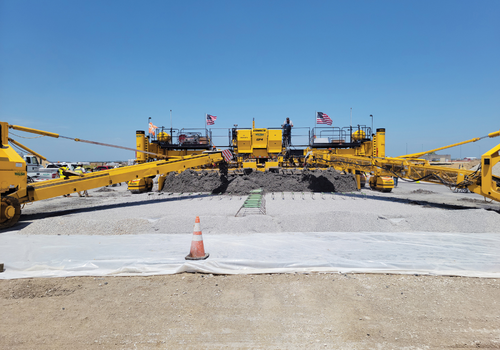 Manufacturers say the concrete paving market has swung toward 3D models in recent years. Using a digital model eliminates the error involved with setting a physical stringline. According to Bullock, eliminating this labor-intensive task of setting has been the catalyst for increased 3D-ready sales.
While the payback period can vary depending on how much work the contractor performs, satisfaction is high. "I can't say that I've come across a contractor that's moved back to string lines once they've made the move the 3D," says Nash.  Schneider concurs. In addition to the labor savings from the stringline crew, there is also no stringline maintenance during paving. "Those customers that have purchased a 3D system for their paver will say that they will not go back to stringline," says Schneider.
4. Versatility
Increased versatility in a concrete paver, can create new opportunities for contractors. According to Schneider, many of GOMACO'S two-track or four-track concrete pavers are capable of center-line paving, side-mounted paving, and side-mounted barrier or parapet paving. Wirtgen's most versatile unit is the SP 25i which is capable of a range of offset paving applications along with flat paving applications as well. Power Pavers offers both two- and four-track pavers that enable a wide range of paving applications, from basic bike paths to sophisticated airport runways.
5. Owning and Operating Costs
Equipment costs go beyond the initial purchase price, so buyers need to understand what to expect. According to Nash, contractors should be able to discuss owning and operating costs with suppliers "Some companies even have spreadsheets already created with the machine-side of the inputs and just need to input contractor values that vary across the country such as fuel, etc.," he says.
"We have operating cost estimates which factor in material cost, labor, fuel, and overhead," says Bullock "This allows contractors to plug in estimated daily production rates and determine likely profitability for a job."
Comparing the owning and operating costs of the new machine to a current concrete paver is a good exercise. Factor in downtime, your ability to get repair parts, repair costs, and whether or not your current paver is meeting smoothness specifications. Local dealers or concrete paver manufacturers are excellent resources to help you navigate your next concrete paver purchase.
Read Next
6 Concrete Paving Trends Innovating the Industry
Choosing The Right Concrete Pump For The Job