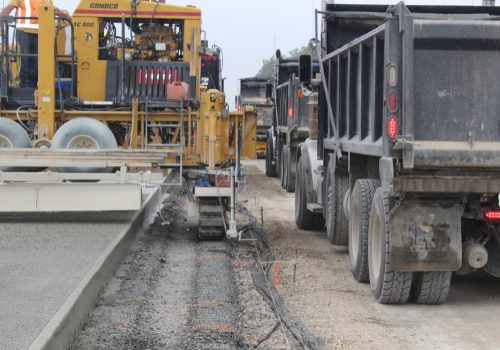 The concrete paving industry is rapidly evolving, with advanced paving technologies, improved paving practices, and better-quality pavements pushing the market forward.
1. New paving technologies
Technologies are making concrete paving more efficient, more accurate, more automated, and more connected.
For example, Gomaco concrete pavers feature Gomaco's exclusive G+ Connect—a CAN-based network using proprietary software to connect all control systems on a Gomaco paver, including electronics, hydraulics, and machine control technology. The system connects sensors to the machine's valve drives to drive tighter, faster, and more accurate machine corrections, leading to better quality pavements.
These intelligent, self-programming valves understand and can "automatically react and self-adjust to the dynamics of the machine for automatic correction of the paver's elevation, steering, pivoting, travel control, anti-slip positive traction of the tracks and more" according to a Gomaco press release. Plus, G+ controls now incorporate Gomaco's new vibrator monitoring system, which allows the operator to monitor, control, and diagnose each individual vibrator on a paver.
2. Concrete smoothness reaches new lows
The new Gomaco Navigator software for pavers brings all of the G+ paver accessories together for easy monitoring and control using a touchscreen display, which can be mounted on the paver at ground level; this allows ground personnel to make adjustments to the paver's performance and also configure settings for the Gomaco Smoothness Indicator (GSI)—a tool for measuring the smoothness of the concrete.
"By controlling machine functions with a computer, pavements have become much smoother over the last 20 years," says Matt Zeller, Executive Director, Concrete Paving Association of Minnesota. "I rewrote smoothness standards for the Minnesota Department of Transportation (MNDOT) 25 years ago. People didn't believe those standards could be achieved but we paid incentives to get concrete rated at lower IRI (international roughness indicator) standards. Contractors achieved those standards and eventually that standard became the norm. On the IRI, we specified pavements below 80 and then 60 and eventually, ours were in the 30s and 40s."
3. Smart paving
However, according to Zeller, the technological transformation, which is making the greatest transformation on job sites is the move to stringless paving, which is also referred to as "smart paving", and is part of a larger concept called "smart construction".
"Back in the good old days, people would pummel wooden hubs into the ground, which would determine grade and it was very labor-intensive,": he says. "Now, the process has become more automated. Manufacturers have been able to develop a model that incorporates profile thickness; new pavers and graders can see elevations and react accordingly. The practice of using stringless technology is really growing fast."
4. Machine-to-machine communication
One step beyond this is machine-to-machine (M2M) communication, which is now possible via the Gomaco G+ control and Navigator display. According to the company, when a "Gomaco paving train is at work on a project, the [company's] GP3 paver now has the ability to talk to the other Gomaco equipment on the project with a G+ control system. For example, if a Gomaco placer/spreader is at work in front of a GP3 paver, the paver and the concrete being placed in front of the paver are too low, it can tell the placer/spreader to raise its strike-off and allow more concrete to be placed."
5. Move to electric?
Besides the above, pavers are being equipped with telematics for remote diagnostics, troubleshooting, and software updates, as well as an optional onboard camera and wireless capability. Manufacturers of concrete equipment are also turning more and more to electronic power—Gomaco recently introduced the CC-1200e electric curb machine (with a power-dense 48 VDC lithium-ion battery pack).
6. High-performance engineered concrete mixes
Besides the largely digital advances, there are advances in the physical aspects of concrete paving.
"There's a huge push around the country—the Federal Highway Administration and professors—to catalog and evaluate Performance Engineered Mixes (PEMs)," says Zeller, "These high-performance mixes have less cement content, which acts like the glue in concrete and is the most expensive. Performance engineered mixtures lower water demand while also becoming more workable. Although this concept has been around since the mid-'90s; it's really starting to take off. The National Concrete Pavement Technology Center (CP Tech Center) at Iowa State University is putting a lot of effort into high-engineered concretes."
According to Peter Taylor, Executive Director, CP Tech Center, the center is focusing on PEMS, as well as several other initiatives that improve the concrete paving process including:
Measurement and reduction of the carbon footprint at all stages in the life of a pavement
Overlays continue to be a significant tool in delivering sustainable roadways
Measurement of the parameters that will help contractors move toward machine automation – again – what do we measure and what can be done with the data to change construction processes on the fly
Internal curing
Recycling of byproducts from construction and other industries
"With better mixes, processes, and technologies, the concrete construction industry will become more attractive to job seekers and construction becomes much more efficient."
Read Next