Jarrad Whissell President, Whissell Contracting Ltd. Alberta, Canada
Employee retention is no easy task for construction contractors today. It's no longer enough for companies to pay their employees competitive wages, keep them safe and provide them with regular hours in order for them to make a steady living. 
My company, Whissell Contracting Ltd., is actively committed to ensuring the health and happiness of its workforce, and we express that commitment through several employee retention activities. With that in mind, here are 11 ways construction contractors can keep their workers happy and on the job:
Establish priorities – Our organization established what we refer to as the three "daily pillars" we live by as a company. The first is safety, followed by quality and efficiency. So when we hold our safety meetings every morning, we make sure to cover anything and everything related to our pillars affecting the work we're tasked with completing. And to reinforce our pillars, we regularly offer ongoing training activities for all of our employees.
Emphasize training – In our industry, skill is dying. You no longer can simply rely on trade schools to supply your company with qualified workers. You've got to grow from within. Our organization, for example, recently developed and established an in-house institute for training. Not only does it help us to better prepare our employees to be as productive as possible, it gives our organization a competitive advantage over other construction companies like ours.
Manage employee workloads effectively – Construction is a competitive business, and it doesn't take much to convince an employee to leave your organization for potentially greener pastures. Employee retention becomes even more of a difficult task if your company does a lot of seasonal work, since your workers are often more likely to leave when the weather changes and the opportunities dry up. To combat the problem, we really makes a concerted effort to keep our employees busy and on the job. And if we can fill up their plate with work, so to speak, they'll be less inclined to leave us in order to make a couple cents more per hour.
Keep your equipment well-maintained – As an organization, we take great pride in keeping our fleet of machines clean, safe and running well. Quite often people tell us they want to come work with us because the quality of our equipment. It doesn't break down, and it has air conditioning, a radio and other amenities. Most importantly though, our equipment does its job.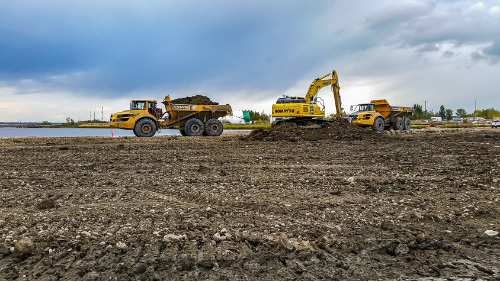 Be transparent – We make it a priority to share our corporate priorities, strategies and initiatives with our workforce. It's important for our employees to be able to understand where we are as an organization, where we're headed, and what we're trying to achieve. For example, our company regularly holds "town hall" meetings to explain to our employees what direction the company is going and inform them of the latest news and happenings. Transparency is a must for us, and if our employees ever find themselves unsure about anything, we encourage them to speak up and get the information they need to do their jobs as efficiently and as effectively as possible.  One way we encourage communication is through our recently developed program "Speak Out For Safety." Now anyone in our company can shut down a crew's work just by pulling out a card and saying, "This doesn't seem right. Can we review this?"
Stay up-to-date on the latest tools and technologies – Because of the diminishing skill in our industry, companies like ours have begun to lean more on technology to improve efficiency and better meet the needs of customers. Drones are one good example of a technology your company should familiarize itself with, especially because of their ability to go out and capture pictures of the projects you are bidding on, or even just for general business development. Global positioning satellite (GPS) technology, 3D and autonomous equipment also offer a ton of potential. As an organization, we're quite curious to see what the future will bring on the technology front.
Encourage networking and continuous learning – Trade shows like to CONEXPO/CON-AGG are critical to our workforce development efforts. For the last three or four times the show has been held, we've sent somewhere between 30 and 40 company representatives to Las Vegas to see what's new and bring relevant information back to our company to see if we can use it to the benefit of our clients.   
Engage, engage, engage – Our organization has developed a training module for every role in our business, from everything from general laborer right up to being the president of our company. So when employees come to work for us, they can see a career path ahead. A black-and-white training program is in place to get every individual worker to where he or she needs to be in a certain amount of time. We spend quite a bit of time, money and resources in developing our workforce, so when we get new workers who are interested in staying in the business and learning it, we have a program to develop talent.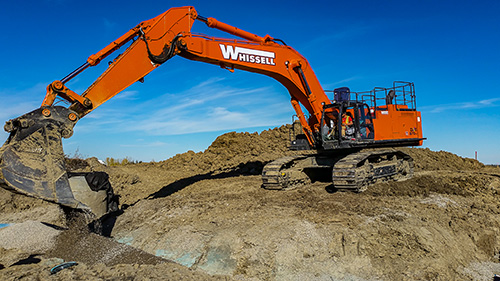 Show your employees you care – A common mistake often made by construction companies today is a tendency to treat employees like numbers, or as replaceable widgets. Not only does our organization try to engage workers, but we really make an effort to show members of our workforce they are valued. Examples of our efforts include hosting an annual Christmas party, a yearly golf tournament, and regular cookouts where we travel around to jobsites and cook hot dogs and hamburgers for employees.
Identify opportunities and threats, and then act accordingly – Our company recognized a growing skills gap in the industry some time ago, and we decided to do something about it. We set up in-house training programs, brought in staff to train new employees on how to survey, how to establish benchmarks and elevations, and much, much more. Eventually, it evolved into a standard, repeatable training program with a consistent message and successful results.   
Be consistent and follow through – Our industry "talks the talk," but I'm not sure we always "walk the walk." It's easy for any organization to say its workforce is its top priority, but when the pressure is on, many companies don't always treat their employees as well as they should. Simply taking workers for granted and trying to get every dollar's worth out of their production is a significant issue in our ever-evolving industry, and we need to do better. However, our organization has received a lot of positive feedback, particularly from employees who have joined us after working for other construction companies. We've heard no other company does what we do to try to retain its workers, and the comments really serve to positively reinforce all of our efforts to keep our employees happy.
Jarrad Whissell President for Canadian–based Whissell Contracting Ltd.
Founded in Calgary, Alberta in 1970 as a water and sewer contractor, Whissell Contracting Ltd. now operates five divisions, three offices and over 300 employees and more than 300 pieces of heavy equipment, highway tractors and trailers. Its clients include land developers, municipal governments, mining, and oil and gas.