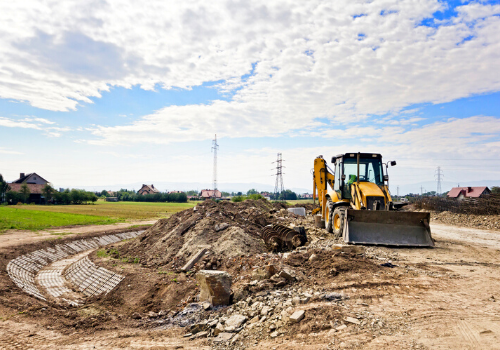 GPS technology is becoming more important on job sites. It gives you fast and accurate data so you can make informed decisions in real time.
"There is so much potential with the data," says Mike Cook, Chairman of the Board, Land Improvement Contractors of America. "You can actually collect too much data and not know what to do with it. Mostly, you want to get that data into an AutoCad to draw your lines or give you a profile of what you did. There is a lot of construction-specific software now. Are you getting the right data that you can import into something that is on the market now?"
GPS information is collected from either a base station, a rover unit that is on an actual machine, a walk around unit or even a drone. "Usually between the GPS and the rover on the machine, there is a computer or a tablet that takes the GPS coordinates and puts it into the program, which relays that information to the operator. Newer machines can be a plug and play," says Cook. "For older equipment, you may need an interface box in there to take that computer signal and put it into a voltage that operates the machine blade up or down."
Here are 9 questions contractors should ask when buying and implementing GPS.
Is there satellite reconfiguration? Ensure your GPS device has the ability to update to satellites and programming. New satellites are added every year, while older firmware can distort GPS signals, which produces less accurate GPS information.
Which constellation is the technology using? GPS (Global Positioning System) is just one set of satellites. The term GNSS (Global Navigation Satellite System) is used to describe all constellations, including GLONASS, Galileo, and more. According to Cook, GNSS receivers that can use more than one constellation are a big benefit, because if some satellites associated with one constellation are not readable, there are usually others that can be used to get a more accurate position.
Can the software use multiple data types? Choose a technology that has the ability to import and export various formats, because different GPS companies run different formats. Your technology should be able to work between multiple formats for flexibility on the job site.
What is your operating range? GPS base stations have limited ranges, and accuracy diminishes as the distance to the base station increases. You may need to get repeaters to amplify the GPS signal to reach all parts of the job site.
How new is the model? "Make sure you are comparing apples to apples," says Cook. There are a lot of different levels of GPS. If you start out with a cheaper GPS, it may not have the ability to upgrade if you want to do more. Or, it becomes outdated after three to four years when the GPS company no longer supports that model. Know what you are buying so you don't end up with a model that has only a short life span. "It is better to spend more money upfront and buy a newer model that will give you 10 to 15 years of life plus support," continues Cook. "The scariest thing about GPS is that it is changing rapidly, so make sure you can update it."
What training is needed? First-time users of GPS on construction sites will want to take advantage of online training programs and training manuals. Also, at different times of the year, GPS companies host one- or two-day, classroom-style workshops. When first implementing GPS, you may even arrange to have a technician go out and set it up, then work with you a little bit until you know what you are doing.
Who do you call when things go bad? It's good to find a GPS technology provider with whom you can maintain a relationship and that offers good technical support. "Once you are up and running, having good technical support for as long as you own that GPS is crucial," says Cook. "Can you call someone by phone when there is a problem? How available are they? How good are they at troubleshooting problems?"
Parts availability? Know where you can purchase replacement parts and how long it takes to receive replace parts once ordered.
Can the GPS technology import engineering drawings? According to Cook, this is the most important because it allows you to see engineering drawings on the screen in real time. All major brands have this feature, so only older models don't have it.
Join over 40,000 industry peers who receive construction industry news and trends each week. Subscribe to CONEXPO-CON/AGG 365.