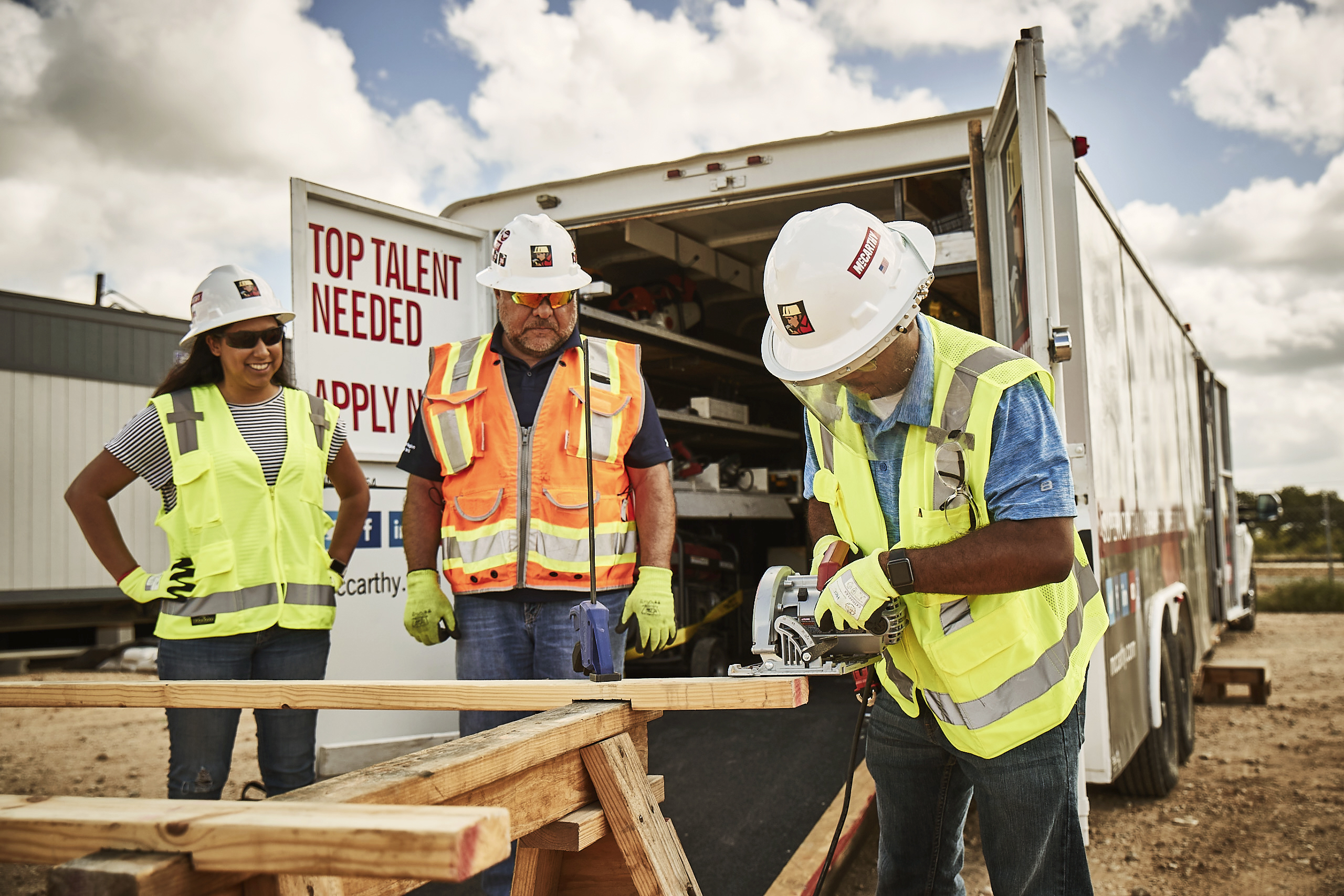 Workforce development and retention are important for any business, but in construction, an industry where four workers are leaving for every one that joins, it is vital to maintain production. The latest 2018 ADP Workforce Vitality report shows job holders experiencing an uptick in wages of 5.2%, driven by firms' increasing desire to hang on to existing workers as they struggle to find new workers to hire. 
McCarthy Building Companies, a self-performing general contractor with 16 locations throughout the U.S. and 4,500 employees, is meeting the challenge not only with competitive benefits but with several strategies centered around improving employee engagement, creating a safe work environment, and providing opportunities for training and advancement. 
"For our skilled trades specifically, we need to provide them a fantastically safe workplace, we need to give them great career development opportunities to enhance their own skill set, and we have to give them strong management and leadership," RJ Morris, director of talent acquisition and management for McCarthy says.
With an attrition rate five points below the industry average and other key metrics improving, Morris, believes their strategies are working. Here are five retention ideas to consider:
1. Know your Metrics
Research shows that it's not just salary that matters to employees. Metrics such as employee engagement, attrition rate, retention rate, participation in benefits, complaints, productivity and employee referrals are measured and monitored by McCarthy's human resources team.
"When more people want their friends to work here, we see that as a good sign that people are engaging with the organization," says Morris. "When we hire referrals, they're typically wildly successful."
When warning signs indicate a problem, the company's human resources team gets involved to guide managers and provide additional training.
2. Focus on the Employee-Manager Connection
The employee-manager connection is a vital piece of McCarthy's philosophy, based on the idea that day-to-day interactions are most important to retention. First-time managers are well prepared when they step into their new role and they reinforce those skills over time with managerial seminars. McCarthy, as an employee-owned firm, wants employees to be vocal participants in the business.
"Most people want to have a good connection with their manager, who treats them fairly, who provides good challenging opportunities. They want to be paid fairly and competitively. We could have the best programs in the world, but if the field management doesn't effectively support these through their actions, the programs don't matter," says Morris.
According to Morris, employee-manager connection training that was rolled out company-wide last year has had significant impact on employee satisfaction. The training focused on setting clear expectations and goals, providing good coaching and feedback, and appropriately providing employee recognition.
"Soccer games, birthday parties, doctors visits, all those things are critically important, and we've got make sure we find a way to have good open communication, set good expectations and be flexible enough to allow people to make those important events," says Morris.
"The best way for our company to be successful is to have engaged employees. If people are unhappy working too many hours, missing important things with their family, they won't be successful at work."
3. Remove Language Barriers
Like most U.S. construction firms, a significant percentage of the workforce at McCarthy is Spanish-speaking. Three years ago the company made a commitment to improving communication with these craft professionals. Now, all of their training personnel are bilingual. Open enrollment seminars are conducted in both Spanish and English and take place at the local level. The company also offers multiple bilingual advisors to help employees access the right health care providers for their family.
"The percentage of workers taking advantage of the life insurance program and interacting with human resources has gone through the roof since this program was implemented," said Morris. "Workers feel like they're being listened to on issues such as health benefits, life insurance and competitive pay."
4. Invest in Training
When a company pays for training, employees recognize that the company is committed to making them successful. It also shows commitment to a safe workplace. McCarthy employs full-time trainers, who travel from jobsite to jobsite with a fully equipped training trailer for on-site training for craft workers. Training is 100 percent paid for by the company and they also offer tuition reimbursement.
"We help our craft professionals display good problem-solving and flexibility," says Morris. "With those key skills, we can cross train and deploy our craft partners across multiple project types, which gives us, and them, the flexibility to succeed in any environment."
5. Promote from Within and Value Everyone 
According to Morris, migration from skilled trade positions to managerial positions is common at McCarthy. They try to promote from within whenever possible.
"Managers who start at lower levels are fantastic leaders," says Morris. "They understand the work. They understand what it takes to be successful in the field and at a management level. We think those are some of our best superintendents."
 At the same time, McCarthy recognizes that every employee is not interested in career advancement. "We value the skilled craft professionals who can work for us for their entire career. We take our responsibility to them very seriously." 
It's Not All About the Money
Large or small, local or national, construction firms need to focus on satisfying their employees needs if they want to retain their workers in this competitive market. Money shouldn't be your only strategy to keep them.

R.J. Morris is the director of talent acquisition and management for McCarthy Building Companies. Established in 1864, McCarthy Building Companies, Inc. has a long history of building facilities that drive greater value. From exceptional levels of quality and safety — to ease of maintenance over time, McCarthy is firmly committed to helping our clients and partners achieve the short- and long-term strategic goals of every project we do.
Join over 40,000 industry peers who receive construction industry news and trends each week. Subscribe to CONEXPO-CON/AGG 365.