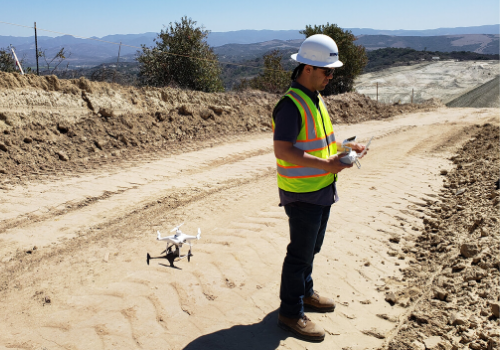 Drones are becoming more and more prevalent on the construction site. From land surveying to stockpile measurements to security monitoring, drones can help construction companies accomplish tasks quickly, safely and for less money. But how do you get started with drones on your construction site and, what's the best strategy for implementation?
Fundamentals for a Successful Drone Program
When considering drones for your business, there are three fundamentals. First, drones are tightly regulated and the level of regulation is increasing. Drones operate in airspace and airspace is rigorously controlled by the Federal Aviation Administration (FAA). They dictate what can be flown, where, when, by whom and for what purposes. The development of remote ID is just one example of tighter regulations on the horizon.
Second, operating a drone for business purposes requires great skill and understanding. A hobbyist is not a professional. "We've heard stories where someone had a drone or knew someone who had a drone," says Joe Fuller, CIO of DroneUp. "They sold their services to a company and the results were completely unacceptable."
Third, the deliverables must serve the specific requirements of the customer. "Just having images on a shelf doesn't do anyone any good," says Fuller. "The value is in the viewer." Deliverables must be in a format suited to the application. DXF and JPG/JPEG files are among the common formats, but other less common formats are often better matches to the intended purpose.
There are countless other considerations. Safety is one. "It can be safer to send out a drone than a person," says Adrian Assassi, account executive, DroneDeploy. He says this is especially true for inspections, which often take place in an elevated location, a trench or in the presence of noxious substances. Wavelength is another consideration, says Assassi. In addition to visible wavelengths, drones can record thermal wavelengths and other conditions. Drones are being used to assess negative spaces (excavations, trenches, quarries, etc.) and indoor use is expanding. But each of these is application-specific; none replaces the broader fundamentals.
In-house Versus Contracting Out Your Drone Program
The next step is to decide whether to do drones in-house or use a contractor. "These decisions are made by the same numbers that apply in other similar decisions, ROI and utilization rate" says Assassi. Large companies with high volumes can likely justify the cost of developing an in-house imaging department. "They can cultivate someone they already have," says Assassi, "perhaps someone from IT. The barriers to entry these days are extremely low."
Others, however, have a business model where it makes sense to add drones to the list of services performed by others. Drone service providers prefer customers sign on for an annual contract with monthly payments, but most will also offer services a la carte. That may be x number of images over y months for one project or even something as simple as setting up a single drone session. Economically, customers are advised to agree up front to as much service as they know they'll need. But providers are flexible if you're willing to accept the higher costs.
Drone Outsourcing Options to Consider
There are a large number of drone services providers to choose from. Here are just a few specific to construction:
Choosing a Drone for Your Construction Company
If you're doing drones in-house, pay close attention to what each model does. Most applications are well served by a quadcopter flying a lawnmower pattern. Quadcopters are small, nimble and easy to fly. A popular model is the DJI Phantom 4 RTK, with street prices between $6,000 and $10,000, depending on configuration. Multi-rotor drones are larger, have more than four rotors and a higher payload. Fixed-wing drones are good for long, linear flights, such as highway work.
A myriad of regulations apply to drone operations and must be learned in order to secure a drone pilot's license. Hobbyists are excluded from the license requirement but flying a drone for commercial purposes requires a license. There are plenty of online and print resources for preparing to take the test, but many aspirants opt for a pilot class to save time. Classes are also affordable, sometimes less than $100 plus test fees.
Here are a few general drone operating tips to ensure you're flying safely and responsibly:
Before flying, inspect your drone for correctly functioning parts or any damage
Remove your battery when the drone is not in-use, or you are doing maintenance
Keep your fingers and clothing clear from the propellers
Consider delaying flights in poor weather conditions including rain, snow, and extreme wind because they can damage your drone and affect the quality of shots taken
Plan your flights extensively and understand the area to be covered and the restrictions on where you can stand while piloting
Be aware of animals or people in the area you are shooting
Follow the Drone Line of Sight Rule, which means ensuring you always have a visual of your device, are aware of obstacles and dangers, and limit your distractions
Have a complete understanding of the FAA rules and keep yourself updated
Drone Service and Support Is Key
When shopping for a contractor, make sure the company is familiar with your specific application. Some specialize in one area while some are accomplished in several areas. And while most are very knowledgeable about drones, not all understand how to apply them in a given market. Matching commercial drone services with customers is still a young industry and there's much yet to be learned by both service providers and their customers.
Nick Scott, sales development representative at Propeller Aero, describes the usual trajectory of client work with his company. "We start with a kick-off call, an initial discussion about goals and resources." From this the customer can develop a flight plan and execute a drone flight. The images gathered are provided to Propeller where they are then processed into a 3D visualization that can be reviewed and analyzed on the Propeller Platform. "The time for this is usually 8 to 12 hours and not more than 24 hours, depending on the number of images and the required deliverables," says Scott.
Propeller provides a cloud-based visualization and analytics platform. Being cloud based simplifies access and collaboration. Resolution is near-zero in x and y coordinates and 0.1 foot in z. They work closely with Trimble Business Center but provide files for any format.
"Support is our key service," says Scott. "We act as advisers and offer data processing services to ensure customers get the most from their drone program." Propeller sells hardware specific to the services they provide.
Scott's final thoughts on the state of the industry? "Expectations and reality are starting to match up. Skepticism is fading. While we're still on the up ramp of the adoption curve, drone use is fast becoming an industry standard."
That's true whether you do it yourself or contract out. Be ready.
Join over 40,000 industry peers who receive construction industry news and trends each week. Subscribe to CONEXPO-CON/AGG 365.