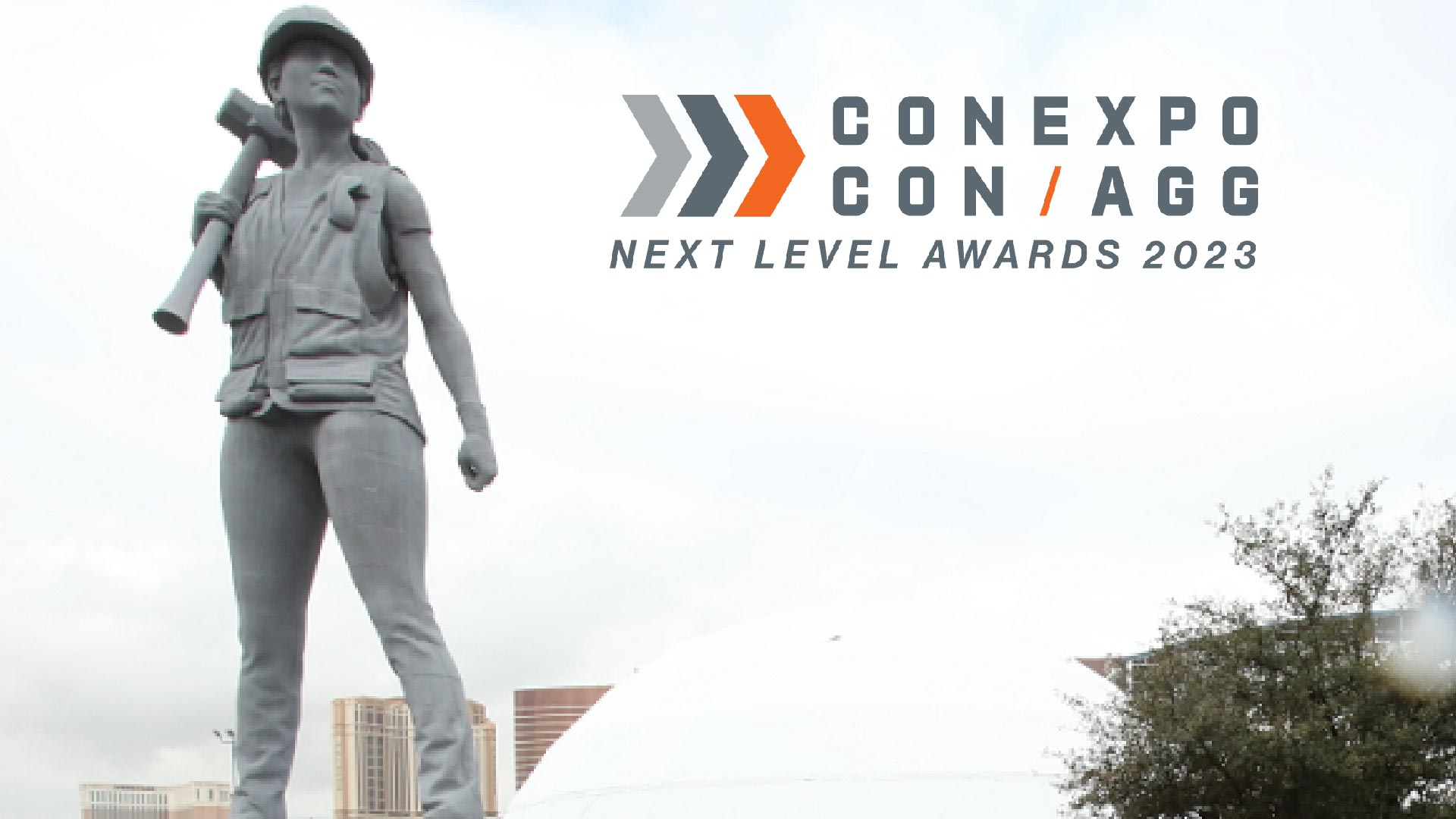 MILWAUKEE - 
CONEXPO-CON/AGG and the International Fluid Power Exposition (IFPE) have announced the top 10 finalists for the Next Level Awards Program. These finalists will be exhibiting at the shows, March 14-18 in Las Vegas. They include: 
 
Continental AG Smart Conveyor Management – A web and mobile conveyor management platform, all critical sensor data is processed in one centralized database, maximizing performance and profitability.  
 Digga Halo Auger Alignment System – The First LED visual alignment system built into the hood of augers and screw anchor heads, providing instant feedback in any lighting to the operator in the cab.  
 Euclid Chemical PSI Fiberstrand REPREVE 225 – A high-quality, synthetic microfiber that is certified and traceable and made from 100% recycled materials including post-consumer plastic bottles.  
FieldFlo – A first of its kind SaaS software platform developed specifically for Asbestos Abatement, Environmental Remediation, Demolition and Specialty Sub Contractors.  
Hexagon's Leica BLK2FLY- World's first autonomous flying laser scanner that quickly and accurately captures exterior features of structures that would normally be too dangerous or inaccessible for humans.  
Holcim's ECOPact low-carbon concrete – A suite of high-performance, high-strength concretes offering up to 90 percent lowerCO2 emissions compared with standard (CEM I) concrete.  
John Deere JD18X – Engineered with ease of service and repair in mind, the JD18 features a bedplate design, providing structural benefits for extreme durability.  
KSD engine, Kohler Small Displacement – The KSD is a state-of-the-art engine in the under 19 kW category. Featuring electronically controlled indirect injection combustion system.  
Trimble Earthworks for Soil Compactors - Horizontal Steering Control – Is the industry's first automatic steering control solution for soil compactors, helping operators achieve higher quality and consistent project.  
Vanguard Commercial Power 1.5kWh* Swappable Battery Pack – Built to bring efficiency, versatility and reliability across industries, the Swappable Battery Pack will transform the off-highway industry.  
The CONEXPO-CON/AGG Next Level Awards celebrate exhibiting companies that are pushing the boundaries and developing next-level products, technologies and services designed to advance the construction industry. 
"We were overwhelmed by the response to our call for submissions for this inaugural event and we're excited to recognize these innovative construction products that are taking the industry to the next level," said Dana Wuesthoff, CONEXPO-CON/AGG show director. "And from March 14-16, it will be in the hands of CONEXPO-CON/AGG attendees to determine the Contractors' Choice." 
The finalists will be recognized with signage in their booths to encourage show attendees to vote on-site to determine the Contractors' Choice. Attendees will be able to scan a QR code and vote for their favorite entry right from their phones. 
The finalists were selected by a diverse panel of Associated General Contractors of America (AGC) members. They were judged based on three criteria: 
Addresses a common industry need in a unique and innovative way.

 

Benefits the industry across multiple applications for industry wide adoption.

 

Positively impacts the safety, sustainability, and workforce of the industry.

 
"The Next Level Awards are a great showcase of the innovation taking place across the construction marketplace," said AGC CEO Stephen Sandherr. "We are excited to be a part of CONEXPO-CON/AGG and to play a role in bringing these leading-edge solutions to the industry." 
Voting will only take place onsite at the show. Registration for CONEXPO-CON/AGG and IFPE is currently 20 percent off with code MEDIA20. 
About CONEXPO-CON/AGG  
CONEXPO-CON/AGG is the largest construction trade show in North America and the premier event that connects professionals from every major construction sector. Held every three years, CONEXPO-CON/AGG takes the construction industry to the next level by helping construction professionals elevate their industry expertise, experience the newest equipment and products through demonstrations and industry-leading education, make new professional connections, and grow their own marketability within the industry. The next CONEXPO-CON/AGG will be held March 14-18, 2023, in Las Vegas, Nevada. For more information on CONEXPO-CON/AGG, visit https://www.conexpoconagg.com.  
About the International Fluid Power Exposition (IFPE)  
IFPE, the International Fluid Power Exposition, is the leading North American exhibition bringing together the fluid power, power transmission and motion control industries. The next IFPE, co-located with CONEXPO-CON/AGG, and located in South Hall, second level, will be held March 14-18, 2023, at the Las Vegas Convention Center.  
About the Association of Equipment Manufacturers (AEM)  
AEM is the North America-based international trade group representing off-road equipment manufacturers and suppliers with more than 1,000 companies and more than 200 product lines in the agriculture and construction-related industry sectors worldwide. The equipment manufacturing industry in the United States supports 2.8 million jobs and contributes roughly $288 billion to the economy every year.