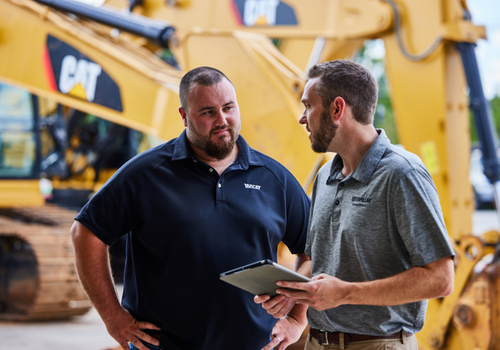 Construction equipment buyers are facing significant headwinds as they adjust to inflation, rising interest rates, and long lead times for construction equipment. "Buyers should expect interest rates to continue to rise," says Peter Gregory, Senior Vice President for Wells Fargo. Josh Cook, United States Region Manager for Cat Financial agrees and says contractors need to be prepared to pay higher interest rates than what they were quoted when the machine was ordered.
After a long period of low-interest rates, the current situation is creating some sticker shock for buyers. "I think everyone got used to low-interest rates," says Harold Ray, Director of the Industrial Finance division at CIT Business Capital, a division of First Citizens Bank. "But when you look at rates over the past 28 years, today's rates are still relatively low."
That doesn't change the fact that higher interest rates negatively impact buyers. "Higher interest rates can impact a customer's ability to service their debt and increase their payments, which would have an impact on their cash flows," says Joseph Barrett, Director at John Deere Finance.
Here are some tips from the equipment financing experts to help you manage the current environment.
1. Lock in your rate
Because interest rates are a key component of your equipment costs, it makes sense to shop for competitive rates among reputable lenders, whether you do it yourself or rely on your dealers. Short-term rate locks can protect qualified buyers from interest rate increases, but with rates changing so rapidly, most lenders aren't inclined to give more than a 30-day rate lock. "In some cases, we have to reapprove a customer's credit to ensure their rates are as predictable and flat as possible," says Ray. "The situation has created a greater intimacy between dealers and customers and has led to more discussion on how to finance machines."
In addition to interest rate, other considerations that impact the total cost of ownership are the down payment and length of the loan or term.
2. Consider a lease
Several lenders believe that in today's market, leasing can be a good option. "High-interest rates, coupled with increased prices of equipment make leasing an attractive option to acquire equipment for many customers," says Cook.
"Our leasing product allows for lower payments so customers can maximize their return on investment," says Ray. "Our leases are very straightforward with clear expectations. Leasing allows us to take the burden of selling the equipment away from the customer at the end of the lease."
According to Cook, "while leasing equipment offers many benefits, it doesn't come with the same flexibility as a traditional loan."
"To determine the appropriate lease terms a customer should consider the jobs to be completed, anticipated hours, the importance of warranty and latest technology, the payment desired, and their intention to return or purchase the equipment at lease maturity," says Barrett.
Your financial representative or dealer can help you determine if leasing is right for you.
3. Find a trusted partner
With rising interest rates buyers may want to investigate all options when choosing a financial partner.  Conventional banks are one option, but because they are not as familiar with equipment financing, you may find that they are not as competitive as other lending sources.
Captive finance companies such as John Deere Financial and Cat Financial offer loans and leases customized to the needs of their customers. "We understand their business, their equipment, and the industries they work in," says Cook. "Because we understand these things, we can offer flexible options like seasonal payment schedules for customers that might not work in the winter and aren't generating revenue during that time."
"As a captive lender, we've been here to make equipment financing easy and affordable in both good times and challenging times, "says Barrett. "And we'll be here for customers in the generations ahead."
Equipment financing companies can lend or lease all brands of construction equipment. They can also set up companies with a pre-approved line of credit to cover 12 months of capital equipment expenditures. You may hear about their plans through your dealer or you can reach out directly.
CIT Equipment Finance is a brand with a 100-year history, and they've been back in the heavy equipment financing business since 2018.
"The CIT sales professionals understand the nuances of each dealership and what they are looking for," says Ray. "We build relationships and solve problems, and we're pleased to make our customers feel like they are a big fish in a small pond."
Wells Fargo works closely with dealers to provide inventory and rental fleet financing in addition to retail financing. They also work with manufacturers to provide subsidized financing. "We're construction industry specialists," says Gregory. "Some other banks are generalists. We have one focus."
Online lenders can be another option for buyers, but they typically don't offer an opportunity for interactions via phone or in person.
"Go with a reputable company," says Ray.  "Make sure you understand the loan or lease and don't be afraid to ask questions."
"Just because a financial institution advertises fast financing at lower rates, doesn't mean it's the right fit for you and your business," says Cook. "It's important to do your research and evaluate your options."
"Borrowers should be aware of the terms and conditions of their agreements – items like how interest is calculated, what fees they may be required to pay, what happens if they can't pay on time or need to end the loan or lease early," says Barrett.
4. Examine all your equipment acquisition options
There are several factors to consider when deciding whether to rent, lease, own, or rent-to-own equipment if available: the work that needs to be completed, the length of time you need the machine, budget, and financial reporting.
Rental offers the greatest flexibility, but it typically comes with a higher rate. Ownership can lower taxes through depreciation expenses and deductible interest. Leasing can help lower payments. It's important to question financial experts to determine the right path forward for your business.
Read Next
Equipment Financing in the 'New Normal'