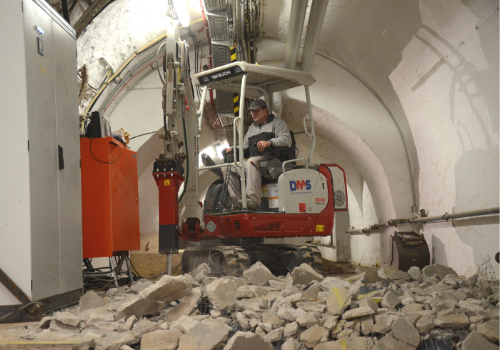 Compact excavators are the latest Swiss Army knives on the construction site. Once scoffed at for being a toy, for the first time, more compact excavators were sold in 2019 than any other machine category—even skid steer loaders.
Compact excavators have increased in engine power, hydraulic power, and in size range. Coupled with the introduction of diverse attachments built just for compact excavators, and this has allowed them to become diverse work horses.
The latest compact excavator innovations from three leaders of compact equipment: Bobcat, Takeuchi and Wacker Neuson, show why compact excavators are taking over construction sites.
More Intuitive Operation Provides Better Performance
At CONEXPO-CON/AGG 2020, Bobcat Company exhibited the E42 and E50 compact excavators from the company's new R2-Series compact excavators. The new line boasts several features that make it superior to previous generations, such as engine, structural and performance enhancements.
A more efficient engine improves cold-weather operation and is easier to maintain than the engines of previous generations. A new cooling system with side-by-side heat exchangers controls engine compartment temperature more efficiently than on previous models. Dual-flange track rollers extend the undercarriage structure closer to the track's edge—creating a more stable platform that increases lift-over-side capacity and improves over-the-side digging performance and slewing ability.
Improved low-effort joysticks and a new hydraulic control valve improves metering, finite movement and controllability. A new, optional clamp improves the machine's ability to run other attachments without disconnecting the clamp. Auxiliary hydraulics have been moved to a new location on the excavator arm, so they are now easier to reach.
A seven-inch display panel with a wide and easy-to-use touch screen reveals important machine information and allows for selecting from various machine performance. Visibility is increased with the use of an optional rear view camera, as well as the machine's integrated lift eye, which comes standard and give operators a convenient method for handling objects in a trench.
Alternative Power in a Compact Package
Takeuchi featured eight excavator models from the two-ton to nine-ton range. Some of the standout models included the TB225 2.5-ton excavator, which features a retractable undercarriage, the TB370 7.0-ton excavator, which features a host of new cabin features, the current TB216H diesel/electric hybrid, and the TB220e fully electric lithium ion battery-powered excavator.
"The TB220e is a fully electric lithium ion battery powered machine. It boasts many of the same specifications, dimensions, and features as the TB216 and TB216H, but it does not need to be tethered to a power source or operated in diesel mode," says Lee Padgett, Product Manager at Takeuchi-US. "The TB216H features a dual power option with both diesel and electric mode that provides 100 percent emission-free operation. It is ideal for use indoors in applications that would involve working around noise and emissions sensitive sites such as schools, food services and hospitals."
Other important changes to new models include redesigned cabins that increase operator comfort and productivity, undercarriage designs that improve ride quality while extending component life, and multiple power plant options that offer different EPA emissions solutions for jobsites that demand fewer emissions and cleaner air.
 More Boom for Your Buck
Wacker Neuson featured their new triple-boom EW65 and EW100 wheeled excavators and the ET90 tracked excavator with optional triple-boom configuration. The triple-boom configuration, which is more popular in Europe and on larger excavators, is available on select Wacker Neuson excavators.
The articulated triple boom offers increased digging area of 20-percent on the EW65 and 25-percent on the EW100, through an extended digging range, allowing the operator to reach farther, dig closer to the blade and reach under the machine when needed.
With a triple-boom excavator, operators have greater reach; they can dig directly under the machine and extend the boom out farther. "This is particularly beneficial when performing utility and sewer work on narrow roads, up against curbs or barriers and in other confined areas, such as cemetery and golf course work, says (last name).
The flexibility of the triple boom increases lifting capacity when the boom is in close proximity to the machine and near ground level, which makes it well suited to lifting and placing pipe and setting concrete barriers. Additionally, a triple boom is capable of folding tighter to the machine during transport, which provides better visibility.
Join over 40,000 industry peers who receive construction industry news and trends each week. Subscribe to CONEXPO-CON/AGG 365.