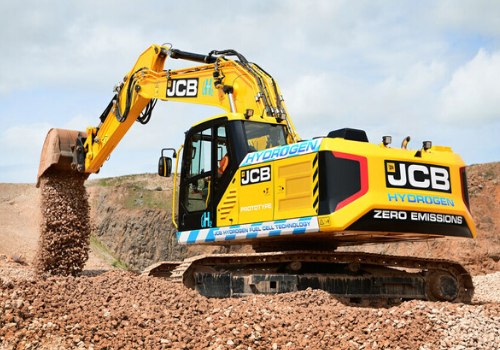 Diesel has powered construction equipment for decades; however, due to increased costs in resource extraction, environmental concerns, regulatory limitations, social trends and other reasons, manufacturers are experimenting with other means of powering equipment.
Electric is popular for non-mobile, small mobile, indoor demolition, short-haul transportation and underground mining equipment, although has not met the challenges for a lot of general construction applications, yet.
In order to power large, mobile equipment in construction applications, manufacturers are investing in alternative fuel, such as natural gas, propane, biodiesel and hydrogen. 
Propane-Powered Construction Equipment
Propane has been used to power pavers for a long time—not for environmental benefits or government regulations, but because it is more effective at heating asphalt. Natural gas has been used in trucks for a long time as well, and the introduction of new gasoline alternatives is meeting acceptance in construction applications.
For example, Bomag has designed the BW 120 AD-5 LPG tandem drum roller in diesel, electric and liquefied petroleum gasoline (LPG) models. The LPG model has been on trade show tours for years and had a big impact among audiences at CONEXPO-CON/AGG 2020.
"A proposed use for LPG-powered rollers is in areas where emissions are critical and where the exposure to exhaust particles is very limited, which is an important concern when running construction equipment. LPG burns rather clean and without any particles. In well ventilated areas, LPG can be of a benefit when the exposure to exhaust particles is of a concern or needs to be limited," says Bert Erdmann, Product Manager, Heavy Compaction, Bomag Americas, Inc.
The LGP model has several benefits compared to its diesel counterpart. It produces less fine dust (15 percent), carbon dioxide (15 percent) and nitrous oxide (95 percent) compared to its diesel counterpart. It is 21 percent more powerful than its diesel counterpart and LPG is much cheaper (up to 40 percent) than diesel and gasoline, so owning and operating costs will decrease over time compared to owning a diesel machine.
Each tank of LGP can power the BW 120 AD-5 LPG for up to five hours, so users will need to make only two tank changes throughout the day—at lunch and at the start/end of the day. Changing the tank takes just five minutes.
Renewable Synthetic Diesel - Hydrotreated Vegetable Oil
Bringing alternative fuels in closer reach, Volvo Construction Equipment made the announcement that all of its diesel-powered construction equipment can be fueled by Hydrotreated Vegetable Oil (HVO) without making any modifications to the engine.
HVO is different from other biodiesels in that it uses hydrogen—not methanol—as a catalyst. This produces propane, whereas when methanol is used as the catalyst, the product is glycerin. All oxygen is removed during the process of creating HVO and it isn't as sensitive to heat or cold or sunlight as other biodiesels. It also performs similar to regular diesel, says the company.
Biodiesel is still more expensive than regular diesel but, since it uses the same types of tanks and pumps, switching to it is easier than many other alternative fuels, because there is no change for ground crew who refuel the machines.
Hydrogen-Powered Construction Equipment
According to a report titled, The Future of Hydrogen – Seizing Today's Opportunities, "supplying hydrogen to industrial users is now a major business around the world. Demand for hydrogen, which has grown more than threefold since 1975, continues to rise."
Shell has released a statement that outlines a vision of the future in which 10 percent of total final energy consumed would come from hydrogen.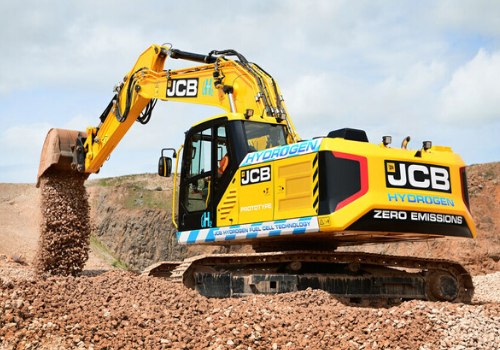 A few years ago, JCB had taken a majority share in ITM Power—a producer of hydrogen-creating systems. The company's products use electrolysis to create hydrogen from water. This is often used in power-to-gas energy storage, but it can also be used in powering fuel cell electric vehicles (FCEVs). The company recently revealed a prototype of a hydrogen-powered excavator. The 20-tonne 220X excavator is equipped with a fuel cell system is the first of its kind in the industry and has been undergoing testing on JCB's proving grounds for more than a year.
Hyundai Construction Equipment announced they are also bringing a hydrogen fuel excavator to market by 2023. According to the company, hydrogen fuel cells are more compatible with large construction equipment because of easier capacity expansion than lithium batteries (which get used in electric machines). The company also points out the superior ability of hydrogen fuel cells to expand compared to lithium ion batteries, which is a limiting factor in the ability of electric drives to power larger equipment.
Keestrack Global Distribution Manager Michael Brookshaw announced at CONEXPO-CON/AGG 2020 that the company is heavily investing into alternative power sources. He says the manufacturer wants to put hydrogen-powered crushers onto the market, but the industry is too conservative to embrace it. 
Subscribe to the CONEXPO-CON/AGG 365 weekly newsletter to receive more stories like this. 
Read Next
Diesel Exhaust Fluid (DEF): Common Problems and Best Practices
5 Ways Owning an Electric Vehicle is Different from Owning a Diesel Machine