Based in Big Sky, MT, Big Sky Land Management specializes in excavation, lot preparation, landscaping, forestry and property development and management services. The company's focus is on helping developers, builders and property owners better manage their land and development projects.
Big Sky Land Management evolved from a company Justin Miller began in 2005 – Big Sky Fire Prevention. It concentrated on private property, removing beetle killed trees to reduce the chance of wildfires. The company also did construction work. That part of the business grew to include excavations, road building and civil site work.
In 2014, Miller's wife Danielle joined the company full time to take over management of the company. "This enabled me to concentrate on the company's services," Miller says. "It is difficult to be a one-man show."
That same year, Big Sky Fire Prevention changed its name to Big Sky Land Management. The company provides services to Big Sky, Bozeman and surrounding areas in Montana.
When Danielle's mother, Suzanne Chamberlain, moved to Montana in 2018, she was hired to be the company's business development director. "We are a family business," he notes.
WALKING THE WALK
It could be said that Miller was destined to get into property management. He grew up in Yellowstone National Park in Wyoming where his father was a park ranger. Miller worked on ranches from a young age. With forest fires a regular occurrence in the park during the summer, he got involved with helping to protect the park.
He says he learned from hands-on experience and from professionals and experts that proper land management techniques can help prevent or reduce the damage from forest fires, especially in urban areas.
"Montana has had some devastating forest fires," says Miller. By way of example, he cited the recent Bridger Foothills Fire.
It began on September 4, 2020, with a lightning strike during a storm. The fire was situated about three miles northeast of Bozeman. Due to strong winds, the fire quickly grew to an estimated 7,000 acres. With a massive fire-fighting effort, rain and general overall seasonal conditions, the fire was finally brought to 100 percent containment on October 12.
"After a forest fire, you have to pretty much take everything out and start all over again," he says.
Many areas where Big Sky Land Management operates were logged 30 to 40 years ago, explains Miller. "New trees, which are all one generation, have grown up. They are really close together and that presents a real hazard should there be a fire.
"We spend a lot of time thinning out forests. We remove about 70 percent of the trees and leave the best ones. A lot of people do not like that but it is the best thing you can do to help save lives and property."
PROVIDING THE PROPER CARE
Effectively managing a forest is important in order to reduce the chance of forest fire devastation and ensure trees remain healthy and vigorous, says Miller. Forestry services include fuel reduction, selective tree thinning and trimming, masticating and mulching and controlled burns.
"Forest management also helps increase property values, create better view corridors and enhance property features such as trails and wildlife."
OVERCOMING UNIQUE LOGISTICS AND MOBILIZATION CHALLENGES
Any construction job has its own challenges. Working in remote areas and mountainous environments brings with it distinct ones, observes Miller. Mountains are high and rugged, with very steep slopes that may cause slope instability hazards. Valleys running into a range become more and more narrow with the sides becoming gradually steeper. 
Additionally, the remote location of the construction makes the logistics and mobilization of getting machines, equipment and materials to and from work sites is particularly tricky, especially in the wintertime. Steep terrain and rugged conditions also limit access options. "Figuring all this out is a big part of my job," he says.
Compounding matters is that brutal weather conditions often shorten the construction season and slow down any construction activity. Cold temperatures are tough on machinery.
Big Sky Land Management uses specialized equipment, vehicles and machines – including Prinoth and Terramac crawler carriers. Among the company's equipment for crushing, screening and separating inert materials directly on site to reuse it or allocate it to other uses is an MB crusher bucket. It crushes large boulders down to 5-inch minus.
The company's fleet of machines and equipment includes excavators, dozers, loaders, skid steers, compactors, graders and dump trucks.
USING TECHNOLOGY FOR IMPROVED PERFORMANCE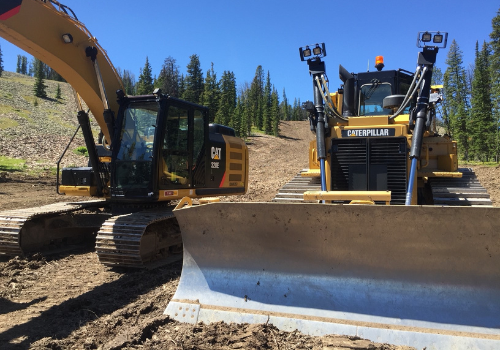 Several years ago, Big Sky Land Management invested in Trimble GPS technology and has integrated the machine control technology on some of its excavators and dozers. "This technology allows us to be incredibly effective reducing the amount of time required to complete a project and making grades accurate within an inch," says Miller. "It is user friendly once you get the technology set up. Every year we add more new technology."
In years past, Miller was the person who keep an out eye for new technology that would fit his operation and result in improvements like increases in operations and productivity. "On top of running the business, it was a lot for me to do. This year, we hired a person dedicated to keeping a lookout for new technologies and the adoption of them." 
EMPLOYEE RETENTION STRATEGIES
There are several key reasons worker retention has not been a big problem for Big Sky Land Management, says Miller. One is that the company has a core group of workers who have been with the company for a long time.
In the summertime, the workforce numbers around 20. In the winter, it drops to 10.
"We treat our people really well and pay them a good salary. We have nice equipment for them to operate and we manage the projects so everybody has what they need to keep going."
There is a substantial bonus program that is based on work performance, little or no damage to equipment and staying safe on the job. "This makes people try harder and think more about what they are doing, especially from a safety standpoint."
The company also holds a variety of events – including picnics and lunches – so employees can "hang out" outside of work. Miller says these are opportunities where employees can interact with others and management in a comfortable atmosphere and this helps make everyone friends. What's more, such events boost employee morale and engagement and create positive feelings about Big Sky Land Management.
"If you have been with us for a while and have done a good job, and you want to build a house, we will help you with the excavation. That can save a person thousands of dollars, especially around Big Sky because housing is awfully expensive."
AN EMPHASIS ON SAFETY
Miller says his company has ongoing training because a well-trained workforce is key to improving productivity and helping keep workers safe.
"Safety a priority for the company and we have a really good safety record and we try to keep it that way."

Big Sky Land Management holds a safety meeting every Monday morning or any time there has been an incident. "These meetings are not just to keep everyone safe," he points, "but to keep people in the loop and focused."
At the Monday morning meetings, management reminds everyone what the expectations are for the week. Plus, these meetings are an opportunity for workers to talk about anything that is one their minds, especially any safety concerns.
"Along with training, there is a focus on not letting workers take chances," adds Miller. "If we see a worker doing something stupid or unsafe, we stop them and let them know why they should not be doing that."
For more Big Sky and big equipment views, follow Big Sky Land Management on Instagram. 

Subscribe to the CONEXPO-CON/AGG weekly newsletter to receive more great stories like this.