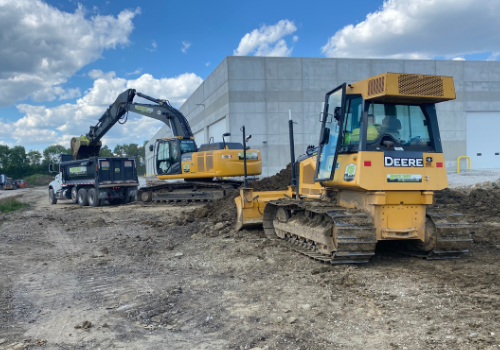 Based in Battle Ground, IN, Rock n Dirt Excavating is a family company that does construction and infrastructure work. This includes site clearing and preparation, utility installation, foundation excavation, trenching, earth moving, demolition, erosion control and stonework.
Nicholas Coppock is the company's founder and president. His father, Matt, is vice president. His mother, Marty, is vice president of operations. Nicholas' brothers, Zac and Sebastian, work in the business as well.
In 2017, at just 19 years old, Nicholas founded Rock n Dirt Excavating as a side job on the weekends while working full time at a construction company founded by his father and several partners.
Matt and his partners parted ways in 2018. That is when Matt, who besides owning his own construction company worked in various construction management positions, decided to join Nicholas to help him grow Rock n Dirt Excavating into a full-service excavating company. Up to that time, Rock n Dirt Excavating had only been doing small residential work and odds and ends jobs.
Two years later, Marty came on board full time after working as a nurse. She had been helping out with the billing and books side of the company from the get-go, working nights and weekends.
"She had a hard time deciding to leave the nursing profession but her coming on board was a matter of necessity," observes Matt.
"I am still like a fish out of the water, trying to learn a new industry," says Marty. Matt points out that because she is new to the industry, she brings a totally different perspective that helps improve business decisions.
MANAGING THE BOUNDARY BETWEEN FAMILY AND BUSINESS
Family businesses have a unique dynamic. Working alongside family members presents a variety of unique challenges. Those challenges, notes Marty, are compounded at Rock n Dirt Excavating because not only does the family work together, they all live together.
"One of the biggest challenges is separating business and personal issues," she says "I really try banning 'shop talk' at the dinner table. I am always telling everyone no work talk here."
"That doesn't always happen because all of us are deeply passionate about what we do," adds Matt. "Trying to separate work and life is no easy task."
IT IS ABOUT TEAM
At Rock n Dirt Excavating, the emphasis is on team rather than on employees, concur Nicholas, Matt and Marty. They say they strive to treat their people as team members rather than employees because members of a team focus on working together whereas employees do the work assigned to them.
The three say they also recognize that everyone has a life outside of work. If an employee needs time off for a family matter, say to attend a child's ballgame or because of a death in the family, "they absolutely get the time off."
Moreover, Nicholas, Matt and Marty work to foster a family culture and keep employees engaged. Usually once-a-month, there is a gathering of the Coppock family and team members and their families. Everyone gets together in the company's shop to play games, visit with one another and have some food and refreshments.
Snack food and drinks are always available to anyone in the company's breakroom. says Matt. These refreshments are also for the guys to take to field daily so they have no downtime stopping at a gas station to get breakfast, lunch or whatever snack they may need. Often, at the end of a workday, team members will gather in the breakroom to rehash the day's work, learn from one another and just shoot the breeze. "We have a good dynamic at our company."
Matt points out that many of the company's team members are "young and they want to try new things. Instead of inhibiting that, we embrace that and promote their learning and development.
"We also want our people to learn from their mistakes so they don't make them again. In some cases, after reviewing what went wrong, we have implemented policies and procedures to prevent recurrences."
THREE-PART HIRING STRATEGY
Rock n Dirt Excavating's workforce totals 17.
The company's various employee engagement activities, in combination with its compensation plans, has helped reduce employee turnover, says Matt. "The turnover we have is by choice."
The company's hiring practice begins with Matt, Marty and Nicholas doing the initial interview, he explains. "We don't just look at a person's skill sets, qualifications and experience. We also feel them out to see if they are going to be a fit."
The next step is to bring in a couple foremen for a second interview and let them have a talk with the applicant. Then, some team members who do the job the candidate is applying for will visit with the applicant as well. For example, if the company is trying to hire a truck driver, a few of its truck drivers have a conversation with the applicant.
The purpose of all this is to see if there is a good connection, says Matt. "If you are going to come to work for us, you have to be able to mesh with all the people you are going to work with every day."
APPLYING TECHNOLOGY TO IMPROVE PRODUCTIVITY
Rock n Dirt Excavating's fleet is composed of 10 haul and dump trucks, four trailers and 16 pieces of equipment, including scrapers, excavators, bulldozers, compactors, skid steers, and loaders.
The company is incorporating new technology to be more efficient, improve operations and productivity and reduce downtime, Nicholas says.
It has equipped it bulldozers with Leica GPS systems and is in the process of adding fully-automated GPS systems on some of its excavators. It has JDLink for machine monitoring capabilities – such as alerts, performance and diagnostic trouble codes – on all its John Deere machines.
Rock n Dirt Excavating's John Deere dealer – West Side Tractor Sales – has been extremely helpful in onboarding the GPS systems, Marty notes. "Dealer personnel come to our shop and do training, not just for our equipment operators, but for other team members as well so they understand the technology. The more people that understand technology, the better."
Rock n Dirt Excavating is looking to add GPS tracking technology to some of its trucks, adds Nicholas.
The company uses the Robotic Total Station (RTS) – a technology that increases the efficiency and reliability of jobsite layout tasks and measurements. It uses a variety of software solutions to automate business processes to improve accuracy and efficiency and save time.
Among the software being used is B2W – a construction estimating and bidding program; TRACK – a project scheduling and tracking program; and Earthworks – an excavation dirt take off program. 
With all his other duties as company president, Nicholas is the one who works to keep up with the latest technologies, equipment and innovations. "I am always looking for anything that can make us better at what we do."
A GOOD PLACE TO LEARN
Marty and Matt went to their first CONEXPO-CON/AGG – North America's largest construction trade show – in 2020. Nicholas had planned on attending but was unable to. All three say they had wanted to go to the show for years.
An international gathering place for the construction industry that showcases the latest equipment, products, services and technologies, CONEXPO-CON/AGG is held every three years in Las Vegas, NV. The next show is set for March 14-18, 2023.
"I wanted to go and look at all the equipment and new technology," recalls Matt. "My wife had other plans for me, signing us up for all kinds of educational programs. I was shocked by the value I got from them. I really didn't think I would get as much out of them as I did."
Being new to the industry, Marty says she wanted to learn as much as she could and took advantage of the many learning opportunities. "I needed knowledge. That is what I was using the show for and I got quite the education."
Matt says he was able to see a broad range of the latest equipment, products, technologies showcased by all types of exhibitors, plus got to experience the newest equipment and products through demonstrations.
"It was awesome," he exclaims. "We cannot wait for the next show."
"I will definitely be at the next CONEXPO-CON/AGG," emphasizes Nicholas. "We plan on taking along some of our team members as well."
Join more than 50,000 industry peers who receive construction industry news and trends each week. Subscribe to CONEXPO-CON/AGG 365.