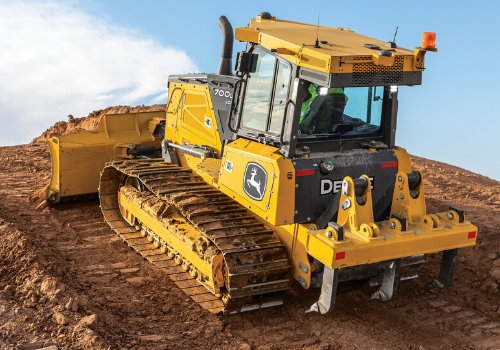 Integrated 3D grade control revolutionized earthmoving nearly a decade ago.  Today it estimated that about half of all dozers sold are equipped with autonomous grade control technology that uses GPS to complete jobs faster and with greater accuracy, eliminating the need for rework.
Whether you call it Intelligent Machine Control (Komatsu), Cat GRADE (Caterpillar) or SmartGrade (Deere), buyers can expect to pay a considerable premium for the technology, which also requires an additional investment in a base station.
"The time, material, and machine wear savings that come with grade control solutions quickly recover the premium paid for grade control solutions," said Sean Mairet, product marketing manager, grade control, John Deere Construction & Forestry.
"Pay back varies based on utilization," said Jason Anetsberger, Sr. product manager for Komatsu America. "The more you use it, the faster the payback", he added.
Adoption of Grade Control Technology
Adoption is being driven by a shortage of skilled operators. "Automation gets an operator up to speed and more productive, faster," said Sam Meeker, product marketing manager for Caterpillar. "For more experienced operators the technology makes their lives easier. Their shoulder and elbow don't hurt as much."
According to Mairet, a common mistake is confusing 2D and 3D grade control capabilities. "2D or entry-level grade control solutions do not use a design plan for controlling the blade. 3D solutions make use of an engineered design surface and control to a specified elevation on complex projects or models," he said.
Meeker believes 2D technology is a smart choice for contractors working on simple jobs like flat house pads in a subdivision, while 3D technology will pay off for larger and more complex jobs. "Have a conversation with yourself and your dealer to analyze what applications could benefit from 2D and 3D technology," said Meeker.
Advancement of dozer technology continues as manufacturers seek to increase the utilization of 3D grade control on the jobsite and make it easier for contractors to upgrade from 2D to 3D.  Here's the latest on dozer innovation from Komatsu America, John Deere and Caterpillar.
Komatsu America
Komatsu America recently introduced Intelligent Machine Control 2.0 with the launch of the D71PXi-24 hydrostatic transmission (HST) dozer at CONEXPO-CON/AGG 2020. It features Proactive Dozing Control logic, a fully-integrated dozing control system that measures the position of the machine, the elevation of the tracks and allows the dozer to measure the terrain and use track-level data to plan the next pass. "Proactive dozing has shown up to a 40 percent increase in productivity than previous intelligent machine control," said Jon Jennings, product marketing manager for HST dozers at Komatsu.
The technology is designed to increase the utilization of intelligent machine control beyond finish grading. Automation can be used any time, for example when performing general site clean-up or backfilling trenches.
Lift Layer control automatically spreads fill from existing terrain with a press of a button. "You can use this automatic control to spread up in very precise layers so you get the consistent thicknesses for quality compaction, "said Anetsberger.
Tilt-Control steering automatically tilts the blade to the left or right to keep the dozer from veering one way or another, something operators previously had to focus on.  Lastly, quick surface creation creates a temporary design surface that enables operators to take on work not in the original plan.
John Deere
John Deere provides customers with a range of options to engage with grade control technology, starting with cost-effective, entry-level solutions and then growing their technology use as their comfort level increases with grade control technology. SmartGrade 3D dozers are available on 650-950 Power Angle Tilt (PAT) models and the new 700L/750L.
"With the entry level and premium options offered by John Deere, virtually any job can benefit from grade control technology," said Mairet. "John Deere's SmartGrade-ready machines including a slope control option that is a great solution when a 3D engineered plan is not available, or in areas where satellite coverage is inadequate. Premium SmartGrade solutions make the most sense for engineered projects that have tight tolerances and demanding schedules," he added.
According to Mairet, SmartGrade can improve the performance of less experienced operators by controlling the blade so the operator can focus on managing material. In addition, SmartGrade will automatically lift the blade up if the machine senses track slip, improving the operator's productivity while reducing excess track wear on the machine.
Caterpillar
CAT 3D dozers boast a 50 percent improvement in productivity versus traditional grading, but "it's related directly to the butt in the seat," said Meeker. "Newer operators can see a 200-300 percent improvement in productivity, while experienced operators see less improvement." CAT GRADE with slope assist (2D) and Cat GRADE with 3D -- both include autonomous grading.  Once the blade is set, the system holds the blade. CAT 3D dozers require 80 percent fewer operator inputs than traditional dozers. Control buttons are integrated into the joystick for easy operation.
The latest generation of D5, D6 and D8 dozers include factory installed grade control, a newly designed display and better software. "On our latest 3D model, a customer can create their own design right in the monitor." According to Meeker, their 2D systems are very inexpensive, and can be easily be upgraded to 3D through their dealers. Factory Attachment Ready Option (ARO) provides optimal mounting locations, brackets, and hardware and simplifies installation of any grade control system.
Meeker believes that when it comes to grade control, buyers should look at not only how the machine performs in the dirt, but in wet sand and different materials. "It's one thing to have a grade control system that works in dirt, it is another to have one that works in wet sand and fines, different materials.
Training is Essential for Success at 3D Grade Control
For success with grade control don't skimp on training. "You need someone on the jobsite who is responsible for grade control equipment that has in-depth knowledge and can solve problems," said Meeker. Operators need to be trained and contractors need to understand how to integrate the technology into their operations. Work with your dealer to determine the solution that best fits your needs and to get the support you need.
Products Featured in this Article:
Join over 40,000 industry peers who receive construction industry news and trends each week. Subscribe to CONEXPO-CON/AGG 365.