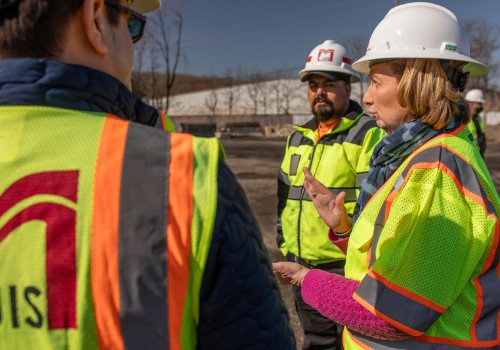 The strain of finding and retaining quality workers is a common thread among those in the construction industry right now. Magnifying the seriousness of the labor shortage is that many workers are reaching retirement age.
M Luis Construction, a hot-mix asphalt manufacturer and asphalt and concrete construction services company headquartered in Silver Spring, MD, has been effectively dealing with the situation for many years. As it states on their website: "Not only are we building roads of the next generation, we are blazing paths for the next generation of workers."
A woman and minority-owned, multi-generational business, M Luis Construction was founded by Albertina and Manuel Luis in 1985 after the couple, she an entrepreneur and him an artisan, came to the U.S. from Portugal.
Initially, the company began with placement of curbs, gutters, and sidewalks in new neighborhood subdivisions. It has since grown organically, integrating different facets of construction work. They then expanded into asphalt manufacturing and paving after experiencing difficulties relying on asphalt providers.
Today, the company has five locations in Maryland, including two asphalt plants and two recycling plants. The plants provide hot mix asphalt, recycled asphalt products (RAP), and the resale of aggregates, sand, and liquid Tack. The company's service area has grown to include Maryland, Washington, DC, and Northern Virginia.
In 2008, the founders' daughters – Cidalia Luis-Akbar and Natalia Luis, who had been involved in the family business, formally took over the company as Co-CEOs and owners.
It was at this time the company reevaluated things as it realized it had outgrown its skill sets as well as its administrative capabilities, explains Natalia. In 2015, the sisters brought in David Slaughter to serve as President of the M Luis companies. According to Slaughter: "The business had a great culture and workforce. It just needed a bit more structure and a few key managers to further drive growth."
Culture is a competitive advantage
Cidalia, Natalia, and Slaughter point out that the company's culture is a competitive advantage as it makes the company special. Moreover, its culture is a key to finding and retaining employees.
"Many of our foremen, the nucleus of our business, have been with the company 10 years or more, says Slaughter. "Some of them have been here since the beginning. That nucleus has a loyalty to Cidalia and Natalia and they bring in members of their family and their communities".
"We build our crews very organically and try to bring people in who know our employees versus just bringing in outsiders. We do not have the turnover that other companies have, and that is a huge advantage for us."
The median tenure for any of the company's foremen is 20.3 years, Natalia states. "Though we have a lot of people who have been here in the 5- to 10- year range, we have many who have been here 25 to 35 years."
There have been times when the grandfather, father, and son have all been working together at the company, notes Natalia. "We are very proud to be able to inspire that kind of feeling within the company.
To avoid having the hiring and employee retention issues as other construction companies are having, M Luis Construction puts great emphasis on culture and employee satisfaction. "Cidalia and Natalia are very adamant about providing good benefits. As the company has become more profitable, benefits and pay have increased and that helps attract workers.", says Slaughter.
Inclusiveness and diversity 
M Luis Construction also attributes its success to its work environment of inclusiveness – making everyone feel accepted and comfortable – and diversity – employing a broad cross-section of people from different demographics. "One thing unique to our organization is that both Cidalia and Natalia speak several languages fluently and connect with our employees in their native language," says Slaughter. "That makes a difference in making people want to stay. This is very unique in our industry, especially for a company our size."
"We like to operationalize all aspects of diversity – gender diversity, ethnic diversity, race diversity, religious diversity, political diversity," Natalia points out. "In every tier of our organization, you will see diversity."
"We also seek out to hire veterans, second-chance persons that need a break, and people who come from economically difficult areas. Diversity for us is really all-encompassing."
Women at work
Women represent about 11 percent of all the people working in construction, according to a recent study by the U.S. Bureau of Labor Statistics. There is only one in every 100 employees in front-line positions.
At M Luis Construction, women comprise a good portion of its workforce, including on its construction crews, Natalia observes. There are women flaggers, CDL drivers, truck drivers, and workers in every asphalt plant and recycling yard. Jo Ellen Sines, the company's Vice President of Construction, is the first woman president of the Maryland Association of Engineers, founded in 1929, and is one of the pioneering women in construction in the region.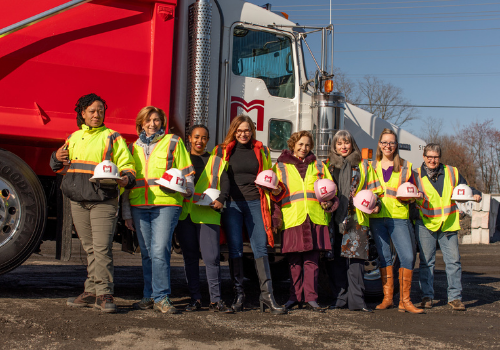 A focus on safety
Because construction remains one of the most dangerous professions, a focus on safety is "a core pillar, paramount" on all of M Luis Construction's jobsites and at its plants, says Slaughter. There is a full-time, experienced safety manager "who is bilingual and can speak to the people in their own language which is really important."
The company "constantly works on building our safety culture," David Whitehurst, General Manager of Aggregates and Asphalt, stresses. Along with discussing various safety topics, "we are proactively looking at what could go wrong on our jobs and the various hazards. Safety is team-based, and we strive to keep everybody engaged. We want our teammates to be safe and want them to speak up when there are any concerns."
Another safety concentration is on the company's trucking and equipment fleets, adds Vice President of Construction Sines. "There are a lot of parameters in place to make certain the operators perform their vehicle inspections and walkarounds and complete their Driver Vehicle Inspection Reports."
She pointed out that for workers in the field, there is an alert system that twice a day pings the crews to remind them to focus on safety. Workers are also regularly reminded of the inherent dangers associated with their work and to keep an eye out for unsafe worksite conditions and for others who may not be working safely.
"Building a safety culture of teamwork is key to avoiding accidents and injuries," she emphasizes.
Community service
Not only is M Luis focused on driving workforce diversity and safety, but they're also passionate about supporting the communities in which it lives and works. Employees are encouraged to volunteer their time and talent. During Thanksgiving, employees go out into the community to different organizations, including churches, and help donate hundreds of meals for families.
The company philanthropically supports Children's National Hospital, Toys for Tots, American Red Cross, Habitat for Humanity, and many local charitable organizations.
"There is a real initiative to promote every team member to participate in their community and be a part of the community fabric," Natalia points out. "This speaks to the heart and soul of our organization. We are truly community-based."
Several years ago, Natalia and Cidalia climbed Mount Kilimanjaro to help raise half a million dollars for Children's National Hospital. The money was used to help establish its Fetal Medicine Institute and its International Symposium on the Fetal Brain.
Natalia notes the company and its employees have received numerous service and volunteer awards. Most recently, Slaughter received the Clara Barton award – the highest American Red Cross volunteer service recognition – and the company was recognized with the Montgomery Serves Award – the highest philanthropic award that exists in Montgomery County, MD.
Furthermore, M Luis Construction works as an advocate for the construction industry. It is a committed member of numerous industry organizations and associations. The company also works to stay abreast of how the political environment could impact its business and is active in the political process in support of the industry.
Read Next
The Voices of Women in Construction are Growing Stronger: 2021 State of the Industry