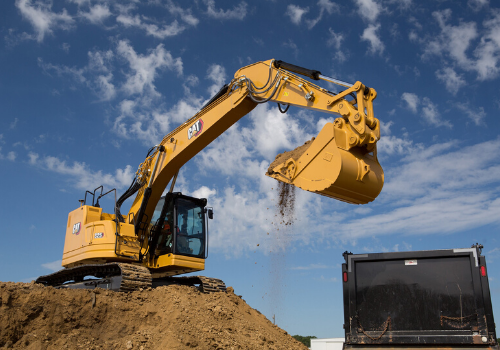 Large excavators are powerful and diverse machines that complete a lot of construction work. Every major construction equipment manufacturer has a line of excavators, and they exhibited their newest ones at CONEXPO-CON/AGG 2020.
Excavators aren't just differentiated by size; excavators come equipped with features that make them optimized for specific applications. It is not enough now to choose an excavator based on bucket capacity and horsepower; you have to understand how the machine's suite of features, including advanced technologies, will impact your operations.
According to Ryan Neal, product application specialist for Caterpillar, contractors should consider what scope of work the machine will be working in, as well as the owning and operating costs of the excavator.
Performance in Tight Spaces
Caterpillar exhibited the new 325 compact radius, mid-sized excavator, which is ideal for gaining high-production values in tighter work conditions, such as one lane of traffic or up against a jersey barrier and close to buildings.
The 325 replaces the 325F, and comes standard with a suite of technologies, such as Cat Grade with Assist, Cat Payload, Cat Grade 2D, and Cat's safety E-Fence features among several other standard technologies. In addition to the plethora of technology, Caterpillar claims 20 percent lower maintenance costs.
"The greatest strengths of this machine are its lifting capabilities, the optional blade for backfilling and its versatility in tight work conditions. Having standard Cat Grade features will help the operator maintain grade better and give them greater operator efficiencies," says Neal.
The excavator is available with Cat Product Link, Caterpillar's machine monitoring system. The recently introduced Cat Productivity—a web-based productivity management tool that delivers payload, machine and site data from Cat Product Link. This allows contractors to compare performance against productivity targets, fix inefficiencies and maximize machine utilization to increase profits. 
"The 325 also has up to 25 percent lower fuel consumption," says Neal. "And, contractors can further control costs by using the Cat Payload feature to prevent over and underloading of trucks. This is especially helpful when loading highway trucks, because it can help prevent over weight fines."
By Earth, By Road, By Rail
Liebherr exhibited the R 926 and R 938 models from their new Generation 8 crawler excavator series, the A 920 Litronic wheeled excavator, and the A 922 Rail Litronic rail-road excavator.
The new crawler excavators are designed to provide extra comfort and safety for the operator, as well as optimum performance. New features include boom modifications that improve performance and equipment forces. The optimized load curve on the new generation reduces fuel consumption. A higher engine power combined with a heavier counterweight allows for higher bucket capacities.
The Liebherr A 920 Litronic wheeled excavator is particularly suitable for road, canal and pipeline construction as well as for classic earthmoving work and is characterized by high mobility and versatility. It features an operating weight of 18.3 to 21.3 tons, a 175-hp engine, a strong undercarriage, and outriggers at the rear and front of the machine to ensure stability and safety.
The A 922 Rail Litronic rail-road excavator can be operated as a dual-purpose machine for road or rail. A rail travel drive is mounted on either side of the machine's undercarriage, which brings the tires to rail level. By using the inside wheels of the dual tires, the machine is able to travel on the tracks. Several options allow for application-specific optimization.
New Hybrid Technology Yields Significant Fuel Savings
Volvo Construction Equipment has brought hybrid technology to the 30-ton-class excavator. Although hybrid technology is not new to large excavators, the hybrid technology in the Volvo EC300E Hybrid is new.
Other manufacturers have captured the swing energy of an excavator's superstructure in order to translate it into energy that can be used during operation. The EC300E Hybrid, on the other hand, captures energy from the excavator's boom down motion. More specifically, the boom-down motion charges several 5.2-gallon hydraulic accumulators, which then deliver energy to drive hydraulic assist motors that help power the hydraulic pump.
According to Volvo, this technology can reduce fuel consumption by up to 15 percent and CO2 emissions by 12 percent with no loss in performance and, when used in high-production dig-and-dump applications, the fuel saving payback is approximately two years, says the company.
Not only is the idea of reusing energy in this manner simple, but the componentry is also simple. Also, the machine provides the same levels of controllability and performance as the standard EC300E, including the ability to work in ECO mode and Hybrid mode simultaneously.
Join over 40,000 industry peers who receive construction industry news and trends each week. Subscribe to CONEXPO-CON/AGG 365.