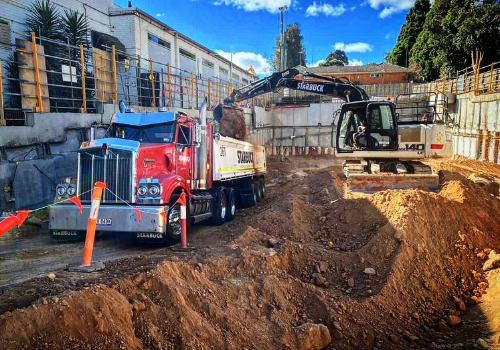 At age 19, Jimmy Starbuck went into business for himself with nothing but a used two-ton excavator. Sixteen years later he leads Starbuck Excavation and Starbuck Plant Hire, managing 150 employees and contract workers, along with a fleet of excavators, dozers, graders, and a fleet of 100 trucks, both company-owned, and contracted. Having a vertically integrated truck fleet is a differentiating factor for the Melbourne, Australia-based contractor that specializes in moving large volumes of dirt onsite and offsite for large abatement projects.
Along the way, Starbuck has learned a few things about growing a business. "Companies aren't built on one person," he says "They're built with everyone pulling together."  Finding and keeping the right people is key, but Starbuck believes employee acknowledgment helps build the company culture, which then makes it easier to recruit, retain workers, and achieve success.
Acknowledging employees is a well-documented way to boost morale and improve performance. A Bersin & Associates study (now owned by Deliotte), found that companies that excel at employee recognition are on average 12x more likely to generate strong business results. According to OC Tanner research, 79% of employees who quit their jobs claim that a lack of appreciation was a major reason for leaving.
Starbuck offers these tips for getting acknowledgment right in the construction work environment.
1. Acknowledge what matters
Attitude. Dedication. Goals. Milestones. Company values. According to Starbuck, these are all important to acknowledge. "I don't put as much weight on time spent with the company," says Starbuck. "If you focus on the time only then it could negate some of the accomplishments of someone who has been there for three months." Starbuck creates a budget for staff acknowledgment which enables his teams to celebrate both individual and group accomplishments. "As the company has gotten bigger, we now break off into smaller groups for dinners or casual get-togethers," says Starbuck. "It's important to spend time together as a team, without discussions about work."
2. Rewards don't always have to be big
The simplest, and most effective employee acknowledgment is to tell employees when they do a good job. "You can't forget to tell them when they do good, the same way you tell them when they do bad," says Starbuck. "You don't always need a big bouquet of flowers, sometimes a single rose will do." A pizza party can be as effective as a gourmet dinner. Starbuck has found that flexibility of working hours is a good way to reward employees who are seeking greater work-life balance. "The 7:00AM to 4:00PM, six days a week, workweek, is a bit antiquated," says Starbuck. In 2020, he took one of his employees to Las Vegas for CONEXPO-CON/AGG as a reward for her hard work.
3. Acknowledgment has to be genuine
"Acknowledgment can't come from a point of manipulation, where I am saying thank you to get something that I want," said Starbuck. "Acknowledgment has to be genuine." One way to be more authentic is to be specific about what the employee did and why it was appreciated. Share this with everyone present and explain why the action was important to peers, their customers, or the company. If you are awarding something tangible such as a certificate, be sure it is accompanied by a meaningful verbal thank you.
4. Timing is everything
Like constructive feedback, the acknowledgment should be delivered as close as possible to the occurrence that warrants it. Being timely reinforces the value of the contribution and can further motivate employees. According to Starbuck, if an employee was doing something bad, you would send someone for damage control immediately. "So why is it that you are going to take weeks or months when they do something great before giving acknowledgment?"
5. Don't forget contract workers
At Starbuck Plant Hire many of the truck drivers are not employees, but contract workers. For Starbuck, it's just as important to acknowledge these workers, as they are also an essential part of the team. On a recent project, when drivers were asked to move from one work site to another at the last minute, Starbuck called one of the drivers that same morning to thank him, acknowledging why his effort was important to the company.
Starbuck has learned from experience that acknowledgment done right will help build company culture and grow your business. "Acknowledgment is about the whole company—how you deal with problems and how you handle positive things as well, "says Starbuck. "When my culture is good, we have more trucks at work, we have more holes to dig, we make more money, and it's a great place to be."
Read Next
Keys to Effective Communication for Construction Leaders