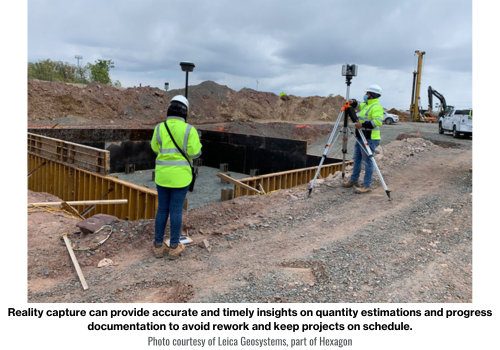 Construction has a productivity problem. Productivity, as measured by the value added per worker, was 40% lower in 2020 than it was in 1970. Manufacturers have improved the productivity of machines, but that hasn't been enough to offset losses. Today solution providers are increasing their focus on jobsite productivity.
"If you improve the performance of one machine, but the machine operator has to wait (delay) because another task is behind, you have diminished the impact of the improved performance of the machine," says Troy Dahlin, Vice President of Heavy Construction U.S./Canada for Leica Geosystems, part of Hexagon. "System-wide improvements across the project keep these delays from occurring as often, which keeps each asset/person performing at a higher level."
"The problem is, all the data is separate, survey data is separate from machine data, which is often separate from financial data," says Casey Cyrus, Director of Product Management at Trimble Site Positioning Systems. With recent improvements in technology, the data can be consolidated into a single view, enabling managers to make better decisions.
"Jobsite technology has come a long way in the past five years, and those technologies really improve a lot of the processes on the job sites," says Brandon Rakers, Senior Product Manager of Technology Business Support at Komatsu. "We are not necessarily moving the dirt faster, but by verifying those quantities faster, more work is being done across the entire company.
Jobsite technology is not about eliminating jobs but freeing workers to complete other tasks. Here's how technology can bust the most common productivity killers.
Bust these productivity killers
Lack of timely information
"Contractors need to understand what happened today on the jobsite; how effective the operation was, and if it's on budget," says Chris Richardson, Senior Director of Industry Workflows at Trimble. Waiting for information can result in increased costs and delays.
If a machine is budgeted to move 1,500 cubic yards of dirt per day and a contractor waits several weeks for a surveyor to perform a topo survey, they may find out they were averaging 300 cubic yards per day less for the past 30 days.
"Understanding the deficiency in the first day allows them to determine the root cause of the production issue—and take corrective action," says Dahlin. "They can avoid the 9,000 cubic yard issue a month from now."
3D models and grade control technology take the guesswork out of earthmoving, while quantity estimations and progress documentation captured daily or even by shift with reality capture technology can provide accurate and almost instantaneous insights. Connectivity with the jobsite enables timely decision-making. Explore solutions such as Leica's reality capture technology, Trimble's civil construction solutions, and Leica's cloud-based collaboration tool: ConX.
Doing something twice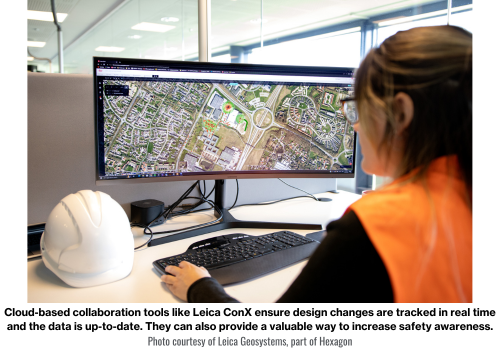 "Rework is one of the biggest pain points our customers have when it comes to losing productivity," says Rakers. "Any time that a contractor has to do work twice, it costs them time, fuel, machine time down, and additional labor costs—and they aren't doing anything productive."
Dahlin concurs and explains how rework can also contribute to project delays. "If the grading contractor, for example, fails to achieve the specific grade tolerances and compaction just before the paving contractor mobilizes in, there's no guarantee that the paving contractor can adjust their mobilization and/or work schedule to accommodate a delay of a day or two," says Dahlin. Until the paving contractor can reschedule, which may be a couple of weeks, the grading contractor has to protect and maintain the grade. "Delays may also impact downstream work/subs such as striping contractors, extruded curb contractors, and inspections," adds Dahlin.
Whether integrated or retrofitted, machine control and other construction technology can help reduce rework by preventing human error. "One of the key advantages of machine control and guidance is its ability to make an unskilled operator good, and a good operator great," says Trimble's Cyrus.
"Doing things once correctly is the primary goal; minimizing the number of touches and distances of movements is next on the agenda," says Dahlin. "While machine technology is awesome it is predominately tied to the activity of that specific asset. Using machine control with many other construction technologies, such as reality capture and ground penetrating radar, will make timely decisions possible beyond just the activities of one machine."
Inaccurate survey data
Our experts agreed that inaccurate survey data is a common problem. "Never assume that existing topographies, existing utilities, or conditions are as stated on the plans," says Dahlin.
A pre-jobsite topo can confirm whether the project plans are correct, or a project change order is needed. "Utilizing 3D enables us to visualize the job before it's even created," says Rakers.
"The companies that use 3D technology go into the bid with an unfair advantage, because they know as soon as they win the bid, they have a change order in their back pocket and change orders are what contractors live on," says Trimble's Richardson.
The use of reality capture solutions, ground penetrating radar, and drones with lidar cameras can determine the accuracy of the project plan. This improves project scheduling, planning, and profitability.
Waiting for surveyors
Without technology, contractors often wait for a surveyor to check their work, which can result in scheduling conflicts and delays. Technology reduces those conflicts and makes better use of a surveyor's time for higher-value tasks. Contractors can then spend more time working.
"Proper implementation of both machine control technologies and off-machine technologies such as rovers, robotic total stations, and laser scanners allow a contractor to use defined benchmarks/control points often set by the surveyor to work with machines and perform tasks such as layout and grade checking without requiring the surveyor to be on-site," says Dahlin. "This leads to a very successful partnership between the contractor and surveyor."
Unnecessary travel to jobsites
Physically bringing 3D files to a jobsite not only wastes time but also puts employees at risk of a traffic accident. When files are sent over a cloud-based platform they can be sent remotely to multiple machines at one time.
Storing and sharing data from a cloud-based collaboration solution also ensures design changes are tracked in real-time and the data is up-to-date. According to Cyrus, communications technologies such as WiFi, Cellular, and Satellite-based internet services are becoming less expensive and more reliable. "There are a lot of communications projects in the works," says Cyrus. "We have to find a way to get everybody connected."
The wrong fleet mix for the job
If you can't see what's happening at a job, you don't realize how productivity is lost. Technology provides access to data and insights that can help determine a more productive method.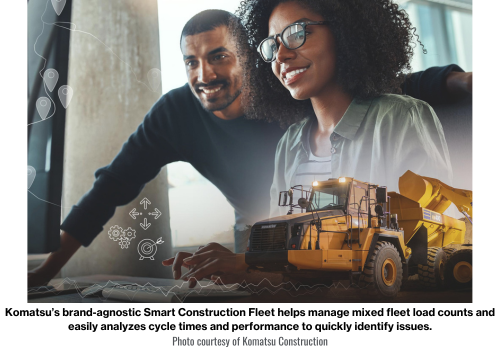 For example, Komatsu's Smart Construction Fleet, will track anytime there's a slowdown in a certain route, which allows someone in the office to look at that data, and see that machines are waiting 5 to 10 minutes for trucks. "This is insight a contractor to use to determine that they should put more trucks on that route because a machine that isn't being utilized is not making them money," says Rakers.
"Contractors who take the time to carefully distill the great amount of production data down into decision-making information will improve their ability to ensure the right machines, materials, and workers are where they should be," says Dahlin.
"AI is a key enabler that allows us to look at trends and the data collected to start forecasting how successful a contractor will be on a project," says Richardson. "Big data with no big analytics behind it is nothing more than data."
Schedule Changes
Improved planning and scheduling are some of the key ways where contractors can improve productivity. "AI allows the contractor to focus on thinking ahead and be proactive, not reactive to what just happened," says Dahlin.
An easy-to-use mobile app from AGTEK, part of Hexagon, allows contractors to quickly make assessments on upcoming workaround quantities, giving them a quick and accurate way to plan the resources needed for the task. "When planning is optimized, efficiency often improves as well," adds Dahlin.
Komatsu's Smart Construction Office utilizes a level of AI to create autonomous scheduling. When a task is completed, it automatically adjusts the schedule left or right—with left meaning that the project is ahead of schedule. "Contractors can start to build their schedule a little bit differently because they can see where they are with the schedule," says Rakers.
Driving forces of technology adoption
The acceleration of digital technologies is likely to be driven by the skilled labor shortage and government entities. Provisions in the Infrastructure Investment and Jobs Act (IIJA) call for the application of advanced digital construction management systems with $100 million allocated to accelerate state adoption. A recent Dodge Construction Network survey found that 38% of civil engineers and 18% of civil contractors would invest in technologies to improve worker productivity to solve a skilled labor shortage. The solutions are available; the incentives are there; it's time for the construction industry to solve its productivity problem.
Read Next
Trends that Shaped Construction in 2022 and How They Will Impact 2023
Improving Jobsite Productivity and Safety with Smart Helmets
Exoskeleton Technology is Improving Productivity and Safety on the Jobsite