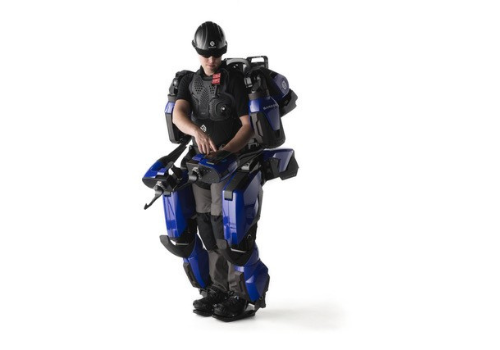 It's no surprise to anyone that construction work is physically demanding and puts a lot of stress on the human body.
For decades, there was no solution to dealing with the rigors of construction, so construction workers had to bear the stress and pain of hard labor. One's ability to deal with body damage and light injuries was viewed as a sign of their toughness. However, that type of thinking is self-destructive.
Exoskeletons promise a better way to achieve some of the labor-intensive tasks performed in construction.
Two companies are taking two different approaches to exoskeletons—Sarcos Technology and Robotics Corporation and suitX.
Science fiction is becoming reality  
Sarcos has worked in the robotics space for over 20 years, but in 2015, the company conducted a management buyout and headed in a new direction that looks to commercialize its robotics technologies for industrial use. Now a publicly-traded company, Sarcos recently acquired fellow robotics maker RE2, Inc., which also has many years of experience in the commercialization of mobile robotic systems.
Among Sarcos' Guardian line of robotics is their Guardian XO full-bodied, battery-powered exoskeletons, which are capable of lifting up to 200 pounds. The suit is similar to the Power Loader exoskeleton (or exosuit) worn by Sigourney Weaver's character in the 1986 film Aliens. A person backs into the suit and places their legs into the suit's legs and their arms into the suit's arms. It was designed so a person could get in or out of it within 30 seconds.
It's worthy to note most manufacturers refer to their market-ready products as exoskeletons. The word "exosuits" is used in science fiction and gaming.
Improving worker safety
"The benefit of a full-body exoskeleton is that the weight of the suit is not transferred to the person wearing it, but rather the weight of the suit and its payload is transferred through the robot's structure to the ground, preventing any added strain on the body," says Kristi Martindale, Chief Product and Marketing Officer, Sarcos. "Plus, the 'hands' of the robot, which we call end-effectors, are removed via a quick disconnect system and can be swapped out in seconds. Hooks, suction, magnetic, and powered three-finger end-effectors will be available. The three-finger end-effectors were designed to closely mimic the human hand and have the dexterity to operate power tools."
The suit is powered by two lithium-ion batteries, which can be recharged fully within two hours, or 90 percent charged within an hour. Having an extra set of batteries allows for nearly continuous operation as the robot's batteries can be "hot-swapped" without needing to power off the unit.
The company suitX, a US-based company spun out of the Robotics and Human Engineering Lab at the University of California, Berkeley, produces three separate exoskeleton pieces—shoulderX, backX, and legX, which can be used separately or in any combination. Each one eases the stress felt by the human body when lifting, leading to less soreness, continuing tasks for longer times, and greater productivity.
With the standard frame, each device fits most people without additional tools and each user can adjust the levels of support to accommodate different work tasks, tools, and fatigue levels. In addition, the devices are purely mechanical and do not require a power source. This allows the user to wear the device for extended periods without worrying about energy levels.
The shoulderX is reported to reduce shoulder muscle stress by 40 percent. The backX has shown the ability to reduce the strain on a wearer's lower back by an average of 60 percent while stooping, lifting objects, bending, or reaching. And, legX supports the user's knees by transferring part of the user's weight past their knee to the ground, allowing them to squat repeatedly or for prolonged periods of time with ease.
The company was acquired in November 2021 by Ottobock Bionic Exoskeletons (Ottobock), a leading global innovator for prosthetics, orthotics, and exoskeletons. The product portfolio will be combined under the umbrella of Ottobock Bionic Exoskeletons while suitX will serve as the company's R&D department. Ottobock also just launched the Ottobock Shoulder exoskeleton in April 2022 live from the suitX Innovation Hub in Emeryville, CA.
Increasing productivity
One of the exoskeleton's greatest advantages in the field is in material handling applications.
"Our team recently demonstrated (see left photo) the Guardian XO exoskeleton for construction where the operator picked up with one robot hand a three-foot-by-four-foot piece of plywood, which is a cumbersome size for most people to handle," said Martindale. "They placed the plywood against the frame and locked the robot arms in place using controls located at the person's fingertips. Then the operator removed their arms from the exoskeleton, picked up a nail gun, and with two hands now available, nailed the plywood down while the Guardian XO held it in place."
And, of course, if you can lift 200 pounds, then people can start doing jobs that typically require heavy equipment. Humans equipped with exoskeletons can place steel beams, lumber, concrete pipes, and even larger air conditioning units. This could be especially useful when needing to lift heavy objects in spaces too confined for heavy equipment.
"We focus our exoskeleton solutions on the most pressing problems in physical labor. Musculoskeletal disorders in the form of back pain due to load handling and problems caused by overhead and over-shoulder work" says Dr. Sönke Rössing, Chairman and CEO of Ottobock Bionic Exoskeletons.
The backX product aids in lift and carries applications, such as removing building materials from a pallet or the installation of solar panels, but also for other applications that place a lot of stress on the back, such as stud welding, a technique where a fastener or specially formed nut is welded onto another metal, often on the ground, so the welder is bending over while carrying out the task.
Also, anyone who performs overhead work knows how a person's arm can soon feel heavy. Added to that weight is often the weight of a power tool and soon a person needs to start taking breaks to rest their arm muscles. However, with shoulderX, a lot of that weight is transferred to your back. So, a lot of electricians, plumbers, installers, and other tradespeople would benefit from a shoulder exoskeleton.
Once thought of as pipe dream, the use of exoskeletons are becoming more of an attainable reality, particularly for construction crews. The adoption of this technology has allowed early-adopters to set new standards for jobsite productivity and worker safety, with even more improvements to come. 
Read Next
How To Improve Job Site Metrics With Wearables
Ruggedized Wearables for Hazardous Jobsites