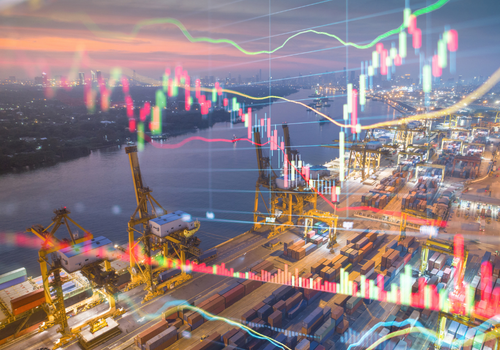 1. Rising construction costs
Inflation continued to rear its ugly head in 2022, challenging contractor profitability and threatening pending projects from moving forward. The Association of General Contractors (AGC) reported in early December that overall costs for construction are "still rising at painfully high rates." Products used in highway and heavy construction experienced double-digit price increases from November 2021 to last month. The index for liquid asphalt, used in paving projects, jumped 19.8%, while the index for concrete products climbed 14.3%. The producer price index for diesel fuel leaped by 59.6% despite a one-month decline of 3.4% in November. Through December 9, the producer price index for construction machinery has risen 10%, on top of an 8% increase in 2021
Inflation is also undermining the $1.2 trillion Infrastructure Investment and Jobs Act. "When prices are higher, less 'real work' gets done," says Dodge Construction Chief Economist Richard Branch. "Projects will move ahead but not as previously planned."
CBRE's latest Construction Cost Index forecasts a 14.1% year-over-year increase in construction costs by year-end 2022. However, there are signs we could be seeing the light at the end of the tunnel. CBRE expects construction cost increases to stabilize in the 2%-4% range in 2023 and 2024, on par with historical averages. "We're starting to see price growth slow down," says Branch.
2. High-interest rates
Right behind rising construction costs comes the rising interest rate trend. The Federal Reserve has raised the fed funds rate seven consecutive times in 2022 to get inflation under control. After starting the year at .25% the fed funds rate at the end of the year currently stands at now 4.5%. The high cost of borrowing, along with long lead times for construction equipment orders has been a challenge for contractors.
Nowhere has the impact of interest rates been more significant than in the housing market. With higher mortgage rates and high home prices, home sales in the United States have declined for nine months in a row through October. "Single-family home sales lead the sector into decline," says Branch. "We expect to hit bottom by late Q1 or Q2 in 2023." Housing prices have been slow to decline, with most analysts attributing this to low inventory. You can find Dodge Construction's year-end report here.
3. Labor shortages
Labor shortages are nothing new to the construction industry.  According to Branch, labor has been a struggle for the industry since it began to recover from the Great Recession. "Demand for workers will stay high, despite housing declines," says Branch.  A massive wave of retirements among baby boomers continues to generate demand for replacement workers. An AGC study conducted in July/August 2022 among construction firms revealed that 93% of respondents had open positions for craft workers, while 71% have openings for salaried positions. Among the firms with openings, 91% report having a hard time filling some or all positions. More than three-quarters (77%) of respondents report that available candidates are not qualified to work in the industry for reasons such as a lack of skills or failure to pass a drug test.
The AGC study also revealed what construction firms are doing to improve the labor situation. More than half (51%) of firms—up from 37% in the 2021 survey—report they engaged with a career-building program, at high schools, colleges, or career and technical education programs. Thirty-nine percent report they added online strategies, like using Instagram Live, to connect better with younger applicants. Training is another tool being deployed by contractors. Forty-two percent of respondents to the AGC survey initiated or increased spending on training and professional development. More than two-thirds (69%) of the largest firms, those with annual revenue of more than $500 million, report doing this, compared with one-third of the firms with $50 million or less in revenue.
As long as the supply of labor remains tight, there will be pressure to increase wages. Among the contractors AGC surveyed in July/August, 86% reported increasing base pay rates in the past 12 months, while 45% provided incentives or bonuses and 24% increased their portion of benefit contributions.
4. Increased technology spending
Construction is an industry well-known for its slow adoption of technology but in 2022 there were signs that's changing. Labor shortages are a driving factor. "The pressure is on to do more with less," says Branch. "One of the clear ways to do that is with technology." According to Tech Crunch, venture capital (VC) funding in U.S. construction tech startups alone reportedly hit $1.3 billion in the first half of 2022, representing a 44% increase on the previous six months. In addition, a number of new funds and initiatives have emerged to support construction technology entrepreneurs. In the Associated Building Contractors 2022 Tech Report, case studies showcase how contractors are adopting robotics, drones for aerial imagery and 3D models, estimating software, augmented reality, virtual reality, and automated data capture.
The government is also providing incentives as it seeks to get more out of its infrastructure spending. The Federal Highway Administration is managing two programs that will provide $500 million to promote the use of digital technologies on government-funded projects. The Technology and Innovation Deployment Program (TIDP) covers research and development (R&D) and other efforts related to highways and transportation, while Advanced Digital Construction Management Systems (ADCMS) was created to advance technologies such as BIM, 2D, and 3D modeling. In its 2023 Industry Outlook for Engineering and Construction, Deloitte predicts that companies will likely increase the adoption of structured approaches to emerging technologies across the industry in 2023
5. Sustainability
In April 2022, the United States announced its goal to halve US greenhouse-gas emissions by 2030 and reach net-zero emissions by 2050. According to Architecture 2030, the built environment generates 40% of annual global CO2 emissions. A new target is embodied carbon emissions. While operational carbon emissions can be reduced through building energy upgrades and the use of renewable energy, embodied carbon emissions refer to the emissions associated with the production of building materials, from raw material extraction to the manufacturing of finished products, and it accounts for the vast majority of a building's total embodied carbon. A new study from A/O PropTech, finds that Investment in low-carbon building construction technology surpassed $2 billion in 2022 as the industry seeks ways to reduce its carbon footprint. Three strategies being pursued are designing for material efficiency, sourcing greener materials, and prefabrication and robotics.
On the machinery front, the conversion to renewable fuels has begun. According to a report by Research and Markets, the electric off-highway equipment market is estimated to grow from $9.2 billion in 2022 to $24.8 billion by 2027 at a CAGR of 22.0%. Lower owning and operating costs are making electric machines competitive with diesel. Advances in battery life mean buyers can expect to see a growing number of electric options across many machine categories and brands.
Read Next
Five Equipment Dealership Trends That Will Shape 2023
Inflation: What Does It Mean for the Construction Industry and How to Get Through It
What Two Months of Slowing Inflation Mean for Construction and Interest Rates