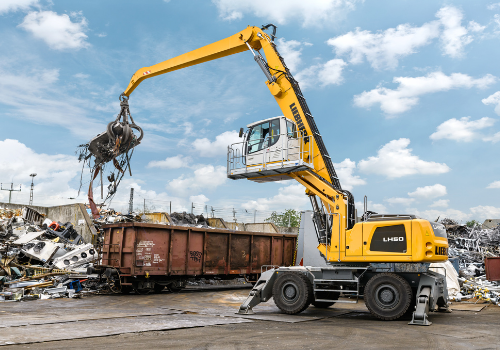 From scrap yards and waste transfer facilities to steel mills and inland ports, whether moving metal, lifting logs or placing barriers on a highway construction jobsite, material handlers are working faster and more efficiently than ever before.
According to Jason Jones, Americas sales manager for Sennebogen, heavy-duty Sennebogen material handlers are now being used for bulk material handling at ports as a switch from traditional crane-oriented operations. "A material handler can unload a barge in some cases in 30 percent of the time," says Jones. "Fuel consumption is significantly less than a typical excavator or crane."
"New uses are coming up all the time," said Anthony Laslavic, national account manager for Terex Fuchs. Demolition is one area where purpose-built material handlers are beginning to make inroads.
Understanding the differences between a material handling excavator and a purpose-built material handler can help you decide the best machine for your application.
"A material handling excavator is an excavator modified for material handling applications," said Jones. "Traditional excavators are designed to dig in and pull things out and to work directly in front of the machine. Purpose-built materials handlers are built to pick up, carry and swing. They have powerful 360-degree lift capacities."
A majority of purpose-built material handlers are wheeled machines, while material handling excavators more often than not, have tracks. According to Jones, material handling excavators typically have higher operating costs than purpose-built material handlers.
Straight booms provide greater reach
"A material handler has a straight boom that will give the machine more reach than a traditional excavator," says Marcus Barnes, product manager for Liebherr USA's Large and Special Application Excavators. "On a traditional excavator, you will see a gooseneck boom that is angled so you have the ability to work closer to the machine and dig under the machine."
"With a material handler you have a 360-degree lift capacity so no matter where you are in your lifting envelope," added Laslavic. "An excavator does not have that. An excavator has a different lift zone on the side vs. over the front."
Liebherr material handlers are a separate line from traditional excavators with boom foot placement that is further back than what is on an earthmoving machine in order to increase machine lift capacities. "We even go as far as offering different material handler operators cabs, undercarriages, booms and sticks depending on the application the material handler is working in, "said Barnes. "A boom and stick used for barge unloading will be different from the boom and stick used in a scrap yard. A heavy duty boom and stick are used in scrap yards because of the abuse received sorting and handling various materials."
Cab risers offer improved visibility
A cab riser provides the ability to look up and over the material being handled. "This is especially important if you are loading out trailers and barges, because it allows operators to load and place material more efficiently," said Barnes. Cab risers are available on purpose-built material handlers as well as earthmoving excavators.
A wider undercarriage delivers greater lift capacity
According to Barnes, material handlers will typically feature an Extra Wide or a Super Wide undercarriage.  "Wide undercarriages give you better lift capacities 360 degrees around the machine than a Long Carriage you would find on a traditional excavator.
Requirements for working indoors
Many material handling machines work indoors in dusty and warm environments. "In an indoor environment working side-by-side with a material handler and an excavator, the excavator will overheat," said Laslavic. "Some excavators can withstand these conditions, but it takes modifications to make them work."
Sennebogen purpose-built material handlers feature an automatic reversible fan which frees the engine of dust and dirt with a strong blast of air from the outside. "This ensures the engine maintains its optimal cooling capacity and protects it from overheating," said Jones.
Electric material handlers are especially appealing for indoor environments because there are no emissions. Retractable cable reels provide power with mobility along with power pack options that allow for units to be unplugged and move freely with standard operational features. According to Laslavic, electric models will last twice as long and have far lower maintenance costs than diesel models.  However, the purchase price is 25-30 percent more.
What to Consider When Purchasing a Material Handling Machine                                                                                         
According to Jones, three questions will drive the size and type of machine purchased.
What type of material are you moving?
How far do you need to reach to move the materials?
How fast do you want to be able to move it?
"What is important is finding the right boom and stick combinations that best fits your application along with lift capacity," says Barnes.  "You want to make sure the combination fits the working envelope you want to stay in while handling material."
Laslavic finds that customers sometimes believe that "bigger is always better" and purchase machines larger than they actually need. "If they do the calculations based on productivity, they may find that they could downsize the machine or from a cost standpoint it may make more sense to purchase two smaller machines vs. one large machine," he said.
As with any heavy equipment purchase, support and parts availability should be a key consideration. "These machines are going into high hour applications," said Jones. "They need service availability and parts availability, and a good machine warranty. Buyers need to have confidence in both the OEM and dealer network."
PURPOSE-BUILT MATERIAL HANDLERS
Manufacturer
Number of Models
Reach Range
Differentiation
Liebherr
30 mobile models; 26 crawler models; 19 electric models
9 to 30 meters
Numerous material handler variations to fit a customer's specific applications
Terex Fuchs
24 mobile models;
12 crawler models;
All models diesel or electric driven.
8.2-25 meters
Heavy focus on safety and cutting- edge technology (Telematics), that doesn't over complicate the machine. Integrated OEM and Dealer relationships with end users.
Sennebogen
19 diesel, 19 electric and 5 balance material handlers
9 to 40 meters
Free training.
$48 million spare parts inventory.
Hydraulic over Hydraulic for easy maintenance and repair
Join over 40,000 industry peers who receive construction industry news and trends each week. Subscribe to CONEXPO-CON/AGG 365.