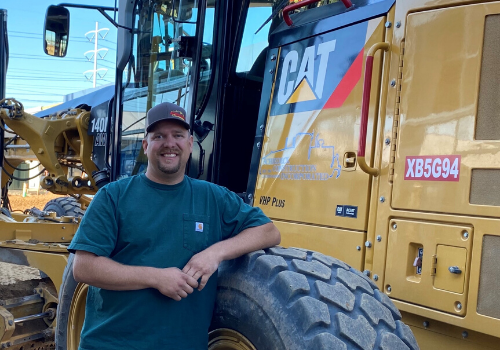 Schiedeck Construction is a third-generation, family-owned company that concentrates on earthmoving, excavation and grading and slope work. Based in Rio Oso, CA – about a 30-minute drive north of Sacramento, the company also does land clearing, paving preparation and habitat restoration.
The company was established by Manfred Schiedeck after moving from Germany to Canada and then California in the late 1940s. He then bought some property in Northern California. To build on that property, he purchased some machines to work the land.
Word got around to Manfred's neighbors that he did excavation and earthmoving. That "news" snowballed into his doing work around the community and beyond.
In time, Manfred's son Robert joined the company, taking over when Manfred retired. Then came the next generation. Robert's son John joined the company and took over when his father retired.
John, chief executive officer, attributes the company's longevity to a strong work ethic, focusing on the types of work it does best and being a small, specialized business.
A Family Approach to Workforce Development
Remaining a small company has been an advantage, says Schiedeck, because it enables the company to take a family approach – emphasizing caring, trust and values – to business. That helps with employee commitment and retention.
Hiring, on the other hand, remains a challenge due to the persistent worker shortage in the construction industry. This problem, he notes, is compounded because the company is signatory contractor and must go through a union hall to hire. Because the union is stretched so thin, it has been difficult to find new workers.
Keeping an Eye on Trending Technology
Construction companies that have an unwillingness or inability to adapt to or apply changing technology can experience a range of inefficiencies. To avoid this, Schiedeck is continually keeping an eye on trending technology and software solutions to help improve his company's business processes, efficiency, productivity and profitability.
One of the things he does is follow technology and software solutions trends on social media and to see what is currently available.
Gaining Knowledge at Trade Shows
Along with reading industry publications, Schiedeck attends trade shows, especially the annual CONEXPO-CON/AGG – the largest construction trade show focusing on construction and construction material industries. At this year's show, he sought out the recently introduced mast-less GPS control technology for dozers and motor graders that replaces the mast-mounted receivers and exposed cables. This new technology, he says, improves grade control performance.
Trade shows are a beneficial way to gain knowledge and exposure to new trends, products and resources, plus "see, touch and feel" new technology, Schiedeck explains. Attendees can also take advantage of educational sessions and networking events to meet new people and businesses and learn new ideas and ways of operating one's business.
Another benefit from trade show attendance is that you can get questions answered right away and seek out advise from vendors, he adds.
Making Better Decisions with Data
To help maximize employee productivity and efficiency, Schiedeck uses mobile time tracking and GPS monitoring to gain real-time insight into his workers productivity. The software solution he uses – busybusy Time Tracking – allows employees to clock in and out, take a break and switch between projects. Productivity data is received digitally, eliminating manual data collection mistakes. All time entries are recorded in real time and can be viewed on a mobile phone, tablet or computer.
Schiedeck Construction has GPS tracking on its machines to help increase worksite productivity and security and enable precise positioning of the bucket's edge on dozers and motor graders.
Schiedeck says the company uses Trimble Business Center software to build 3D constructible models and to do site takeoff and quantity estimating. Takeoff and quantity estimating more accurately assesses the total costs for a project by providing a comprehensive list of materials and their associated costs.
All of this, he notes, helps his company make better decisions, reduce costly mistakes and increase efficiency in the office and on the job site.
On many of its machines, Schiedeck Construction uses the latest in Trimble machine controls and measuring equipment for consistent fine-grade accuracy.
Employee Mentoring
Because Schiedeck Construction does not have a large workforce, there often is not enough time to periodically stop working and train people, says Schiedeck. Rather, training is done "on the go." 
All the employees have a lot of industry experience and are proficient in specific areas, he says. Everyone shares information and lessons learned. If someone has a question or concern, everyone talks about it.
Getting exposed to different skills, experiences and know-how from others helps everyone acquire knowledge and helps generate ideas and solutions, Schiedeck points out.
Preventative Maintenance Protocols 
Proper vehicle and equipment operation and maintenance has also played a part in the longevity of Schiedeck Construction. Being a small company, everyone treats the company's vehicles and equipment like it is their own, observes Schiedeck. There is no abuse and everyone keeps on top of routine maintenance.
Effective preventive maintenance helps prevent a device or component from failing and causing a breakdown, which results in the loss of productivity and unplanned for expenses, he says. Additionally, properly maintained vehicles/equipment operate more efficiently, reliability and safely, and have extended life, which saves money in the long run.
A History of Hard Work 
Reflecting on the many years Schiedeck Construction has been in business, Schiedeck says, not to sound trite, but the fundamental reason for the company's long-term success is maintaining a strong work ethic, meaning working consistently, purposefully and systematically. Or, as both his grandfather and father used to preach: "Keep your nose on the grindstone."
Those are principles, Schiedeck proudly says, he inherited from both his grandfather and father.
Join more than 40,000 industry peers who receive construction industry news and trends each week. Subscribe to CONEXPO-CON/AGG 365.