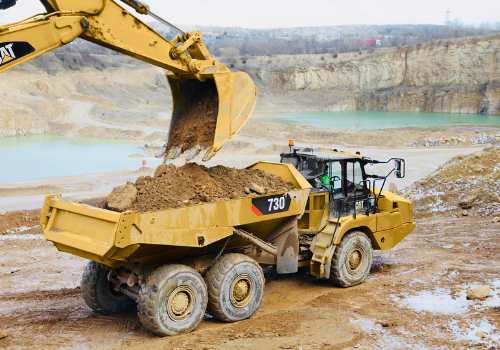 Sales of articulated dump trucks (ADTs) have increased year-over-year for the past 10 years and for Scott Thomas, applications for CAT articulated trucks, the reason is versatility. "The versatility of an articulated truck and an excavator to move material in the construction world is driving sales," said Thomas. "There are no materials they don't like." With all-wheel drive technology and the ability to articulate, ADTs can operate in all types of terrain and weather.
ADTs can be found on building and civil construction sites as well as in mine sites and quarries.  "Rental continues to be the primary channel for the articulated truck market as many large contractors are awarded jobs and require multiple articulated trucks for short term needs," said Robert Hussey​, product marketing manager, Komatsu.
"They are not just used for a dump truck anymore," said Rob Palermo, product manager for Volvo North America, Articulated and Rigid Haulers. They are used in any application you may need the tractor and the power to pull a load." Volvo engineering works with 3rd party vendors on specialized applications such as scrapers, mixer trucks or water trucks.
Rigid frame trucks excel in production hauling on well-maintained roads in mining applications, but articulated trucks are also used in a variety of mining applications such as stripping, production hauling and support work. Trucks can also be configured to haul water or lubricants.  
The latest models are safer and easier to operate
Technological advancements have made articulated dump trucks easier to operate and allow end-users to put less experienced staff in the driver's seat. For example, since 2016, Volvo's Haul Assist for ADTs offer connectivity to monitor production and cycle times, while giving real-time feedback to the operator. In 2019 full cruise control, Opti-Shift, and automated downhill speed control were added to take a lot of the guess work out of driving.
"Operators can monitor the environment and focus on staying safe, rather than flipping switches or deciding what mode to be in," said Palermo. "The truck handles that itself now."
Similarly, Caterpillar's most recent ADT innovation focused on the cab and operator safety. The cab features 18 percent more visibility that previous models. Cat Connect PAYLOAD technology calculates payload via sensors includes load-status lights at all four corners of the cab roof to ensure visibility to the loader operator from any angle. In addition, the Cat Detect/Stability-Assist system monitors the working angle of the tractor and body, as well as the grade, and cautions the operator if the machine is approaching a set threshold angle, stopping the dump process if continued action might potentially result in tipping.
Safety is a big focus for Bell articulated haul trucks as well. Anti-tipping technology, pedestrian detection, and being able to control the ground speed of the truck are just some of the features on the Bell E series. "Owners can say I don't want my truck to exceed this speed when loaded, or specify that they can only run full speed when unloaded," said Robin Pett, product manager for Bell Equipment North America.
On Komatsu's latest models, operators will experience a highly upgraded payload meter system which simplifies the communication of payload data. The payload is displayed on the machine monitor, external display lamps indicate the payload range (for the loading tool operator), and payload data can be accessed in Komtrax, Komatsu's telematics system.
"Operators will appreciate the Komatsu Advanced Transmission with Optimum Modulation Control System (K-ATOMiCS), a fully automated 6-speed transmission designed to minimize shift shock and torque loss," said Hussey.
Larger trucks are trending
End-users are turning to larger trucks and larger loading tools for greater efficiency. According to Pett, more trucks are sold in the 45-ton and over segment than any other.  "The right loading tool and the right size truck is critical to any operation," said Pett.
Thomas concurs. "You don't want to spend a lot of time getting loaded. You want to be in and out in four to six buckets," he said.
"We are seeing significant growth in the 35-metric ton >size class (HM400-5) and steady growth in the 26 > 30 metric ton size class (HM300-5)" said Komatsu's Hussey​.
Thomas believes that most contractors won't go beyond a 45-ton unit, due to transportation issues.  Larger loads mean additional costs and time needed to break down large excavators, obtain permits and navigate transportation routes across bridges and tunnels.
Specifying an articulated hauler
Knowing what material the truck will be hauling is key to configuring an articulated haul truck for optimal performance.  "For light material applications, sideboards can help customers achieve rated payload and reduce material spillage" said Hussey. "For wet, sticky materials such as soils with high clay content, consider using a heated body arrangement in order to prevent material carryback (material stuck in the dump body even after dumping operation is complete)."
The grades the articulated haul truck will be operating on is another important factor.  For steep grades, a tailgate can help reduce material spillage.
Caterpillar's 730 ejector articulated hauler offers a unique option, releasing material out of the back of the truck and spreading it on the go. "This can eliminate the need for a track-type tractor and operator to spread material," said Thomas.
Real-time data drives improved productivity
For fleet managers, the ability to see production on a real time basis provides an opportunity to maximize utilization and productivity. Tools such as Komtrax (Komatsu), Fleetm@tic (Bell) and Cat Production Measurement (Caterpillar), and ActiveCare Direct (Volvo) help customers maximize their truck utilization and productivity.
"Utilization information such as working hours and idle time enable end users to identify opportunities to repurpose underutilized units or make changes to their operations to maximize the utilization of their fleet," said Hussey.
"With the Cat Production Measurement system on articulated trucks, not only does it help for tracking daily productivity, but for bidding future jobs," said Thomas. "That's what more advanced customers are doing."
Featured Articulated Hauler Manufacturers
Manufacturer

ADT Models

Advantages

Bell Equipment

B20E, B25E, B30E 4 x 4, B30E, B40E, B45E, B50E, B60E

 

Core business is articulated dump trucks. Bell manufactures the industry's largest range of ADTs. Everything is manufactured in-house except engines, transmissions and differentials.

725C2, 730C2, 725, 730, 730 EJ, 735, 740EJ, 740 GC, 745

Cabs are consistent across models and offer 18% greater visibility that previous models; combined transmission and hoist lever make for easy operation.

Technology works seamlessly without the need for operator intervention. Automated retarder control and traction control. Assisted hoist reduces operator fatigue.

HM300-5, HM400-5

Payload meter system simplifies the communication of payload data. The payload is displayed on the machine monitor, external display lamps indicate the payload, and payload data can be accessed in Komtrax.

Komatsu Care is standard and includes 3 years / 2,000 hours of complimentary maintenance and two Komatsu diesel particulate filter exchanges.

A25G, A30G, A35G, A40G, A45G, A45GFS, A60H,

VOLVO A25G received Equipment Watch award for lowest cost of ownership in 2020.  

A new map feature on the Haul Assist application allows operators to monitor hauler traffic around a jobsite and proactively adjust their driving according to traffic conditions.

Focus on operator training.
Join more than 40,000 industry peers who receive construction industry news and trends each week. Subscribe to CONEXPO-CON/AGG 365.