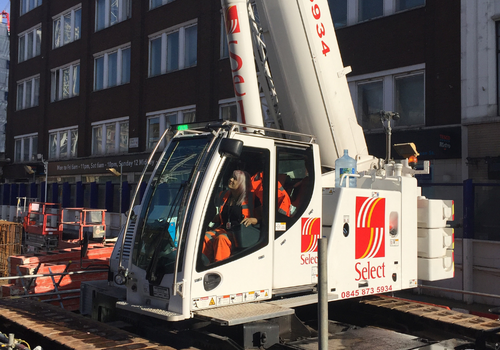 Katie Kelleher wishes she had learned about construction apprenticeships when she was still a teenager, though she can't complain about the way her career as a London-based crane operator has turned out. In fact, her roundabout journey to a career in construction is what makes her appreciate it all the more. It's also what drives her to spend so much time promoting the virtues of apprenticeships and women working in construction..
The young people Kelleher talks to, along with her thousands of social media followers and blog subscribers, know Kelleher as Katie Cranes. Katie Cranes is the female crane operator with pink hair, an abundance of enthusiasm, and a raging desire to make sure young students—especially females—are aware of all the opportunities they have in life. It took Kelleher a few years to find that out for herself.
Kelleher went to university to study art and English literature. "Honestly, I don't know why," Kelleher says with a sigh. "It's just one of those things when you're a young person in school and not quite sure what to do with yourself."
Truth be told, guidance counselors weren't exactly nudging students toward vocational trades and things like apprenticeships. Kelleher was a creative person and excelled at art. Hence, art and English literature seemed like a good fit.
Kelleher did know a little about construction. Her dad was a fifth-generation bricklayer. He never pushed his vocation on his daughter, though. Maybe that's because he'd recognized that she wasn't terribly interested. "I remember my dad taking me to a jobsite in London that he was especially proud of," Kelleher recalls. "I did not want to put a hard hat on. In fact, I flatly refused. Of course, I was only 5 or 6 years old at the time."
As Kelleher grew older, she continued to gain more of an appreciation for construction. In time, that appreciation evolved into sheer awe when looking at the size and scope of the things being built in London. "I started to understand that the work these people were doing was changing the way we all live," Kelleher relates.
Labor recruiter becomes construction apprentice
While attending university, Kelleher also worked in sales at a mobile phone store. It was a "pushy" kind of sales, as Kelleher puts it, and not at all to her liking. She left that job to sell advertising for a while before landing a position as a trades and labor recruiter. The light bulb went on.
"I started to see that a lot of these people were earning a lot more money than I was," Kelleher says. "One day I just sat at my desk thinking, 'Could I work in construction?' I didn't have any qualifications or experience, but still wondered if there could be a place for me."
Kelleher sent out her CV, a more in-depth version of a resume, to a handful of construction companies. "I was driving home from work one day when my phone rang," Kelleher recalls. "One of the companies said they were looking at my CV and wondered if I would be interested in a new 'lifting technician' apprenticeship they were starting. They asked how I felt about becoming a crane operator. I thought to myself, 'I don't feel anything about being a crane operator' because it really took me by surprise. I asked if I could think about it a bit."
At that moment, Kelleher didn't personally know a single crane operator. She did some online research and all she saw were photos of men operating these big cranes. "But I still wondered if I could do it," Kelleher says. "To be honest, I never thought I would be brilliant at it. But I would never know if I didn't try. This was an opportunity to change my life."
Kelleher fully embraced the opportunity, but still had some doubts as to how it would all turn out.
"It was all very strange for me at first," Kelleher says. "I showed up for the first day of orientation and the room was full of men. They all stopped what they were doing and stared at me for a moment. So I just slid to the back of the room and sat down, and then everyone went back to what they were doing. But I just sat there, almost curled up on the floor questioning all of my life choices."
In time, however, Kelleher's second-guessing turned to unabashed confidence. She began her apprenticeship in 2014. Her first three months were spent in college learning the various types of cranes and mobile elevating work platforms, as well as disciplines like slinger signaling and traffic marshaling. Once her classroom work was complete, Kelleher worked in her employer's yard for a while. Then she was sent onsite to shadow an experienced operator until he felt Kelleher was ready to operate a crane on her own.
Kelleher's initial experience operating a crane felt nearly as awkward as her first day of classroom orientation. People on the jobsite did a lot of staring, too.
"I don't think people were familiar with seeing a woman operating equipment," Kelleher says. "For a long time, I felt like I had to sit there waving and smiling at everyone. I kind of felt like the pope sitting in the popemobile. Looking back, it was all very strange."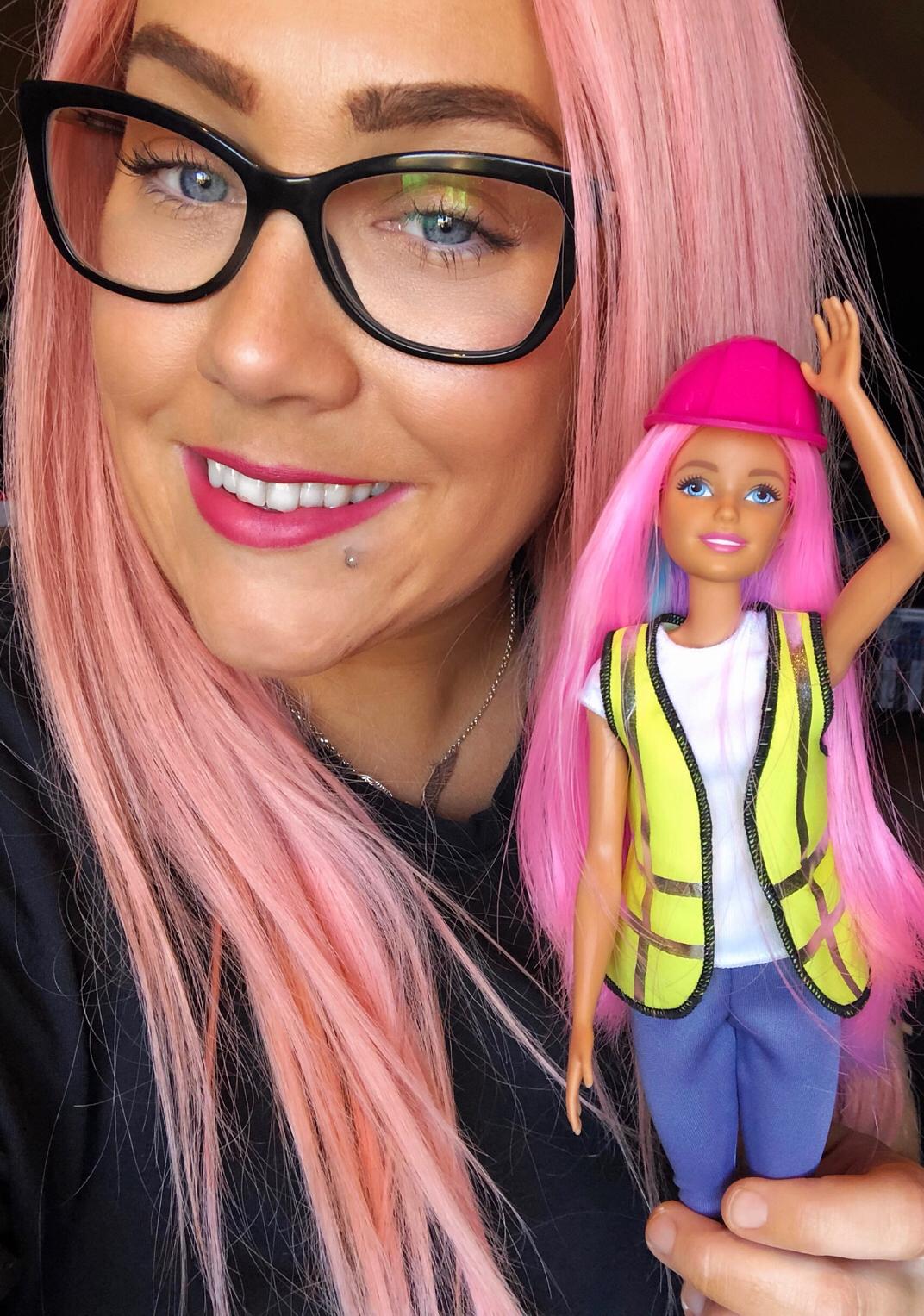 Kelleher gradually grew more comfortable as she got better at her job. As a young female entering a male-dominated profession, she always had a fear of becoming known as the girl crane operator who made a huge mistake. But that fear is what drove her to work even harder to master the art of crane operation. As Kelleher points out, crane operation really is an art—and art is something she has always excelled at.
"Crane technology almost lends itself to being a bit gentler at the controls," Kelleher says. "I think that played to my advantage. It was a real pleasure learning and didn't take nearly as long as I'd thought it would."
Kelleher also credits the people she has worked with, particularly those on her first jobsite. "I had a really good lifting team," Kelleher says. "When you have a really good team supporting you, that lets you become more comfortable and confident. I've always felt very privileged that someone was willing to trust in me and give me an opportunity to do this."
Over the past eight years, Kelleher has had the opportunity to work on prestigious sites like The Elizabeth Line in London and the Thames Tideway Tunnel, a 25km super sewer that runs beneath the Thames River. "To be part of something so big that changes how people live is just a real privilege," Kelleher says.
From hiding in the back to leading out front
Through her journey in construction, Katie Kelleher has also had the privilege of helping shine a light on the opportunities the construction industry affords. She has served on various apprenticeship-related committees and task forces and regularly speaks to students.
The thrust of Kelleher's message is not crane operation, specifically. Rather, it's about the value of working in the trades—especially if you are a woman.
Kelleher recalls one instance where she visited an all-girl's school to talk about construction apprenticeships. A teacher handed Kelleher a letter written by one of her students. In essence, the young girl said Kelleher gave her the belief that she could do anything.
"That to me was just massive," Kelleher says. "That's why I do this. Something I said had resonated with her."
On another occasion, Kelleher coordinated with her employer, Select Plant Hire, to arrange for a young girl to visit their yard. Several other companies, including some crane manufacturers and even some of Select Plant Hire's competitors, sent some merchandise for the young girl.
"It was nice to see how everyone came together and worked together," Kelleher says. "If we could do this type of thing more often, I think that is the best way forward to get more people interested in apprenticeships and the opportunities in construction."
And who knows, maybe more young people—including women—will see one of those construction opportunities as an opportunity to completely change their life, just as Katie Kelleher did eight years ago.
Hear more about Katie's journey in her panel discussion at CONEXPO-CON/AGG 2023: Ask The Influencers - Panel Discussion & Meetup with the Most Popular Construction Minds. Learn from her and four other influential voices within the construction industry on March 17, 2023 at CONEXPO-CON/AGG in Las Vegas, Nevada. 
Read Next
Ep. 133: Building a Rock-Solid Business and Reputation with Ryan Goodfellow