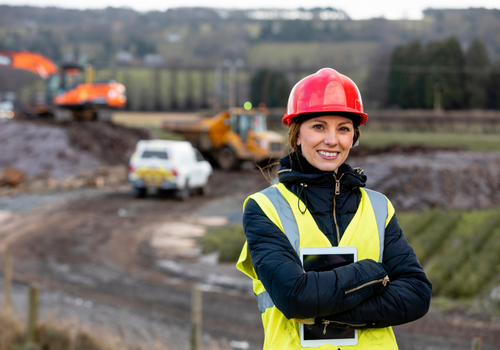 Over the past five years, the influence of women in construction has grown significantly. According to U.S. Bureau of Labor Statistics data, roughly 11% of construction jobs were filled by women in 2021. That's over 1.2 million women working in construction, a 32% increase from 2016.
To make the most of any construction career opportunity, a woman needs to find her voice. That can be difficult for some to do in such a male-dominated industry. Encouragement and advice from role models and mentors can provide an invaluable source of inspiration.
"There has been this stigma around construction that I've always felt is unwarranted and unfair," Kristina Mahler of Crew Collaborative shares. "Telling the stories of the great people in construction has become important to me. Lifting women up has become part of that process. Women have different perspectives and unique ways of approaching problems. So when you think about the idea of women embracing bold leadership in this industry, it's really about embracing our female nature in a different way."
Advice for women in the construction industry
Kathy Freeman, Executive Vice President at MCG Civil started her transition into the construction industry by putting her "boots on the ground," as she puts it.
"I went into the field to try and learn how to run equipment, as well as how to interact with others on the jobsite," Freeman relates. "In my current role, my job isn't to know everything. My job is to figure out what our guidelines should be for various tasks. Getting into the field to understand what people are doing and why has helped me do that. It's not about telling people they are doing things wrong. It's about working with them to find a better way."
Freeman says showing respect for other people has been integral to her ability to take the lead. That attitude, along with a willingness to work her way up, has led to her being respected.
"We always advise young women coming into the industry to just do their jobs with integrity," Freeman says. "You almost need to remove the whole idea that you're even a female. Just focus on working as part of a team. Don't be afraid to ask questions, and don't be offended if someone tells you you're doing your job wrong. It's always important to be open to criticism, regardless of who you are."
Alicia Brentzel says being a Co-Owner and President of a company in the construction industry gives her an advantage in garnering respect. But at the same time, it can also work as a disadvantage.
"When I first came into the company full-time, I felt like I should know more than I did since I was the president," Brentzel tells. "What helped me was when I realized there were far more people willing to help me than people who wanted to tear me down."
From there Brentzel says she gained the confidence to get out there and ask "why," and from there she gained a better understanding of the business. "Once a woman can realize that safe space, she can feel comfortable about moving into a role where she may have some learning to do."
These concepts apply to not only women, but anyone new to the construction industry who may not feel like they have a voice. According to Mahler, women in particular can find their voice if they do one thing.
"The women who have been truly successful in construction have given themselves permission to be their authentic selves," Mahler says. "When you are true to yourself and true to your strengths and weaknesses, you can be successful. That is a thread that must be talked about. From day one, women are trained to be people-pleasers and become a little more sensitive. In reality, criticism and asking questions are lifelines to success – especially in the construction industry."
With the increasing amount of women entering the construction workforce, five standout female construction leaders will be providing more advice and inspiration of their own at CONEXPO-CON/AGG 2023 during their roundtable discussion, Bold Leadership for Women, on Wednesday, March 15.
About the speakers
Alicia Brentzel, President of Brex Enterprises
Kathy Freeman, Executive Vice President at MCG Civil
Amanda Kurt, Vice President and Managing Partner at Kurk Concrete
Stephanie Susott, Director of Strategy and Analytics at Milestone Contractors
Kristina Mahler, Founder of Crew Collaborative
With 150 sessions, CONEXPO-CON/AGG's comprehensive education program is the leading source for contractors, business owners, construction material producers, and end-users to obtain cutting-edge, timely, and actionable information for today's challenging economy and a changing and global industry. Click here for more information.
Read Next
Women in Construction: 5 Steps to More Effective Leadership