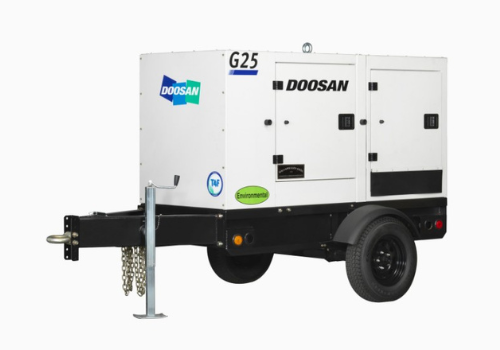 Portable power is necessary on many job sites often beginning with the job site trailer that gets set up even before the company stages the equipment. That unit will power the trailer anywhere from one week to one year depending on how long it takes to set up utility power. Tools, pumps, cranes, concrete mixing, and aggregate equipment are some of the most popular items run by large generators.
When choosing a generator (or generators) for your job site, there are five criteria you should keep in mind.
1. Power output
Of course, the biggest consideration when choosing a generator is power output. Simply add up your total electrical power needs in amperage and voltages as a starting base. Consider what tools or equipment the generators will power to determine total power. How many of those will be drawing power from the generator at the same time? You need a generator with a peak power output greater than your total power load (the total energy of all powered tools and equipment).
"You also have to consider whether there will be any motor starting, because starting the motor on a machine takes twice as much energy as running steadily," says Travis George, Product Manager, Doosan Portable Power—a manufacturer of 10 diesel-powered generators in the 25 kVa to 570 kVa (kilo volt-amperes) range with the smallest unit being the same size as a golf cart and the largest Ione being the same size as a pickup truck. "When working with a conveyor or rock crusher, for example, you need to take the motor data plate information when choosing a generator to ensure it has sufficient power for motor starting."
And, once you've established the total running power requirements, find a generator that can provide 20 to 30 percent more power than that because, according to George, generators work best when they are working at 70 to 80 percent load. "Loads lower than that don't allow the engine to burn as clean and the end-user doesn't want to pay for something oversized. Bigger isn't better; find the smallest generator that meets all of your specs."
2. Connection compatibility
Also, if you will be running multiple tools, the generator will need not only enough power but also enough connections for those tools or equipment to plug into. You also have to ensure the generator has the type of connections that are compatible with your tools and equipment.
Most generators offer multiple connections and connection types for powering common equipment. Common types of connections include:
Standard 20-amp duplex receptacles - the same kind found in a house)
30-amp twist-lock receptacles - compatible with cables used in the rental industry to accommodate electrical distribution gear or spider boxes.
Quick-connect Camlock connectors - which are rated for 400 amps and are popular in the rental industry
Electrical lugs - identical to connections on a circuit breaker, these are the connections with which an electrician will connect.
Additionally, there are also different voltages available: a 120/240 V single-phase, a 120/208 V three-phase, and a 277/480 V three-phase. Unique to the Canadian market, Doosan is the only manufacturer of portable generators that make a quad voltage, which includes 600 V on the job site and provides efficient power distribution. Doosan also provides the required CSA listings and TSA fuel tank containment and fuel tank breathing requirements for Canada.
3. Size
The more power you need, the larger the generator will be. Is there sufficient room for the generator? Are there any job site-influenced size restrictions? Does the generator need to fit through a door, for example? Do you have the means to easily pick it up and move it to another location? How many times will it need to be moved on a single job site? Perhaps getting multiple smaller generators will be easier to place and move than one single one.
Again, understanding when and where and how much power is needed will lead to better decisions.
4. Power input
Finally, generators provide portable power, but they also need to be powered. Options include diesel, gasoline, propane, and rechargeable battery. Battery-powered storage devices have a wire from which they can draw power, so they can only be used on-sites either hooked into the electrical grid or with solar power. All the other options will need to be refueled periodically, in which case it makes sense to use the same fuel you use for other equipment that is on-site. If you have diesel-powered machines on-site, for example, you will already have either a stock of diesel fuel on-site or a fuel delivery service, so it makes sense to use a diesel generator.
5. Rent or own
For how much time do you require portable power? If you need a generator for only a few days, renting it will be the better option. Once renting costs begin to compete with purchase costs, owing becomes the better.
"The larger the generator, the more likely it is to be a rental unit," says George.
Also, when renting, you don't have to worry about generator repairs and maintenance; if something goes wrong with your rented generator, the rental dealer will provide a replacement.
Read Next
Portable Inverter Generators for the Construction Site: Assessing Power, Feature Articles, and Accessories