Eric "EJ" Herron understands what it's like to be a small contractor trying to decide whether to invest in new technology. For nearly 10 years he was the president of E.J. Herron Excavating, based in Chillicothe, Ill. That experience, along with a total of 16 years at Caterpillar, Inc., prepared him for his current role as Regional Sales Manager for SITECH South.
"I live and breathe technology every day," says Herron. "I talk daily to contractors explaining the benefits of technology and make them comfortable with this being something they need to get into."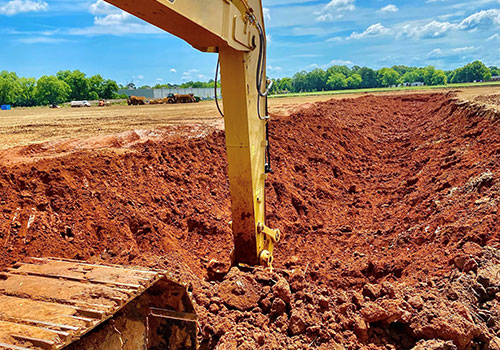 Machine control offers huge productivity benefits, but smaller contractors are often hesitant to make the investment. By using GPS and 3D design models, rather than staking, machine control systems accurately position earthmoving equipment and control the blade or bucket to move dirt more efficiently. While machine control was initially deployed on dozers, usage has expanded to include motor graders and excavators as well as attachments on compact track loaders. Herron's biggest challenge may be getting contractors to think beyond the initial hefty price tag of approximately $100,000 for a base station, rover and one machine system.
Here are 5 considerations to help evaluate if machine control is right for you:
What are your pain points?
According to Herron this is where the conversation with contractors often starts. By examining the issues that are currently draining profits or hampering business growth he is often able to identify a way for technology to lessen the burden. A lack of time is a common pain point among owner/operators. With smaller contracting companies, owners are often the most skilled equipment operators on the jobsite, but they also need to tend to the demands of running a business, bidding jobs and overseeing multiple projects. A shortage of heavy equipment operators is another common challenge.

"I know what they experience," says Herron. "However, if you use machine control, a novice operator who doesn't have as much experience can finish grade the job just as well as you can." This frees the owner to do other things. "Once they try machine control, they can begin to see the possibilities," adds Herron.

Another pain point may be moving too much material on the job. "Contractors are generally 50% more productive with a machine control system," says Herron. "You aren't moving excess material and going back to rework a job."


Consider cost savings, not just the expense
While you are going to invest more for equipment using 2D or 3D machine control, you can also rake in some savings. "You won't need to hire as many surveyors and work around their schedule," says Herron. On a large subdivision project he estimates that could be as much as $40,000. "Contractors can do the survey work themselves using a base station and rover without waiting or delays." Because machines equipped with machine control are so much more productive, Herron says it's possible that over the long term, fewer machines may be needed to do the same amount of work. Maintenance costs are also lower because automation causes less wear and tear on the machine.

If it's between an $80,000-$90,000 pickup truck or machine control, Herron reminds contractors, "The machine control is going to make them money."


Machine control is more flexible than you might expect
Herron says that contractors often worry about utilization of machines equipped with machine control. Trimble machine control is sold as an aftermarket purchase vs installed at the factory. For contractors looking for more flexibility, an aftermarket solution may be best because the hardware is relatively easy to move from machine to machine. Dozers, excavators and graders can all share much of the same technology hardware. This can increase overall usage. If you sell an older machine, you can remove the machine control technology and install it on a newer machine.

You also have the option of moving forward in smaller steps, working with a 2D system that is a lower cost investment than 3D machine control. "2D is a good option for someone who is building concrete pads, or using an excavator for digging footings or basements," says Herron. "It's something simple for flat slopes, while 3D is for complex contours."

Contractors can usually rent the Trimble technology as well, which reduces the initial cash outlay.


Do you have a technology champion?
One of the keys to success in technology adoption is having the right person within your company who is going to be a champion for the technology. "The owner wants to invest, but they don't want the technology to sit in a closet," says Herron. The right person is someone who is technology savvy, who knows the jobsite and the process of moving dirt.

You'll also need to plan for training. Herron says that after a few days of on-site training and three or four different site set-ups, most companies can do it themselves.


Ask for a demo
Herron finds that one of the best ways to show the technology benefits is through a demo. "When contractors see the results for themselves on the job, they know it's going to do good things for them," says Herron.

"Most contractors see a return on investment in six to nine months," says Herron. The most common feedback is "Why didn't I do this sooner?"

"No contractor is too small for technology," says Herron. "They actually need it more than a larger contractor, because they need to get more done with a smaller team. " You can follow Eric "EJ" on Instagram @dig_it_digital_gps.
Other quick reads you might find helpful:

Subscribe to the CONEXPO-CON/AGG 365 weekly newsletter to receive more great stories like this.