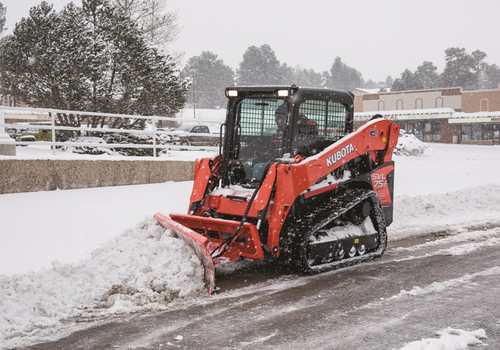 Winter is coming to the northern hemisphere, and that means it's time to get your equipment ready for months of colder weather and, in many places, snow and ice. There are two ways to get equipment winter-ready, depending on whether that equipment will be in use or in storage during those months.
Getting equipment ready for winter
1. Inspect equipment
Tom Turner, Product Operations Manager at Kubota Construction Equipment emphasizes the need for regular inspections.
Cold temperatures can take a toll on belts, hoses, fittings, and other hardware. Tires and tracks must also be monitored for weather-related issues. Winter-specific tires and tracks can improve performance.
Clean the undercarriage to remove not only dirt but also snow, ice, and salt. Be sure to allow the machine to thoroughly warm up before starting work. "Adding a block heater will reduce warm-up time and heat the cab more efficiently."
2. Replace fuel and fluids
Mike Fitzgerald, Product Specialist at Bobcat, stresses the need to give diesel exhaust fluid attention. DEF will freeze at approximately 12 degrees Fahrenheit. DEF lines have heating elements in them, but it's only sufficient to keep fluid DEF flowing; it's not enough heat to thaw frozen lines.
On shutdown, the DEF pump will cycle to evacuate fluid from the lines and return it to the tank to minimize frozen DEF in the lines. DEF in the tank will freeze, but it is thawed by engine coolant during the machine's warm-up period. Emissions regulations allow a grace period for the engine to operate without DEF long enough for the tank to thaw.
Fitzgerald also says while #2 diesel is fine in summer, a 50/50 blend of #1 and #2 is recommended for colder temperatures and straight #1 for sub-zero conditions. Fuel additives can help ensure fuel flow in cold weather.
Both experts repeat the requirement for proper fluids including coolant, engine and hydraulic oils, and grease. Keeping the fuel tank full will reduce condensation. While an NLGI #2 grease is fine in warm weather, synthetics work best in the cold.
3. Consider cold weather add-ons
Brad Stemper, Director of Product Management, North America, CASE Construction Equipment says that many machines have some package or option that provides added features for cold weather operation. Whether standard or optional, look for things like engine block heaters, heavy-duty batteries, grid heaters, fuel filter, and water separator heaters, DEF blankets and heaters, rear defrosters, and more. These features incorporated at the time of purchase are going to make the transition to cold weather operation easier.
4. Prioritize operator comfort
One thing we often forget about as we transition to winter is that it's not just about the equipment, it's also about your operators that will also be working in the elements. "I highly recommend having equipment outfitted with as much lighting as possible as the days get shorter," says Stemper.
For further operator comfort, check cab seals, look for cracks in mirrors and make sure windshield wipers are working properly. Check and blow out the cab air filter. "Options like heated seats help, too." Take time before the season starts to do these checks.
Tips for storing equipment during the winter
Indoor storage is best, says Turner, and unheated is preferred "to minimize condensation and temperature shock." If unheated space is not available, store equipment in a space with minimal temperature swings.
Turner says winter downtime is the right time to perform needed repairs and upgrades. "It's also best to check for any damage that may have occurred during the winter months. Off-season repairs and a final inspection before returning the machine to work will ensure your fleet is ready to go when the weather warms again."
Fitzgerald says oil should be changed before a machine is stored so that acids and other contaminants are not attacking the engine while it sits idle. To keep the battery in top condition, a trickle charge or "tender" should be used. If that's not possible, the battery should be disconnected with a switch or by removing the ground cable. Passenger cars and trucks can lose important functions and memory when the battery is removed if backup power is not provided, but Fitzgerald says that is a minimal issue with equipment. "Most equipment electronics are designed with extended periods of non-use in mind and memory, or other issues should not result from disconnecting the battery for the winter season." 
Read Next
Beat Winter with these Snow Removal and Equipment Winterization Tips