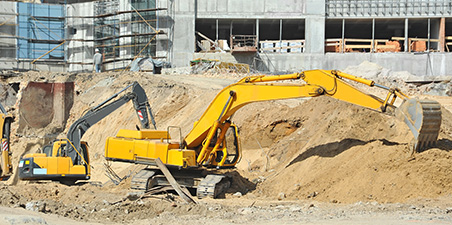 Equipment is advancing in the construction industry. Many manufacturers are focused on making their machines smarter through the use of proprietary technology systems that make operations more efficient.
"It's important to look at construction machinery technology differently than just delivering more information to the cab of the machine," explains Ed Savage, product manager, Vermeer. "Instead, technology needs to be integrated into the controls of a machine, helping to simplify operations."
While there are a number of new machine advancements in the construction industry today, technology is at the forefront, and the integration of many new technologies in construction equipment are driving productivity and uptime in jobsite operations.
Andrew Kahler, product marketing manager, John Deere WorkSight and ForestSight, points to four key advancements that have helped lead the construction industry to new levels of productivity, uptime, and efficiency:
Telematics
Grade control
Payload weighing
Unmanned aerial vehicles (UAVs) or drones
1. Telematics
Telematics is one of the key technologies changing the way the construction industry does business. A telematics system can provide machine diagnostics alerts that help prevent downtime, theft, and misuse.
Savage of Vermeer explains that many manufacturers are using telematics that allow the machine to communicate vital information to fleet managers and equipment owners.
Additionally, telematics provides a number of benefits to the construction industry including increased productivity, greater efficiency, and heighted security of the operations.
Telematics technology can remotely track and create reports for data such as location, fuel consumption, and machine operation. John Deere, for instance, offers JDLink, which monitors this on equipment. However, Kahler says one of the most helpful aspects of JDLink is the availability of the product.
"The accessible nature of this system helps customers effectively manage their fleet and job site from anywhere," he says. "On a day to day basis, local John Deere dealers monitor their customer's machines, allowing customers to focus on the job at hand. Also, machine data flows through Deere's machine health monitoring center, which focuses on the big picture of machine health and preventative maintenance."

Related Reads:
2. Integrated Grade Control Systems
The second big technology impacting construction equipment today is grade control systems. Technology providers are often partnering with manufacturers to deliver advanced 3D grade control with no external masts or cables. This can reduce costs and risk of theft or damage to the equipment.
"Integrated grade control systems are the present and future of the construction industry," explains Kahler. "The precision and speed are synonymous with profit."
Topcon Positioning Systems and John Deere have created a strategic alliance to co-develop its SmartGrade system and deliver integrated grade control to the construction industry.
A number of other equipment manufacturers have developed similar partnerships for the industry. For example, Case Construction Equipment and Leica Geosystems, which is now part of Hexagon AB, have a partnership for precision construction tools, which was originally announced back in 2014, and has expanded since that time.
The benefit here is greater availability of off-machine precision construction tools through CASE dealers. This includes pipe lasers, rotating lasers, underground utility locators, and automatic and electronic levels.

Related Reads:
3. Payload Weighing
Another way that construction equipment continues to advance is through payload weighing, which gives construction companies the ability to monitor material moved on a worksite.
Kahler says John Deere offers an advanced payload scale as well as an embedded payload scale with more limited detail functionality. The payload weighing system measures total bucket loads, trucks loaded, cycle times, and more.
As another example, Caterpillar offers onboard weighing systems and real time feedback in the cab. This helps operators hit exact loading targets, see bucket and truck load weights, and track key performance indicators like daily production tonnage, truck load counts, tons/hours, tons/fuel burned, and more.
The technology in general can help eliminate trips to the scale, helping to improve productivity and increase operator efficiency, all while driving down costs and creating a safer jobsite.

Related Reads:
4. Drones
The final technology that is playing a big role on the jobsite today is construction drones, also known as unmanned aerial vehicles.
The Teal Group suggests that civil unmanned aerial systems are attracting venture capital and predicts the civil, non-military market will grow 15.6 percent between 2020 and 2029. It also predicts that commercial use will surpass consumer drone market in 2024, with construction leading the commercial market throughout the next decade.
A number of technology companies are offering intelligent systems to help transform how the construction industry does business at the jobsite.
"Drones, which were once viewed as primarily recreational, have now taken on the task of industrial work," explains Kahler. "In the case of John Deere, we formed a strategic alliance with Kespry to provide customers with a revolutionary new system to rapidly capture survey-grade topography in a matter of minutes."
He adds that this has made UAVs indispensable, providing valuable insights for bidding, productivity tracking, inventory management, and project verification.

Related Reads:
Preparing Your Equipment Operators
Perhaps one of the biggest challenges with all this new and emerging technology is preparing operators to best leverage the systems out on the project.
For experienced operators, new technology should be made to be intuitive, enhancing what is being instructed in the operator's manual, explains Savage of Vermeer.
"For new operators, manufacturers and equipment dealers have training resources available ranging from operation and safety videos, simulators, and operator training classes, but none is a substitute for a thorough understanding of the manufacturer's operator's manual," he explains.
Johni Francis, global OTR product manager, Titan International, adds, that successfully implementing new technology requires involvement and ongoing consultation with the fleet manager, operator, and tire dealer or tire manufacturer.
He points to the example of tire pressure monitoring systems, which allow operators to monitor real time tire inflation pressures and internal operating temperatures. These are installed internally on the wheels and are set to integrate with the machine's telematics systems.
Francis explains that the collaboration between the fleet manager, operators, and tire dealer or tire manufacturer ensures fleets get the most out of the technology.
"Positively impacting a fleet's bottom line with new technology is just a matter of knowing which features to utilize, what to look for, and how to react," explains Francis.


Subscribe to the CONEXPO-CON/AGG 365 weekly newsletter to receive more great stories like this.