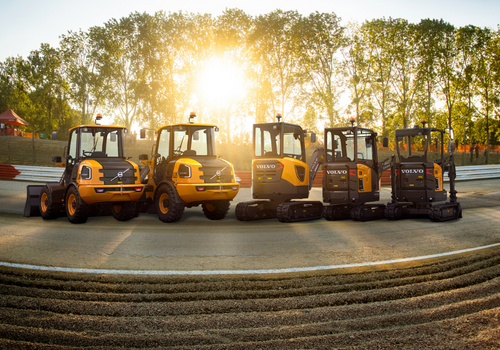 With diesel prices over $5 per gallon in the U.S., you might be wondering if an electric-powered machine could reduce your operating costs.  Or, you may be wanting to take the first steps towards reducing your company's carbon footprint. Whatever your reasons for investigating electric construction equipment, your time will be well spent because electric machines are going to be a big part of the future of construction. More than 128 countries around the world, including the U.S., are committed to meeting a net-zero emissions target by 2050. We asked two experts on the leading edge of electric-powered construction equipment to help you make your decision.
1. Do I have the right applications for electric machinery?
Electrification is in its early stages and most of the electric construction equipment models commercially available are compact machines. Volvo Construction Equipment offers the L20 and L25 Electric compact wheel loaders, and the EC18, ECR18, and ECR25 Electric compact excavators. The CX15 EV Case mini excavator will be coming to North America in 2023. Wacker Neuson offers the EZ17e Zero Tail excavator fully electric, DT10e track dumper, DW15e wheel dumper, and the WL20e wheel loader in addition to battery-powered rammers and plates. Many others have designed electric concept machines.
"We started with the smaller machines because they are typically running only a few hours a day," says Lars Arnold, electromobility product manager for Volvo CE.
Larger machines are coming. Volvo CE is currently testing a 20-ton crawler excavator running on a 600 volt charging system that Arnold expects will be available in 2024.
Other applications where electric makes sense are indoor jobsites and jobsites with noise restrictions. "In Toronto, Canada construction noise is not permitted between 7:00 PM and 7:00 AM," says Kevin Forestell, President of Dozr, which offers the largest online equipment rental marketplace. "Quieter electric equipment can positively impact project timelines as companies would be able to start earlier and work later into the evening without causing excessive noise."
"We've seen our electric machines used for enclosure renovation at a zoo without bothering the animals and for trail creation and maintenance in a federal wildlife area" says Arnold.
2. Can I work within the runtime of a full charge?
"Typically, most machines have a 6-8 hour run time on a single charge however the time that charge takes can differ depending on the vehicle and charging source", says Forestell.
In a Volvo test, the L25 Electric compact wheel loader with a 40 kWh battery pack has a runtime of up to 8 hours and takes 6 hours to fully charge.
"Runtime is better than many people think, and we know significant improvements will be made in this arena as technology and charging infrastructure continues to develop," says Arnold.
3. How will I charge the machine?
A 240-volt, 32-amp Level 2 AC-charging setup is what's recommended by Volvo. It's the same power used for running your water heater and stove in your home. The machines can be charged with a standard 120-volt outlet, but longer charging times make it impractical for construction.
"Insufficient infrastructure can be an issue for charging equipment, particularly at a more rural site or if there are several pieces of equipment to be charged," says Forestell.
Volvo offers a BEAM solar charger that is an off-grid, no-connection, free-standing option with a battery pack similar to the one inside the Volvo L25 Electric compact wheel loader.
The company is also working on a Benning DC rapid charger that would reduce charging time to just an hour or two. "This unit isn't off-grid, so it would need to be wired into a 480-volt, three-phase power grid at the location where you want to charge," says Arnold.
4. What can I expect in terms of performance?
According to Arnold, Volvo's electric machines have comparable or better power than their diesel counterparts. "Operators are surprised to experience the immediate torque and equal (or better) power."
"Many of the electric models coming out enable instant power and peak torque," says Forestell. "The primary difference in terms of power is the length of peak operating time which may differ from diesel depending on run times and the re-charge times."
What you won't get is as much noise. Removing the diesel engine and cooling fan reduces noise and vibration. "We're hearing how much less fatigued operators feel after several hours of work," says Arnold. On the ECR25 Electric excavator, exterior noise levels were reduced from 93 dB to 84 dB. A 10-decibel increase is perceived as twice as loud. "By reducing the noise by 9 decibels, we created an electric-powered construction machine that sounds two times quieter."
5. How do owning and operating costs compare?
Maintenance requirements are different for electric equipment "The simplified design of electric machines typically means that maintenance costs are lower," says Forestell.
Arnold says maintenance is much simpler without DEF or other filters. "Essentially, the only supplies required are grease and hydraulic oil," says Arnold. "This is much different than a conventional machine that requires fluid, filter, and component checks as often as every day, with additional preventive fluid and filter maintenance."
Volvo CE conservatively estimates that users will see 35% savings in maintenance cost and time over the life of the electric machine models.
In a test of Wacker Neuson zero-emissions equipment conducted in the UK, contractor Leonhard Weiss reported that maintenance issues were less common than with diesel engines.
Despite a much higher initial purchase price (approximately two times higher for Volvo units), no fuel costs and lower maintenance costs make electric machines a viable alternative to diesel-powered equipment, with the important bonus of less noise and no emissions.  In addition, incentives may help offset costs. You can look for applicable programs on the Department of Energy website.
Get over the fence
One way to get over the fence is to experience the benefits of electric machinery yourself. Rental offers a low commitment way to test out the equipment and determine its suitability for your company.
"Most of the main concerns about electric construction equipment come from a fear of the unknown," says Arnold. It's a great time to reach out to your local dealer to learn more.
Read Next
Four Things to Consider Before Going Electric
5 Ways Owning an Electric Vehicle is Different From Owning a Diesel Machine 
Expert Q&A: How electric Construction Equipment Can Help Your Bottom Line