For years now, a skilled labor shortage has been threatening the construction industry. This situation is being compounded as a sizable portion of today's construction workforce is going into retirement. Consequently, it is of critical importance that companies ramp up hiring and encourage the next generations to pursue careers in construction.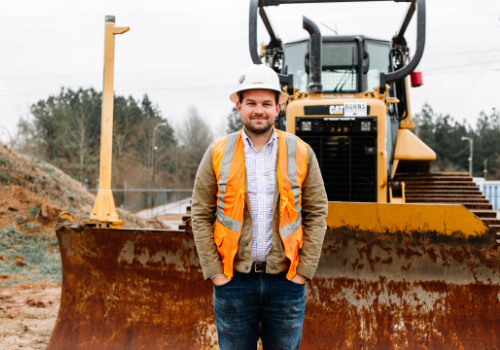 Burns Dirt Construction, a 45-year-old, family-owned, heavy civil contractor has been successfully dealing with this situation for several years now.
Based in Columbus, MS, the company specializes in turnkey site packages for multi-family and commercial projects such as apartment complexes and retail developments. It has 60 employees and a construction fleet that includes 104 machines and 20 trucks.
In 2013, while attending college, Nic Parish joined the business founded in 1977 by his grandfather and his grandfather's brother. Since, Nic has grown to Vice President of Operations and Contracting of the company.
"As my college major was Economics, I started looking at the construction market from an economics point of view," he explains. "I recognized that there was labor shortage even then. I began asking a lot of questions to the older guys. My biggest question: Why are we not focusing on training in the downtime, whether it is wet days or in between projects? We do a lot of compliance training like most construction companies but why are we not training on skills?"
Parish recalls "I got laughed at. I was told time after time: 'We cannot do that. You have to put in years and you have to put in stick time."
He never forgot about that. Things began to change at Burns Dirt Construction when Parish entered a leadership role at the business in 2016 as a managing partner.
"I was able to make some changes at that point and really focused on hiring, based on what I felt was a set of skills and attributes that made a person a high performer."
Adopting skills technology
After a simulation on an advanced GPS, the senior Burns leadership fully invested in technology and gave Parish the backing he needed to move the company into the next generation of machine control and operation.
Upon assuming his new leadership role, Parish began focusing on the speed of learning machine controls and quality of work rather than only relying on years of experience, which in-turn attracted younger workers to the company.
"We ended up hiring younger people, many of them Millennials. I grew up with a computer in my hand, a tablet, and a phone. The guys at the company who are early adopters of technology have taken to machine control and it has made them higher production operators."
The company was able to hire workers that knew very little to nothing about the construction industry and teach them, in a brief time, to become high-quality machine operators.
"Over the past five years, our average employee age has decreased significantly. Currently, our average field age – superintendents, operators, laborers, all the way across the board on the craft side of things – is 33. As far as I can tell, that is about 14 to 15 years below the industry average of between 46 to 49, depending on the research organization."
Targeting young workers
"If you are going to compete in the workforce market, you have got to recruit early," stresses Parish. "We partnered with some other companies – a general contractor, roofer, concrete company, and an asphalt company – that felt the same way and in 2018 we founded Forge Your Path.
More commonly referred to as FORGE (Family Organizations Recruiting Great Employees), this group of locally owned small businesses work alongside K-12 schools and colleges to recruit talented, skilled employees.
The companies started going to schools, talking to students, giving them hands-on experiences within construction, mapping out career paths, and talking about the financial benefits of joining the construction industry. "We also worked with educators and counselors to make sure there were good programs at the middle school, high school, and community college levels," Parish adds.
Last year, FORGE held its first FORGE Expo at a local community college. The event, explains Parish, was designed to call attention to careers in construction by exposing young people to opportunities and jobs in the construction industry. In addition, the Expo was planned to show that there are lots of opportunities to go straight to the workforce and get a job that offers high pay and strong job growth, as construction skills are in high demand.
Students were able to climb on a variety of construction machines and equipment, try out tools and technology used in construction, lay brick, finish concrete, and run a road grader simulator, and even get hands-on experience in a truck driving simulator.
More than 1,000 eighth graders participated in the event, notes Parish. The event was so well-received that the upcoming FORGE Expo is expanding to a two-day event this fall. More than 2,000 eighth graders are expected to participate.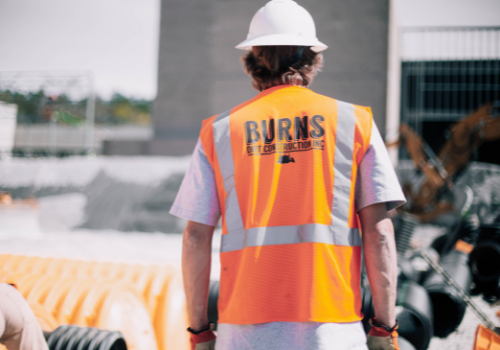 Educating from a young age
FORGE tries to target children of all ages. FORGE has produced construction industry coloring books for elementary-age children. Eighth graders get hands-on experience right before they choose whether they want to take the traditional high school route or do a technical route. The organization works to ensure there are good technical programs not only in their area but supports other businesses to start their own programs in the southeastern region.
"We are also building out non-credit certificate and associate's programs in construction with our local community college. We support two four-year construction programs at Mississippi State and actively recruit from the business, agriculture, and engineering departments," says Parrish.
Additionally, FORGE has worked with the state to produce a two-plus-two program curated for individuals with construction field experience wanting to earn a bachelor's degree in construction management. Once approved, this field experience replaces their first two years of the program's courses and streamlines their college experience to go back and complete the remaining two years of construction management classes to earn this bachelor's degree.
Specialized training from within
"We just hired a vice president of talent and culture and created an internal development division to really focus on the building and handling of our internal specialized training" says Parish. "That includes training on operating equipment, reading plans, constructing a job site, and leadership training."
Burns Dirt Construction is in the process of building a 7,000-square-foot specialized, dedicated internal training center, complete with simulators and meeting rooms.
The power of social media
The company is using tools like social media platforms and influencers to connect with the multiple generations and recruit them. Burns Dirt has a full-time marketing manager who also handles all its social media. In the last 30 days, the company had more than 600,000 interactions across its social media.
Social media is also focused on celebrating its people and jobs, updating current projects, and educating on career opportunities. Burns Dirt Construction is currently building its own podcast studio to begin doing internal and external podcasts regularly.
"The podcasts will be an internal communication tool as well as a marketing tool," explains Parish. "If you do not know about our business, you can listen to our podcasts and learn about our values, our programs, what we are working on, those types of things. Once you are 'inside' the business, you will get to see behind the curtain."
Focus on Generation Z
Parish says his 22-year-old younger brother, Garrett, recently graduated from college and has joined the family business. As a member of Generation Z (those born between 1997 and 2012), Garrett possesses a different perspective on things than his Millennial older brother.
"He and I are having a lot of conversations about how to best recruit and retain the next generations of workers. Gen Z is where we are recruiting now so we know we have to talk directly to them and demonstrate that we can give them what they want most: organizations and careers with purpose, and that is easy to do in construction."
"Consider Maslow's Hierarchy of Needs," he says. Starting from the base of the hierarchy are physiological needs, safety needs, belonging, esteem and self-actualization. "Gen Z has had a lot of those lower levels of the Hierarchy met their entire life."
Burns Dirt Construction is focusing on how to provide Gen Z workers with the highest level of Maslow's Hierarchy of Needs: self-actualization, he explains. "As an employer, my job, at the basic level, is to help my employees meet their needs. We want to provide so much more at Burns Dirt," says Parish. "We're intently focused on helping our employees have the fullest total life they can, while playing in the coolest sandbox on earth." 
Read Next
Ken White Construction Uses Social Media to Reshape Third Generation Business
5th Generation General Contractor Embraces Innovation
Third-Generation Keeps The Pipeline Full of Work, Employees at Dean Snyder Construction