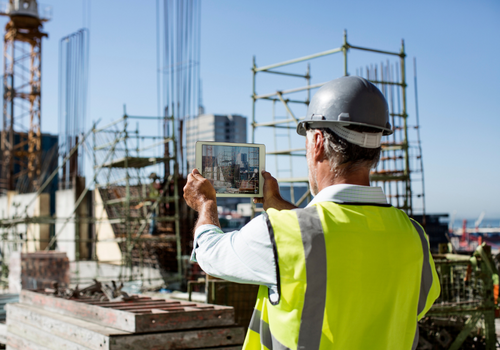 Marketing in the construction space is about making sure people can find you and giving them an accurate picture of who you are and what you do. That's not all that marketing is, but it's a significant part that every construction business owner must consider. Construction companies often don't know the basics of marketing, or how to move from the basics to the next level. The lack of knowledge keeps many from even attempting to market their services or from marketing their services effectively.
Thanks to social media and other technological advances, it's easier than ever to showcase your company, the work you perform, and the culture you've built and invite people to be a part of that. It doesn't take an outside agency or a whole marketing department to do that. You need a few tools and the knowledge of how to create meaningful content and get it in front of the right people. What people see about you is usually what they're going to believe about you.
Seth Fargher has been in the marketing space for more than a decade and holds a wealth of knowledge on how to effectively market your construction business.
His advice: Refine your story to define your company: who you are, what makes you different, and what unique combination of strengths set you apart. Make it an honest assessment and know how to present each aspect of your business in a positive way.
In terms of how to achieve this success, Fargher teases some important tips that business owners can implement to immediately market their construction business better. His full session on the topic will be featured at CONEXPO-CON/AGG 2023, see below for more information.
You need more than word-of-mouth
Many myths corrupt effective marketing. A common one is that word-of-mouth is sufficient. "While word-of-mouth is good exposure for any contractor and it may be true that your company benefits from it, relying solely on word-of-mouth marketing is a serious gamble," says Fargher. You could have more and better work with higher profit margins if you stopped relying on word-of-mouth as your sole marketing strategy. In addition, word-of-mouth is not reliable because of mergers and acquisitions, changes in company values resulting from business succession, and just the fact that businesses come and go. "You need to have a mature, productive marketing plan in place and active for the inevitable time that your referral business falters," says Fargher.
Another problem with word-of-mouth is your lack of control. You can't compel your customers, family members, and friends to say the right things to the right people in the right way at the right time.
At the session, other myths will be similarly examined, and suggestions given for replacing them with proven strategies.
Two words: SOCIAL MEDIA.
There are countless opportunities in social media for low-cost, effective marketing. Marketing can be a huge commitment of resources and that level of commitment may well be past the resources you can provide. But effective marketing is scalable and low-cost, online marketing is easily managed. The keys are focus and consistency. You need to truly understand what you're trying to say and how you're trying to say it and then share those messages on a regular, predictable basis.
Also, immediacy is a major appeal of online marketing; don't overlook opportunities to share activity as it's happening to create a compelling story of your business.
For even more insights and tips on how to better market your construction business, register for Seth Fargher's education session, "Crawl, Walk, Run: A Simplified Approach to Marketing for Construction Companies" that will be available at CONEXPO-CON/AGG 2023.
About the speaker
Seth Fargher is the Owner of Construction Video Pros, which specializes in creating a compelling story for construction companies by showcasing value for potential customers.
With 150 sessions, CONEXPO-CON/AGG's comprehensive education program is the leading source for contractors, business owners, construction material producers, and end-users to obtain cutting-edge, timely, and actionable information for today's challenging economy and a changing and global industry. Click here for more information.
Read Next
How Construction Companies Leverage Social Media to Recruit and Market