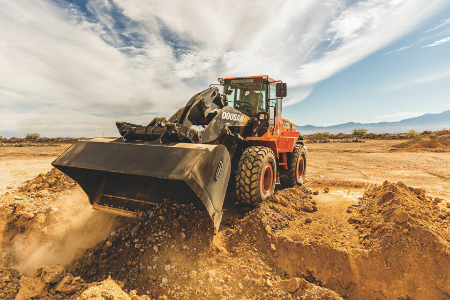 Advances in heavy equipment today have less to do with iron and more to do with technology, and the headlines prove it. At trade shows, Caterpillar has been showcasing a remote operation station that allows people to operate a dozer in a different part of the world. Komatsu purchased 1,000 drones to aid in the company's Smart Construction—a drone-assisted, automated equipment service. And, more recently, Doosan Bobcat North America announced a partnership with SafeAI to explore how advanced artificial intelligence (AI) technologies could be incorporated into Bobcat equipment.
Wheel loaders are being introduced with some advanced technologies that allow equipment operators and owners to work more productively, efficiently and safely. Owners and operators can save money by decreasing downtime and maintenance costs, and, via data, to make better decisions when it comes to equipment operation and project management. From surveying several wheel loader original equipment manufacturers (OEMs), many of the most advanced wheel loader technologies fall into four categories:
Telematics
Human machine interface
Tractive effort
Power
Talking to Machines
Telematics are a feature on many machine categories, including wheel loaders; it allows for remote monitoring and remote machine diagnostics.
JCB's telematics system is called LiveLink; it allows fleet managers to remotely monitor the operating hours, location, fuel usage, system alerts, performance reports and status conditions of a single machine or an entire fleet.
Doosan telematics allow equipment owners and fleet managers to remotely monitor machine location, hours, fuel usage, engine idle versus work time and error codes, as well as engine and hydraulic temperatures.
In addition, telematics allows dealers to provide improved customer support by responding to machine warning messages and alerts, troubleshooting machine issues, and then sending a field service vehicle to help with repairs and deliver the proper parts.
This year, Doosan introduced an enhanced version of its telematics system called DoosanCONNECT that allows for mobile devices to access the information. "Customers are increasingly using mobile-enabled devices to access machine information from anywhere," says Aaron Kleingartner, marketing manager, Doosan Infracore North America, LLC. "This trend will only grow within the next years, as data becomes more and more important."
Taking Control
As machines evolve, how operators interface with them evolves as well. New in-cab changes include touch screens, data, more intuitive operation and greater ergonomics.
This year, Doosan introduced a new forward-neutral-reverse (FNR) joystick control/gear selector for greater comfort and productivity. The FNR functionality on the joystick allows operators to easily switch between forward, neutral and reverse without removing his or her hand from the controls simply by pressing the joystick buttons.
Many machine functions and settings are now accessed via a touchscreen inside the cab. The JCB CommandPlus Cab features an onboard monitor that includes a "help" feature that details the function of all controls and an operator's manual with essential information, such as appropriate tire pressures and acceptable oil types.
"Inside the JCB CommandPlus Cab, the controls and layout are optimized for operator comfort and ease-of-use," says Rupert Bradley, product manager for wheel loaders at JCB North America. The commonly used controls, including forward and reverse, transmission kick-down, proportional hydraulic auxiliary controls, horn and manual front axle differential-lock, are located on the seat-mounted joystick. Other controls are grouped on the right-hand side A-pillar for easy reach.
The cab also features a monitor for the machine's rear-facing camera. The machine can also be equipped with a rear radar detection system to further reduce collision risk.
"Komatsu wheel loaders allow operators to adjust to their working conditions by using the machines' variable traction control," says Jon Jennings, product marketing manager, HST loaders, Komatsu America Corp. Settings include Max, Auto and S-mode. Max provides maximum power to the wheels. Auto-mode optimizes the tractive effort for various working conditions. And S-mode is designed to prevent wheel spin in very slippery or snowy conditions where traction may be at a minimum.

Where the Machines Meets the Material
Tractive effort is a very important feature to wheel loaders because they often need it to dig into a pile and travel rough ground at faster speeds.
Hitachi says they have increased tractive effort by more than 30 percent on the Hitachi ZW310-6 and ZW370-6 wheel loaders. "This technological advance is accomplished by creating more advanced software," says Mel Wade, application engineer, Hitachi. The end-user will experience the difference when digging, dozing, climbing hills, or other high rimpull requiring applications."
In the larger Hitachi ZW370-6 and ZW550-6 loaders, the Traction Control System (TCS) can be operator activated and deactivated via the display main menu. As these machines are less likely to move from site to site, this is a "set and forget" feature. In the smaller, compact hydrostatic Hitachi wheel loaders, the tractive effort is regulated with a TCS switch. TCS is useful for snow removal applications, as well as muddy environments, because it eliminates unnecessary tire slippage and increases tire life.
"It's an intuitive system that balances hydraulic power consumption with powertrain consumption," says Wade. This system maximizes the use of the available power. The software collects real-time data, such as hydraulic pressure, engine torque and application demand. TCS determines the appropriate balance to make the wheel loader as efficient as possible for that situation.
Liebherr increases tractive effort in a different manner. The Liebherr-XPower driveline brings together both hydrostatic and mechanical drive paths. The interaction between these two different drives is continuously adjusted automatically to the given application. "As a result, XPower offers the optimal level of efficiency during material loading and transport, as well as providing maximum acceleration and performance throughout all loading cycles, including long routes," says Nick Rogers, product specialist/inside sales coordinator, Liebherr USA, Co. 
Rogers continues: "All components are ideally matched allowing for continuous adjustment of acceleration in all speed ranges, without noticeable gear shifting or interruption in tractive force. The Liebherr-XPower driveline with Liebherr-Power-Efficiency (LPE) achieves a reduction in fuel consumption of up to 30 percent when compared to conventional travel gears."

Under the Hood
Engines never stop changing. Modern wheel loader engines are designed to be efficient while eliminating the need for a diesel particulate filter (DPF). These engines tend to use a selective catalytic reduction (SCR) system.
The Hitachi ZW wheel loaders use an SCR system that requires no DPF, and that means no DPF regenerations. "This system reduces fuel consumption and maintenance costs," says Sam Shelton, marketing manager, Hitachi. "Hitachi has worked with Cummins engines for years perfecting this technology, and this technology has proven simple and efficient for Hitachi wheel loader owners."
Due to Liebherr's unique SCR technology, fewer components, such as DPF or exhaust gas recirculation, are not needed. This reduces maintenance costs and the risk of failure.
JCB wheel loaders are powered by Tier 4 Final-compliant engines with no replaceable DPF. The compact 407 and 409 wheel loader models also require no diesel exhaust fluid (DEF). As well, JCB wheel loaders benefit from automatic transmissions and intelligent clutch cut-off (ICCO); together with the JCB Smoothride System (SRS), they allow the operator to focus on the task without the distraction of complex operating procedures.
The Hydrostatic Transmission (HST) used in the Komatsu WA200, WA270 and WA320 is in its 4th generation. "This transmission technology is not only robust, but has the advantage of quick travel response and aggressive drive into the pile. Full auto-shifting eliminates any gear shifting, and manual kick-down allows the operator to concentrate on digging and loading," says Jennings. The HST also acts as a brake when the throttle is lifted—called dynamic braking, which reduces wear on the traditional wet disc service brakes."
The number of OEMS who have invested so much innovation into engines, as well as the previous technology categories, demonstrate that technological innovation isn't about just adding a bunch of new gadgets and features to an old wheel loader, it's about enhancing traditional components and applications through forward-thinking design.
CONEXPO Connect brings the power of CONEXPO online, connecting you with equipment manufacturers, industry insiders, and your peers, so you can get the answers you need from the people who know. Experience a new, more connected way to research construction equipment, always free for contractors and materials producers like you. Access Now