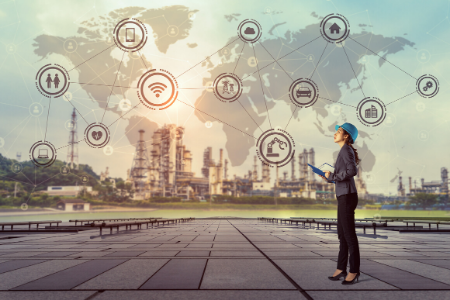 Artificial intelligence has become a more familiar reference point in the business world. And the construction industry is no exception, relying more on this concept. The rise of AI and machine learning in construction has helped workforces catch more mistakes as they happen as well as manage project timeliness and efficiency. However, you'll find that machine learning in construction has its issues. There will be both positive and negative impact as AI becomes more prominent in building.
Uses for AI in Construction
Construction technology has seen a surge in investment and interest in the last several years. Much of that investment has gone into replacing paper files with digital tools to improve workflow processes. This digitization of the industry has increased the amount of project data available, therefore providing more utility for artificial intelligence.
Artificial intelligence construction technology combines an array of tools. These include cognitive computing, machine learning, image recognition, speech recognition, predictive application programming interfaces and lots more.
Robotics is becoming a go-to source on jobsites for applications such as bricklaying, demolition, and concrete dispensing, among others. These are just some of the distinct ways that artificial intelligence will positively impact construction.
Collaborating with AI
Regarding designing and planning, AI in construction management is used to quality-check these critical elements. Plans are checked for accuracy and verified while project managers can forecast and schedule as these plans take shape.
As a project manager, you can also receive alerts thanks to artificial intelligence immersed in a location tracking program. You will know when construction materials arrive on-site and where they are. As a result, you won't be left scrambling trying to figure out what's happening with these materials and how to distribute them.
Furthermore, AI will support various functions, such as human resources. AI techniques can also optimize development and perfect quality control of design structures. As the technologies continue to advance, virtual personal assistants can help assist at the office and the jobsite, creating a smarter workplace for construction companies.
Staying a Step Ahead
In addition to scheduling and forecasting, artificial intelligence in construction ensures the process stays a step ahead.
From predictive maintenance to weather forecasting, AI enables project managers to have a sharper focus, spotting issues quicker and determining factors ahead of time that could delay the project cycle.
Companies can monitor their heavy equipment in real-time, convert paperwork into digital assets and increase workflow.
Despite all the positive advancement, there are a few barriers that currently exist before widespread adoption will occur. These include:
1. Resistance  
While AI in construction management is becoming a trend, it has also been met with resistance. Fear of the unknown and questions over implementation are understandable reasons for that resistance. It is important to understand that AI is here and how your business chooses to implement it is dependent on your own unique objectives.
2. Security
Security standards, from an IT perspective, are a concern regarding AI influence in construction technology.
Interoperability and certification are important factors that technology experts are working on to ensure AI use is seamless within the industry. Developers are exploring mass customization and personalization options as well as determining if AI technology can perform site surveys in intrinsically safe environments.
3. Redundancy
If you're a construction worker, you might be fearing for your job just a bit.
Some workers believe their jobs will be made redundant due to AI or that they will need to understand the intricacies of data science to keep up. However, as upgraded tools emerge, AI can become easy-to-use for taking on more straightforward, programmable tasks, leaving the tougher work to skilled human professionals.

For the latest news on construction technologies, subscribe to CONEXPO-CON/AGG 365.